M5 crash: Three remain critically injured as four killed
A woman and two children remain critically injured in hospital after an M5 crash that killed four people.
A lorry crashed through the central reservation at about 14:30 BST on Saturday and hit at least two vehicles heading northwards, police said.
Highways England said it expected the northbound carriageway between junctions 16 and 14, just north of Bristol, to remain shut on Sunday.
The southbound carriageway reopened shortly before 06:00.
Highways England has tweeted delays are building up from junction 17 and has warned drivers there are also delays on the diversion route along the A38.
No details of the four people killed in the crash, which happened between junctions 15 and 14, have yet been released by police.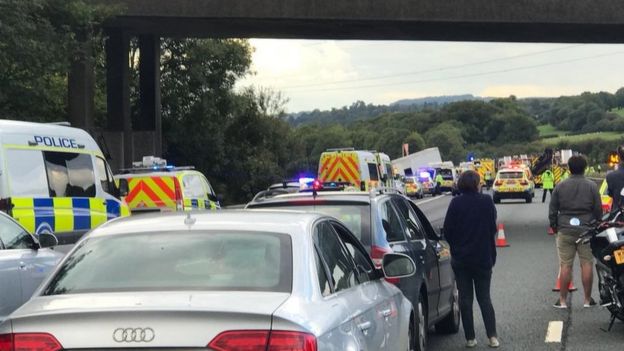 The injured woman and children were taken to hospitals in Bristol after the crash, where they were described as being in life-threatening conditions.
The driver of the lorry was taken to hospital to be checked over as a precaution.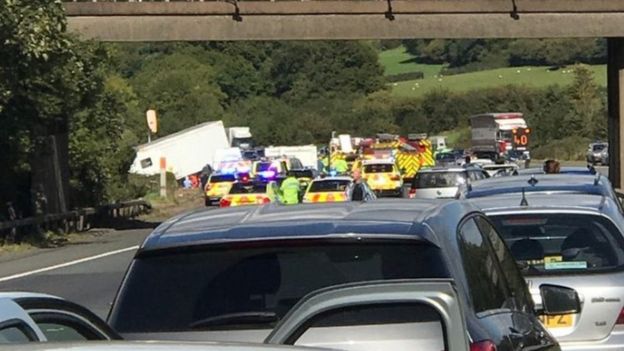 Supt Simon Ellis, of Avon and Somerset Police, previously said the rescue and recovery operation was "painstaking work".
He said officers' priorities were to notify the victims' next of kin and thanked members of the public who "courageously went to the aid of those involved" in the crash.
Motorists were stuck for hours on the motorway following the crash.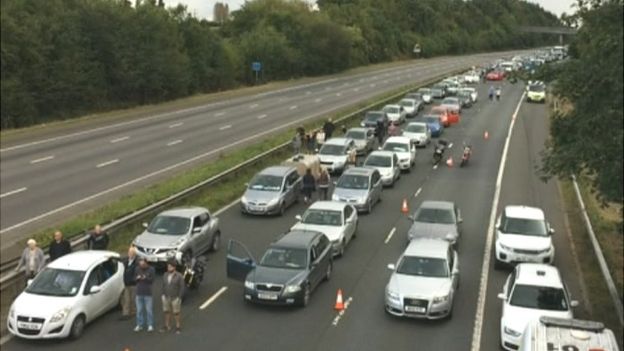 Cardiologist Dr Amer Hamed, who was in a car travelling northbound, seconds behind the vehicles caught up in the collision, said: "There was a lorry involved and at least two other cars. One was absolutely destroyed and another had flipped over."
Dr Hamed said that he and a GP, who was also in a car at the scene, treated an injured woman.
He said motorists who had been stuck on the carriageway for several hours were "very helpful" and had offered food and water to other people who were stuck.
Jasper Fox was travelling southbound with two friends and said they were one of the first on the scene after the collision and did what they could to help.
He said: "The crash was utterly horrific – it is not anything I'd wish anyone to see.
"We've been quoted as heroes but it is just human nature."
DOJ Investigating Potential White House 'Bribery-For-Pardon' Scheme
(NBC News) — Federal investigators are looking into a potential "bribery-for-pardon" scheme involving presidential pardons, according to federal court documents unsealed by the chief judge for the federal court in Washington D.C.
The heavily redacted documents do not name the individuals involved or President Donald Trump. They also do not indicate if any White House officials had knowledge of the scheme.
The documents discuss whether prosecutors can review documents that may have been protected by attorney-client privilege and were seized as a result of a search warrant.
The opinion, entered by Chief Judge Beryl A. Howell on Aug. 28, is tied to an ongoing investigation that may involve at least two individuals who "acted as lobbyists to senior White House officials, without complying with the registration requirement of the Lobbying Disclosure Act… to secure 'a pardon or reprieve of sentence for" one individual whose name is redacted.
The investigation also involves an alleged offer by another individual to "offer a substantial political contribution in exchange for a presidential pardon or reprieve of sentence."
The judge said that the communications could be reviewed by investigators because the emails included someone who is not an attorney.
"This political strategy to obtain a presidential pardon was 'parallel' to and distinct from" one individual's role as an attorney advocate for" another individual, the ruling said, redacting both names.
The White House declined to comment.
The documents are here.
President-Elect Joe Biden Suffers Hairline Fracture To Right Foot While Playing With Family Dog
(NBC News) — President-elect Joe Biden suffered hairline fractures in his right foot over the weekend in an injury that will likely require a walking boot for several weeks, his doctor said Sunday.
The fractures occurred while Biden was playing with Major, one of the Bidens' two German shepherds, on Saturday.
Officials initially believed the president-elect twisted his ankle, and his personal physician, Kevin O'Connor, said later that Biden had sprained his right foot and X-rays did not appear to show "obvious" bone fractures.
But follow-up CT scans revealed small fractures to Biden's lateral and intermediate cuneiform bones in the mid-section of his right foot, said O'Connor, director of executive medicine at George Washington University Medical Faculty Associates.
"It is anticipated that he will likely require a walking boot for several weeks," O'Connor said.
Reacting to video of Biden leaving an orthopedic office in Delaware on Sunday, President Donald Trump tweeted, "Get well soon!"
Donald Trump Jr tests positive for Coronavirus
President Donald Trump's oldest son, Donald Trump Jr has tested positive for Coronavirus.