Private prison investors set for giant windfall from Trump tax bill
Prison firms that restructured as real estate investment trusts see substantial tax cut – more good news for those who benefit from increased incarceration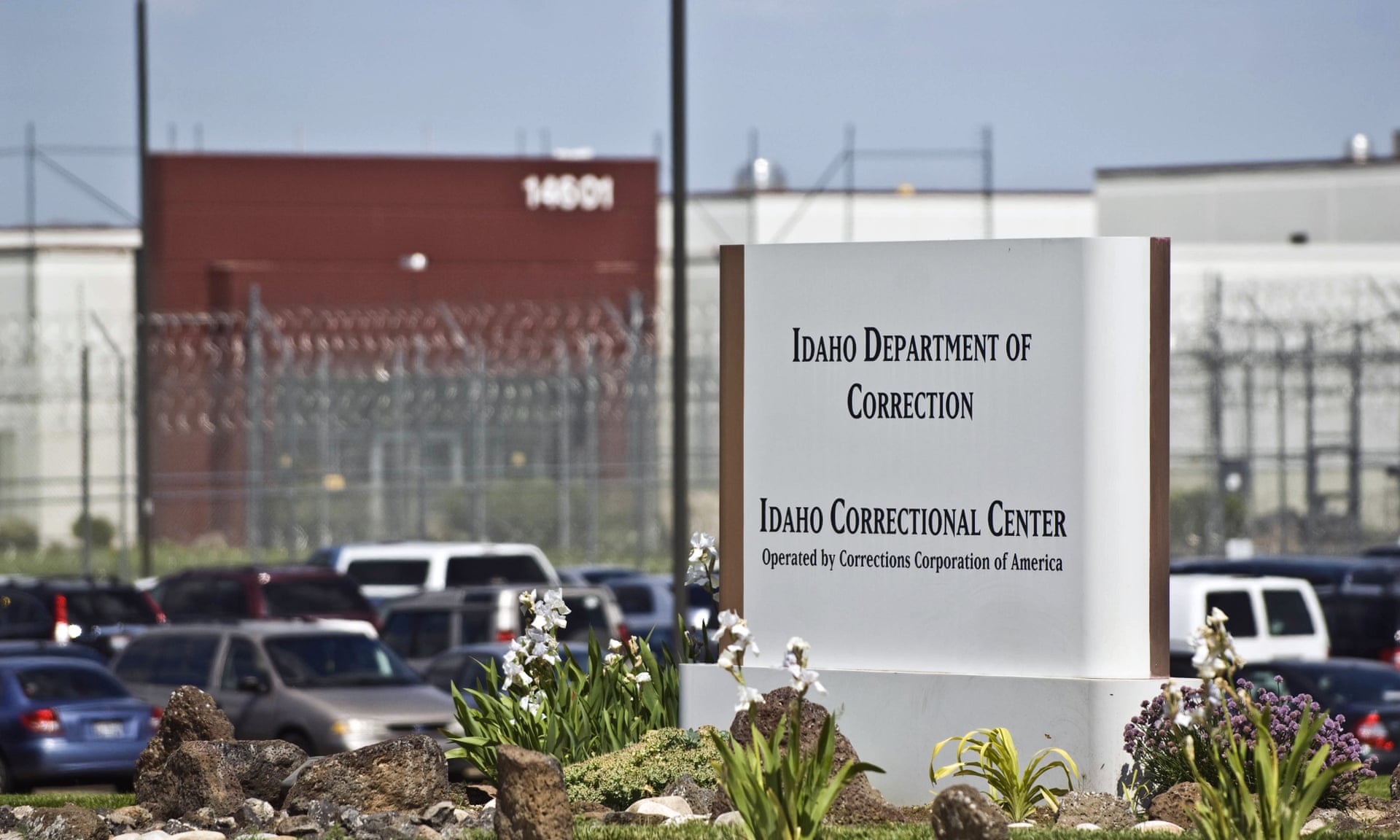 ---
This article titled "Private prison investors set for giant windfall from Trump tax bill" was written by Jamiles Lartey in New York, for theguardian.com on Thursday 28th December 2017 12.00 UTC
Individual investors in US private prisons are poised to collect their most lucrative earnings ever thanks to changes in the tax code signed by Donald Trump, continuing what has been a banner year for the industry since the 2016 election.
"It's going to be great for the investors, banks and hedge funds that own shares in private prisons, and are dependent on increased incarceration and criminalization," said Jamie Trinkle, campaign and research coordinator with the racial and economic justice coalition Enlace.
Under the new GOP law, investments in so-called "real estate investment trusts" (reits) will see a 25% reduction in tax, from 39.6% down to 29.6%.
Corecivic, formerly Corrections Corporation of America (CCA), and the Geo Group, which together own more than 80% of private prison beds in the US, both restructured as reits in 2013 after a private letter ruling by the Obama Administration IRS green-lit the change.
"This tax act is of unprecedented benefit for reit investors," said David Miller, a tax partner at Proskauer Rose. "I think reits will explode in popularity as a result of this act."
With dividends of more than 0m paid out by the two major private prison companies in 2017, in theory, prison investors could see an additional m in dividend earnings next year, thanks to the GOP legislation. The actual figure will be lower than that, however, as some proportion of those shares are owned by institutional investors which are taxed differently from individuals. The exact breakdown between the two is not available in public filings.
Even without the new lower tax rate, the reit classification was already a huge boon to the private prison industry. Before converting to a reit in 2013, Corecivic was subject to a 36% corporate tax rate. After the reorganization, it reported paying an effective tax rate in the first quarter of 2015 of just 3%.
Lauren-Brooke Eisen, an attorney at the Brennan Center for Justice, said: "The way they are able to get away with that, is that they're not allowed to keep a lot of cash on hand, they have to give it back to investors though dividends. But it allows them to have an incredibly low tax rate."
According to Eisen, prison companies have essentially argued that renting out cells to the government is the equivalent of charging a tenant rent, thus making such business primarily a real estate venture. In her new book, Inside Private Prisons, Eisen examines the way this classification has boosted industry earnings.
Oregon Democratic senator Ron Wyden, a ranking member on the finance committee, has called the use of the reit structure by prisons "unfair" and "unjust". In 2016, after being pressed by Enlace, he introduced legislation to end such practices. The bill was reintroduced this year but it has yet to make it out of committee and is not likely to do so any time soon.
A CoreCivic representative told the Guardian that, in their view, "there are far more pressing matters for Congress to pursue" than the reit tax classifications. The Geo Group added they are "treated exactly the same as other real estate investment trusts without any special tax treatments or loopholes". The point that activists make, though, is that treating prisons as real estate is a loophole.
A dramatic shift
Sixteen months ago, the outlook for private prisons seemed bleak: that was when the Obama Department of Justice announced it was phasing out their use. That announcement followed the release of a scathing government report, which concluded that private facilities were less safe than government-run ones.
The announcement only applied to the 18% of federal prisoners held in private facilities, not the 8% of state prisoners or 65% of immigration detainees held in private facilities. But it still signaled serious trouble. Corecivic and the Geo Group saw their stock prices plummet by about half and trading remained cratered until Trump's surprise election victory.
By February, Trump's first full month in office, it had become clear that the new administration would discontinue Obama's efforts to shrink the size of the US prison population. One of Jeff Sessions' first acts as attorney general was to undo the DoJ directive phasing out private prisons. That month the two companies each reached two-year stock highs.
The tax bill gift to private prison investors mirrors the cosy relationship Trump has had with the industry overall. After years elsewhere, in 2017 the Geo Group hosted its annual leadership conference at the Trump National Doral golf club in Miami. The company also gave nearly half a million dollars to Trump through his inauguration committee and Super Pacs. Shortly thereafter, it secured the administration's first contract for an immigration detention center, a deal potentially worth millions.
Despite all that momentum, though, Jamie Trinkle at Enlace still sees a potential for organizers to stem the resurgence of private prisons. Divestment campaigns have successfully pulled more than bn out of banks (principally Wells Fargo) and other organizations that invest in the industry.
"Since the tax benefit goes directly to the investors, I think the divestment work actually becomes more important as a way to fight back and stop the flow of capital," Trinkle said.
This piece was amended on 28 December 2017, to clarify the circumstances under which the Geo Group and Corecivic restructured as reits.
guardian.co.uk © Guardian News & Media Limited 2010
Published via the Guardian News Feed plugin for WordPress.
Trump Pardons Steve Bannon In One of His Final Acts As 45th President
(CNN)— President Donald Trump has decided to pardon his former chief strategist Steve Bannon, in a last-minute decision made only hours before he is scheduled to depart the White House for a final time.
Officials cautioned CNN that Trump's decision was not final until he signed the paperwork. Trump told people that after much deliberation, he had decided to pardon Bannon as one of his final acts in office.
Bannon's pardon would follow a frantic scramble during the President's final hours in office as attorneys and top aides debated his inclusion on Trump's outgoing clemency list. Despite their falling out in recent years, Trump was eager to pardon his former aide after recently reconnecting with him as he helped fan Trump's conspiracy theories about the election.
It was a far cry from when Trump exiled Bannon from his inner circle after he was quoted in a book trashing the President's children, claiming that Donald Trump Jr. had been "treasonous" by meeting with a Russian attorney and labeling Ivanka Trump "dumb as a brick." Those statements from Bannon drove Trump to issue a lengthy statement saying he had "lost his mind."
"Steve Bannon has nothing to do with me or my presidency," Trump said at the time.Things shifted in recent months as Bannon attempted to breach Trump's inner circle once again by offering advice before the election and pushing his false theories after Trump had lost.
Since Trump's election defeat, the President has leaned further into his expansive pardon powers — granting pardons to his first national security adviser, Michael Flynn, longtime ally Roger Stone and former campaign chairman Paul Manafort, among others.
Among Trump's pardons earlier in his term were those for former Arizona Sheriff Joe Arpaio, right-wing commentator Dinesh D'Souza and financier Michael Milken.
California Governor Formally Appoints Alex Padilla To Fill US Senate Seat Vacated By Kamala Harris
(CNN) — California Gov. Gavin Newsom formally submitted the appointment of Alex Padilla to the US Senate today, according to a press release from the governor's office. 
Padilla formally resigned as Secretary of State this morning and Gov. Newsom also submitted his nomination letter for Assembly member Shirley Weber to replace him. The Deputy Secretary of State, James Schwab, will be the Acting Secretary of State.
"It is fitting that on the same day we celebrate the legacy of Dr. Martin Luther King, Jr. — a civil rights icon who fought for justice and representation — we also move forward the appointment of California's first Latino U.S. Senator Alex Padilla and the nomination of Dr. Shirley Weber who will serve as the first-ever African American Secretary of State. Both will be strong defenders of our democracy during this fragile moment in our nation's history," said Gov. Newsom.
"I am humbled and honored by your trust in me to represent California in the United States Senate. I look forward to continuing to serve the great State of California as a United States Senator and to ensuring that the rights and democratic principles we cherish are protected and preserved for all people," Padilla wrote in a letter to Gov. Newsom.
Some context: Earlier today, Vice President-elect Kamala Harris formally resigned her seat as one of California's US Senators. She'll be inaugurated as vice president on Wednesday, Jan. 20. In a farewell addressed posted to Twitter, Harris said, "Of course, I'm not saying goodbye. In many ways, I'm now saying hello as your vice president."
Capitol Police Arrests Man With 'Unauthorized' Inauguration Credential & Gun
(New York Times) — The U.S. Capitol Police arrested a man at a security checkpoint in Washington on Friday after he flashed what an officer described as an "unauthorized" inauguration credential and a search of his truck found an unregistered handgun and more than 500 rounds of ammunition, the authorities said.
A federal law enforcement official said that the man, Wesley A. Beeler, 31, worked as a contractor, and that his credential was not fake, but was not recognized by the police officer. The official spoke on the condition of anonymity because he was not authorized to discuss the arrest.
Mr. Beeler's father, Paul Beeler, said in an interview that his son was part of a security team working alongside the Capitol Police and the National Guard, and that his son must have simply left his personal gun in his truck. Wesley Beeler has an active private security license in Virginia and was approved to have a handgun, shotgun or patrol rifle while on assignments, according to a state website.
"It was an honest mistake," Mr. Beeler told The Washington Post after being released on Saturday afternoon. He said he had been working a security job in Washington, was running late to work, and had forgotten that his firearm was in his truck. He denied having 500 rounds of ammunition, as listed in the police report.
"I pulled up to a checkpoint after getting lost in D.C. because I'm a country boy," he told The Post. "I showed them the inauguration badge that was given to me."
The arrest comes as law enforcement officials have tried to fortify Washington ahead of Inauguration Day on Wednesday, when they fear that extremists emboldened by the attack on the Capitol by President Trump's supporters on Jan. 6 could seek to cause violence. A militarized "green zone" is being established downtown, National Guard members are flooding the city, and a metal fence has gone up around the Capitol grounds in advance of the swearing-in of President-elect Joseph R. Biden Jr.
Mr. Beeler, of Front Royal, Va., had driven up to a security checkpoint less than half a mile from the Capitol grounds on Friday evening and presented "an unauthorized inauguration credential," according to a statement from a Capitol Police officer filed in a District of Columbia court on Saturday. The officer, Roger Dupont, said that he had checked the credential against a list and found that it did not give Mr. Beeler authority to enter the restricted area.
A spokeswoman for the Capitol Police later described the credential that Mr. Beeler had shown as "nongovernment issued."
Officers searched his truck, which had several gun-related bumper stickers, and found a loaded Glock pistol, 509 rounds for the pistol and 21 shotgun shells, the police said. Mr. Beeler had admitted having the Glock in the truck's center console when he was asked if there were weapons in the car, they said.
Mr. Beeler was charged with five crimes, including possessing a weapon and ammunition in Washington without having it registered as required. He and his lawyer did not respond to requests for comment on Saturday.
Paul Beeler said his son, a father of four, had held other security jobs over the years. "He was proud of the work he was doing with the police and the National Guard," the father said.
Asked if he thought his son supported a peaceful transition of power, Paul Beeler said, "That's the reason he's there."
The elder Beeler said he had grown worried about his son when he did not return his text messages on Friday night, and that he had called him on Saturday morning, when he thought his son would be returning to Virginia after his shift. He and his wife discovered that Mr. Beeler had been arrested when she received a call from a reporter, he said.
Law enforcement officials have said they are alarmed by chatter among far-right groups and other racist extremists who are threatening to target the nation's capital to protest Mr. Biden's electoral victory. Federal agencies have tried to keep some people who breached the Capitol with weapons earlier this month from returning to the city, including by restricting their ability to board commercial planes, according to an administration official.
Mr. Biden has resisted calls to move the inauguration ceremony indoors for the sake of safety. His inauguration committee had already been planning a scaled-back celebration with virtual components because of the coronavirus.