Steve Bannon: Donald Trump Jr was not 'treasonous' – I meant Paul Manafort
Former White House strategist issues statement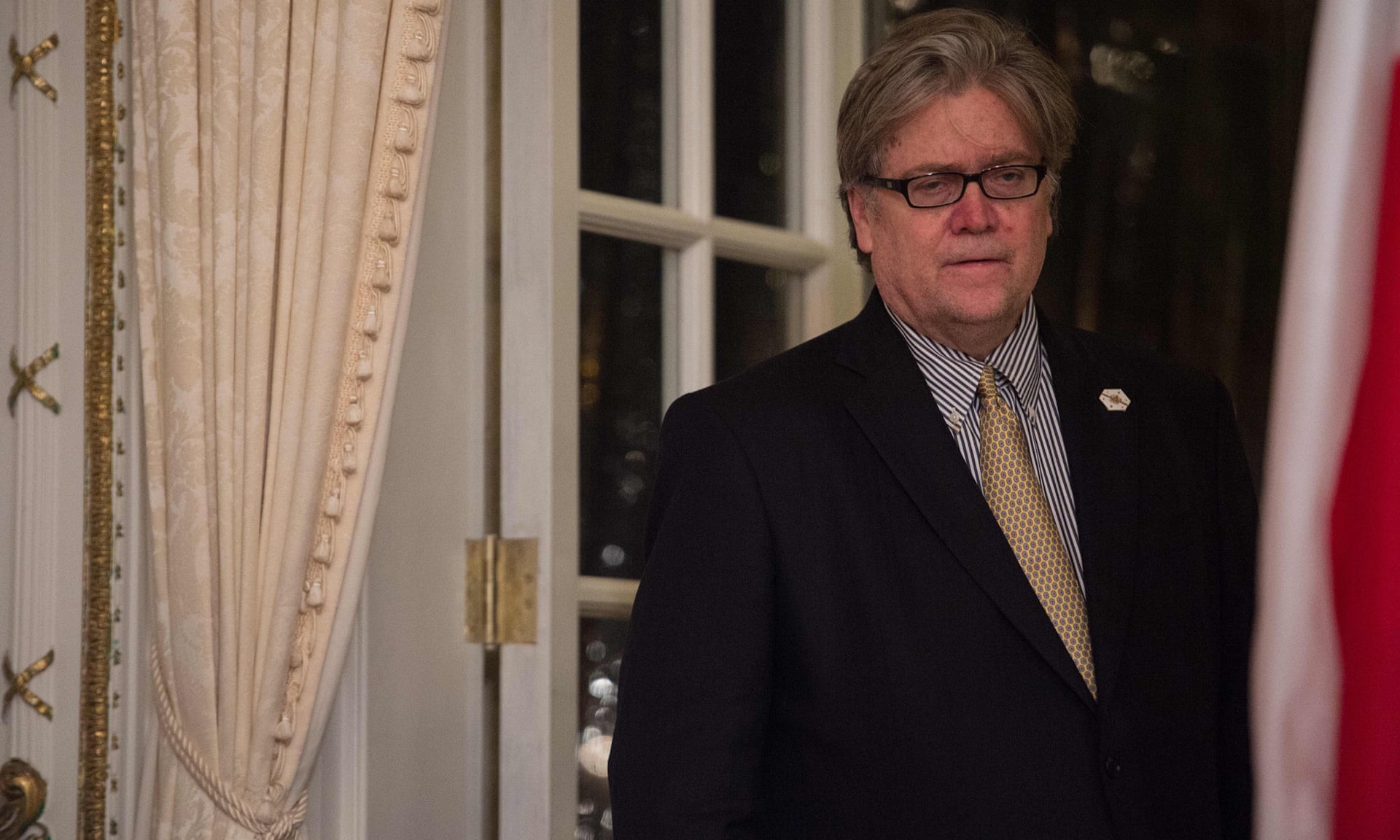 ---
This article titled "Steve Bannon: Donald Trump Jr was not 'treasonous' – I meant Paul Manafort" was written by Jon Swaine, for theguardian.com on Sunday 7th January 2018 19.25 UTC
Steve Bannon on Sunday withdrew his allegation that Donald Trump Jr committed treason, as he expressed regret over his role in the controversy around an explosive book about the White House.
The Guardian revealed last week that Bannon, formerly Trump's chief strategist, said a Trump Tower meeting between Trump Jr and Russians during the 2016 presidential election campaign was "treasonous" and "unpatriotic".
In his statement given to the Guardian and other outlets on Sunday, Bannon did not apologise for any of his remarks to the author Michael Wolff, which included strident criticisms of the president's daughter, Ivanka Trump – whom he called "dumb as a brick" – and her husband, Jared Kushner.
But he said he should have been quicker to clarify that his remarks about the June 2016 meeting in Trump Tower referred to Trump's then campaign chairman, who was also present.
"My comments were aimed at Paul Manafort, a seasoned campaign professional with experience and knowledge of how the Russians operate," Bannon said. "He should have known they are duplicitous, cunning and not our friends. To reiterate, those comments were not aimed at Don Jr."
Declaring Trump Jr to be "both a patriot and a good man", Bannon added: "I regret that my delay in responding to the inaccurate reporting regarding Don Jr has diverted attention from the president's historical accomplishments in the first year of his presidency."
In the Wolff book, Bannon is also quoted as saying the inquiry into Russian election interference led by special counsel Robert Mueller would "crack Don Jr like an egg on national TV".
Bannon issued his statement after coming under sharp criticism from Trump and his allies and losing the support of major Republican donors.
Following the publication of the remarks in Wolff's book Fire and Fury: Inside the Trump White House, the president claimed Bannon had "lost his mind" when he was fired from the White House last summer. Trump also lambasted Bannon on Twitter as "Sloppy Steve" who "cried when he got fired and begged for his job" and "has been dumped like a dog by almost everyone".
In an interview with CNN's State of the Union on Sunday, Stephen Miller, a senior White House official, described Bannon's statements as "grotesque" and "out of touch with reality".
Trump Jr agreed to the meeting with Russians including Natalia Veselnitskaya, a well-connected lawyer, after being promised documents that would "incriminate" Hillary Clinton, his father's Democratic opponent.
The meeting, which was also attended by Kushner, is being investigated by Mueller, who is looking into possible collusion between Trump's campaign and Moscow during the election campaign.
US intelligence agencies have concluded that Russia's president, Vladimir Putin, ordered a covert operation to help Trump win.
"There was no collusion and the investigation is a witch hunt," Bannon said. "I regret that my delay in responding to the inaccurate reporting regarding Don Jr has diverted attention from the president's historical accomplishments in the first year of his presidency."
The statement issued also contained an extraordinary explanation for Bannon's remark that the Trump Tower meeting had been "treasonous, or unpatriotic, or bad shit".
He said: "My comments about the meeting with Russian nationals came from my life experiences as a naval officer stationed aboard a destroyer whose main mission was to hunt Soviet submarines to my time at the Pentagon during the Reagan years, when our focus was the defeat of 'the evil empire', and to making films about Reagan's war against the Soviets and Hillary Clinton's involvement in selling uranium to them."
guardian.co.uk © Guardian News & Media Limited 2010
Published via the Guardian News Feed plugin for WordPress.
U.S. Set To Announce New Sanctions On Six Individuals Linked To Hong Kong Mass Arrests
WASHINGTON, Jan 15 (Reuters) – The United States is set to announce fresh sanctions on Friday on six individuals connected to the mass arrests earlier this month of Hong Kong pro-democracy activists, two sources familiar with the matter said.
Hong Kong police on Jan. 5 arrested 53 people in dawn raids on democracy activists in the biggest crackdown since China last year imposed a security law which opponents say is aimed at quashing dissent in the former British colony.
U.S. Secretary of State Pompeo last week warned of fresh sanctions in response to the arrests of pro-democracy activists in Hong Kong. That warning came a day after supporters of Republican President Donald Trump on Jan. 6 stormed Congress in a bid to overturn his November election defeat, prompting China's state media to accuse U.S. politicians of "double standards."
Pompeo also said last week the United States would also explore restrictions against the Hong Kong Economic and Trade Office in the United States.
Action on Friday would come just days before Trump is due to leave office and be succeeded by Democrat Joe Biden next Wednesday and would be the latest in a series targeting China, which analysts see as a bid driven by Pompeo to lock in a tough approach to Beijing.
The State Department did not immediately respond to a request for comment.
Trump has pursued hard-line policies toward China on issues ranging from trade to espionage and the coronavirus. Relations plummeted to their worst level in decades when he ramped up rhetoric in his unsuccessful November re-election campaign.
His administration has already imposed sanctions on Chinese officials for their actions involving the pro-democracy movement and other alleged rights abuses, and last July declared an end to the territory's privileged economic status under U.S. law.
The Trump administration took another swipe at China and its biggest companies on Thursday, imposing sanctions on officials and companies for alleged misdeeds in the South China Sea and imposing an investment ban on nine more firms.
Last Saturday, Pompeo said he was lifting restrictions on contacts between U.S. officials and counterparts in Taiwan, a move that greatly angered Beijing, which considers the island a renegade province. (Reporting by Humeyra Pamuk; additional reporting by David Brunnstrom; editing by Jonathan Oatis)
Louisiana Congressman-Elect Luke Letlow Dead From COVID-19
BATON ROUGE, La. (AP) — Luke Letlow, Louisiana's incoming Republican member of the U.S. House, died Tuesday night from complications related to COVID-19 only days before being sworn into office. He was 41.
Letlow spokesman Andrew Bautsch confirmed the congressman-elect's death at Ochsner-LSU Health Shreveport.
"The family appreciates the numerous prayers and support over the past days but asks for privacy during this difficult and unexpected time," Bautsch said in a statement. "A statement from the family along with funeral arrangements will be announced at a later time."
Louisiana's eight-member congressional delegation called Letlow's death devastating.
"Luke had such a positive spirit, and a tremendously bright future ahead of him. He was looking forward to serving the people of Louisiana in Congress, and we were excited to welcome him to our delegation where he was ready to make an even greater impact on our state and our nation," they said in a statement.
The state's newest congressman, set to take office in January, was admitted to a Monroe hospital on Dec. 19 after testing positive for the coronavirus disease. He was later transferred to the Shreveport facility and placed in intensive care.
Letlow, from the small town of Start in Richland Parish, was elected in a December runoff election for the 5th District U.S. House seat representing central and northeastern regions of the state, including the cities of Monroe and Alexandria.
He was to fill the seat being vacated by his boss, Republican Ralph Abraham. Letlow had been Abraham's chief of staff and ran with Abraham's backing for the job.
Gov. John Bel Edwards urged people to pray for Letlow's family.
"COVID-19 has taken Congressman-elect Letlow from us far too soon," the Democratic governor said in a statement. "I am heartbroken that he will not be able to serve our people as a U.S. representative, but I am even more devastated for his loving family."
Before working for Abraham, Letlow had worked for former Gov. Bobby Jindal's administration. Jindal's one-time chief of staff, Timmy Teepell, described Letlow on Twitter as "a good man with a kind heart and a passion to serve. He loved Louisiana and his family. He was a brother and I'm heart broken he's gone."
Letlow is survived by his wife, Julia Barnhill Letlow, and two children.
U.S. Sen. Bill Cassidy, a Republican and doctor who tested positive for COVID-19 earlier this year and has since recovered, posted in a Twitter video: "It just, just, just, just brings home COVID can kill. For most folks it doesn't, but it truly can. So, as you remember Luke, his widow, his children in your prayers, remember as well to be careful with COVID."
Trump Adviser Rudy Giuliani Captured In Compromising Position With Woman He Was Told Was A Reporter In 'Borat Subsequent Moviefilm'
The forthcoming "Borat" sequel reportedly features Rudy Giuliani engaging in provocative behavior with a woman he'd been told was a reporter.
(The Hill) — The forthcoming "Borat" sequel reportedly features Rudy Giuliani engaging in provocative behavior with a woman he'd been told was a reporter.
The adviser to President Trump appears to have unknowingly participated in "Borat Subsequent Moviefilm," the comedy starring Sacha Baron Cohen that is poised to be released Friday on Amazon Prime Video.
According to multiple reports, Giuliani sits down for an interview at a New York hotel with the character Tutar, Borat's teenage daughter who's posing as a TV journalist and was played by 24-year-old actress Maria Bakalova.
The 76-year-old former New York mayor is heard complimenting the supposed reporter and following her to a bedroom, where eventually he stretches out on the bed.
Vanity Fair describes the scene captured on hidden cameras, saying of Giuliani, "His hand is in his pants. Watching it, your brain turns into an exclamation point."
Cohen, as Borat, then reportedly runs into the hotel room sporting a bikini and exclaiming, "She's 15. She's too old for you."
Giuliani did not respond to The Hill's request for comment.
He told the New York Post in July that he had agreed to participate in what he believed was an interview about the Trump administration's COVID-19 response.
"This person comes in yelling and screaming," Giuliani said of Cohen, "and I thought this must be a scam or a shake-down, so I reported it to the police. He then ran away."