The US is a whole lot richer because of trade with Europe, regardless of whether EU is friend or 'foe'
Greg Wright, University of California, Merced
President Donald Trump recently questioned the value of the long-standing United States-Europe alliance. When asked to identify his "biggest foe globally," he declared: "I think the European Union is a foe, what they do to us in trade."
This view is consistent with his recent turn against trade with Europe but ignores the immense benefits that Americans have reaped due to the strong economic and military alliance between the U.S. and Europe – benefits that include nothing less than unprecedented peace and prosperity.
As such, Trump's trade war with Europe and his hostility toward broader Western alliances such as NATO portend a future of diminished standards of living – as a direct result of less trade – and greater global conflict – indirectly due to reduced economic integration. In the words of columnist Robert Kagan, "things will not be ok."
Some of my research focuses on the impact of increased international trade on U.S. standards of living, which I show are causally linked during the late 20th century. Most of the trade in this period occurred among rich nations and was dominated by the U.S.-Europe relationship.
By calling Europe a "foe," Trump makes clear that he simply doesn't understand why rich countries trade with one another, which, to be fair, is something that also puzzled economists for many years.
Why rich countries trade
Though in some ways it seems obvious why the U.S. and Europe trade with one another – some might enjoy Parmigiana from Italy, while others prefer Wisconsin cheddar – economists initially had trouble explaining exactly why there was so much trade among rich countries. Surely, they thought, the U.S. can produce good quality cheese at a cost that is similar to producers in Italy, and vice versa, so why would we need to go abroad to satisfy our palettes?
In 1979, economist Paul Krugman provided a clear answer that would eventually win him the Nobel Prize in economics. The first part of his answer was simple but important and boils down to the fact that consumers benefit from having a wide range of product varieties available to them, even if they are only small variations on the same item.
For instance, in 2016 the top U.S. exports to the EU were aircraft (US$38.5 billion), machinery ($29.4 billion) and pharmaceutical products ($26.4 billion). The top imports from the EU seem almost identical: machinery ($64.9 billion), pharmaceutical products ($55.2 billion) and vehicles ($54.6 billion). Although the product categories clearly overlap, there are important differences in the types of pharmaceuticals and machinery that are sold in each market. Consumers benefit from having all these options available to them.
The second part of Krugman's answer was that, by producing for both markets, companies in Europe and the U.S. could reap greater economies of scale in production and lower their prices as a result. This has been found to indeed be what happens when countries trade. And more recent research has shown that increased foreign competition can also lower domestic prices.
These benefits have been quantified. For instance, the gains to the U.S. from new foreign product varieties and lower prices over the period 1992 to 2005 were equal to about one percent of U.S. GDP – or about $100 billion.
In short, Krugman's answer emphasized the extent to which international trade between equals increases the overall size of the economic pie. And no pie has ever grown larger than the combined economies of the U.S. and Europe, which now constitute half of global GDP.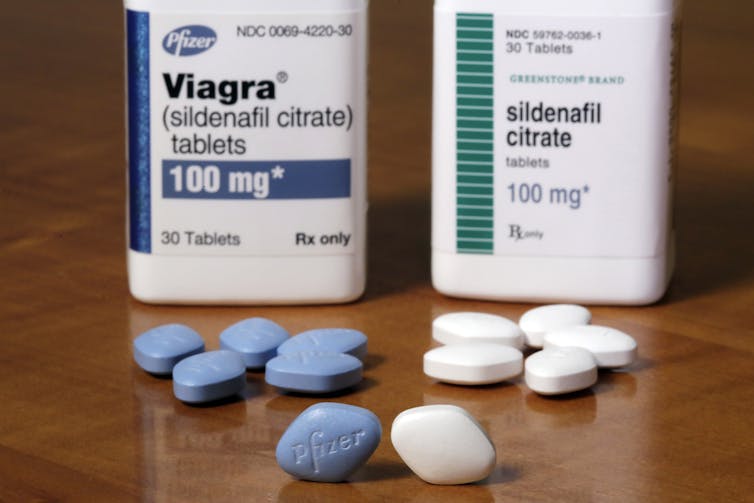 Largest trading partner
The European Union is the largest U.S. trading partner in terms of its total bilateral trade and has been for the past several decades.
Overall, the U.S. imported $592 billion in goods and services from the EU in 2016 and exported $501 billion, which represents about 19 percent of total U.S. trade and also represents about 19 percent of American GDP.
A key feature of this trade is that almost a third of it happens within individual companies. In other words, it reflects multinational companies shipping products to themselves in order to serve their local market, or as inputs into local production. This type of trade is critical as it serves as the backbone of a vast network of business investments on both sides of the Atlantic, supporting hundreds of thousands of jobs.
It is also a network that propels the global economy: the EU or U.S. serves as the primary trading partner for nearly every country on Earth.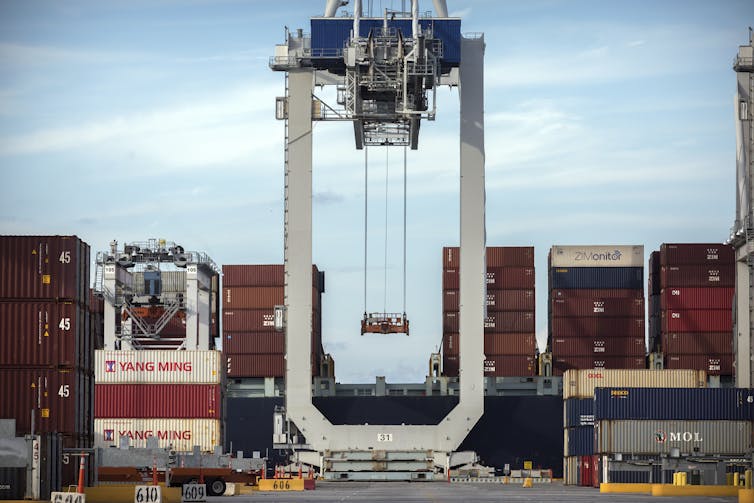 Shipping and new institutions
The U.S.-Europe trade relationship also laid the groundwork for the modern system of international trade via two distinct innovations: new shipping technologies and new global institutions.
On the technological front, the introduction of the standard shipping container in the 1960s set off the so-called second wave of globalization. This under-appreciated technology was conceived by the U.S Army during the 1950s and was perfected over Atlantic shipping routes. In short, by simply standardizing the size and shape of shipping containers, and building port infrastructure and ships to move them, massive economies of scale in shipping were realized. As a result, today container ships the size of small cities are routed via sophisticated logistics to huge deepwater ports around the world.
These routes eventually made it profitable for other countries to invest in the large-scale port infrastructure that could handle modern container ships. This laid the groundwork for the eventual growth of massive container terminals throughout Asia, which now serve as the hubs of the modern global supply chain.
At the same time that these new technologies were reducing the physical costs of doing business around the world, the U.S. and Europe were also creating institutions to define new international rules for trade and finance. Perhaps the most important one was the post-war General Agreement on Trade and Tariffs, which eventually became the World Trade Organization, creating the first rules-based multilateral trade regime. A large body of research shows that these agreements have increased trade and, more importantly, raised incomes around the world.
Overall, these advancements contributed to the subsequent enrichment of hundreds of millions of workers in Asia, Latin America and Africa by helping to integrate them into the global economy.
And when the world gets richer, the U.S. also benefits for many of the same reasons noted above: demand for U.S. products increases as incomes rise around the world, as does the variety of products the U.S. can import, and the prices of these goods typically fall.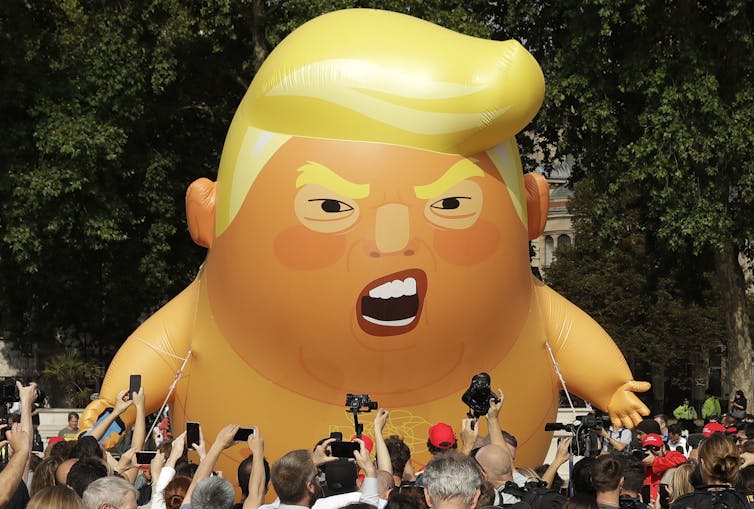 Taking the long view
But it appears that President Trump sees the U.S. on the losing end of a failed relationship.
It is unsurprising that tensions with Europe have come to the forefront over perceived imbalances in trade, particularly for a president who is not afraid to take long-time allies to task.
This is because U.S. trade policy has arguably been overly optimistic in recent years, particularly with respect to China, whose accession to the WTO proved to be much more disruptive to labor markets around the world than was predicted. Previous U.S. administrations preferred patience over confrontation, leading to a perhaps inevitable backlash that has spilled into other relationships, such as the one with Europe.
However, the U.S. relationship with Europe is clearly different, primarily because it is longstanding and has been largely one of equals. But also because their shared values mean that there are many non-economic issues — such as the spread of liberal democracy and the promotion of human rights — that get advanced by the close economic ties.
It's important to not underestimate what is at stake if the U.S.-Europe alliance is allowed to falter. Americans are likely in the midst of the most peaceful era in world history, and global economic integration, led from the beginning by the U.S. and Europe, has been a key contributing factor. Global extreme poverty is also at its lowest point ever, again in large part due to globalization.

These are the byproducts and legacies of seven decades of expanding international trade and should not be taken for granted.
Greg Wright, Assistant Professor of Economics, University of California, Merced
This article was originally published on The Conversation. Read the original article.
U.S. Set To Announce New Sanctions On Six Individuals Linked To Hong Kong Mass Arrests
WASHINGTON, Jan 15 (Reuters) – The United States is set to announce fresh sanctions on Friday on six individuals connected to the mass arrests earlier this month of Hong Kong pro-democracy activists, two sources familiar with the matter said.
Hong Kong police on Jan. 5 arrested 53 people in dawn raids on democracy activists in the biggest crackdown since China last year imposed a security law which opponents say is aimed at quashing dissent in the former British colony.
U.S. Secretary of State Pompeo last week warned of fresh sanctions in response to the arrests of pro-democracy activists in Hong Kong. That warning came a day after supporters of Republican President Donald Trump on Jan. 6 stormed Congress in a bid to overturn his November election defeat, prompting China's state media to accuse U.S. politicians of "double standards."
Pompeo also said last week the United States would also explore restrictions against the Hong Kong Economic and Trade Office in the United States.
Action on Friday would come just days before Trump is due to leave office and be succeeded by Democrat Joe Biden next Wednesday and would be the latest in a series targeting China, which analysts see as a bid driven by Pompeo to lock in a tough approach to Beijing.
The State Department did not immediately respond to a request for comment.
Trump has pursued hard-line policies toward China on issues ranging from trade to espionage and the coronavirus. Relations plummeted to their worst level in decades when he ramped up rhetoric in his unsuccessful November re-election campaign.
His administration has already imposed sanctions on Chinese officials for their actions involving the pro-democracy movement and other alleged rights abuses, and last July declared an end to the territory's privileged economic status under U.S. law.
The Trump administration took another swipe at China and its biggest companies on Thursday, imposing sanctions on officials and companies for alleged misdeeds in the South China Sea and imposing an investment ban on nine more firms.
Last Saturday, Pompeo said he was lifting restrictions on contacts between U.S. officials and counterparts in Taiwan, a move that greatly angered Beijing, which considers the island a renegade province. (Reporting by Humeyra Pamuk; additional reporting by David Brunnstrom; editing by Jonathan Oatis)
2nd GOP Senator Urges Trump To Resign Over Capitol Riot
WASHINGTON (AP) — Two Republican senators now say President Donald Trump should resign as support for the drive to impeach him a second time is gaining momentum in his final days in office after the deadly riot at the Capitol by a violent mob of Trump supporters.
Sen. Pat Toomey of Pennsylvania on Sunday joined Alaska Sen. Lisa Murkowski in calling for Trump to "resign and go away as soon as possible." Murkowski, who has long voiced her exasperation with Trump's conduct in office, told the Anchorage Daily News on Friday that Trump simply "needs to get out."
Toomey said that even though he believes Trump committed impeachable offenses in encouraging loyalists in the Capitol siege on Wednesday, he did not think there was enough time for the impeachment process to play out. Toomey said that resignation was the "best path forward, the best way to get this person in the rear view mirror for us." He was not optimistic that Trump would step down before his term ends on Jan. 20.
The White House had no immediate comment Sunday.
The House appears determined to act despite the short timeline.
Late Saturday, House Speaker Nancy Pelosi, D-Calif., sent a letter to her colleagues reiterating that Trump must be held accountable. She told her caucus, now scattered across the country on a two-week recess, to "be prepared to return to Washington this week."
"It is absolutely essential that those who perpetrated the assault on our democracy be held accountable," Pelosi wrote. "There must be a recognition that this desecration was instigated by the President."
Rep. Jim Clyburn, the third-ranking House Democrat, said "it may be Tuesday, Wednesday before the action is taken, but I think it will be taken this week." Clyburn, D-S.C., said he was concerned that a Senate trial could distract from the process of confirming President-elect Joe Biden's nominees.
Clyburn said one option could be giving Biden the "100 days he needs to get his agenda off and running and maybe we'll send the articles sometime after that" to the Senate for a trial.
He said lawmakers "will take the vote that we should take in the House" and that Pelosi "will make the determination as when is the best time" to send them to the Senate.
Kentucky Sen. Mitch McConnell, the Republican leader, has said an impeachment trial could begin as early as Inauguration Day, Jan. 20.
The new Democratic effort to stamp Trump's presidential record — for the second time and days before his term ends — with the indelible mark of impeachment is gaining supporters. Rep. David Cicilline, D-R.I, a leader of the House effort to draft impeachment articles — or charges — accusing Trump of inciting insurrection, said Saturday that his group had grown to include 185 co-sponsors.
Lawmakers planned to formally introduce the proposal on Monday in the House, where articles of impeachment must originate.
The articles, if passed by the House, could then be transmitted to the Senate for a trial, with senators acting as jurors who would ultimately vote on whether to acquit or convict Trump. If convicted, Trump would be removed from office and succeeded by the vice president.
Potentially complicating that decision about impeachment is what it means for Biden and the beginning of his presidency. While reiterating that he has long viewed Trump as unfit for office, Biden on Friday sidestepped a question about impeachment, saying what Congress does "is for them to decide."
A violent and largely white mob of Trump supporters overpowered police, broke through security lines and rampaged through the Capitol on Wednesday, forcing lawmakers to scatter as they were putting the final, formal touches on Biden's victory over Trump in the Electoral College.
The crowd surged to the domed symbol of American democracy following a rally near the White House, where Trump repeated his bogus claims that the election was stolen from him and urged his supporters to march in force toward the Capitol.
Five people, including a Capitol police officer, died as a result of the siege.
Outrage over the attack and Trump's role in egging it on capped a divisive, chaotic presidency like few others in the nation's history. There are less than two weeks until Trump is out of office but Democrats have made clear they don't want to wait that long.
Trump, has few fellow Republicans speaking out in his defense. He's become increasingly isolated, holed up in the White House as he has been abandoned in the aftermath of the riot by many aides, leading Republicans and, so far, two Cabinet members — both women.
Toomey appeared on CNN's "State of the Union" and NBC's "Meet the Press." Clyburn was on "Fox News Sunday" and CNN.
Louisiana Congressman-Elect Luke Letlow Dead From COVID-19
BATON ROUGE, La. (AP) — Luke Letlow, Louisiana's incoming Republican member of the U.S. House, died Tuesday night from complications related to COVID-19 only days before being sworn into office. He was 41.
Letlow spokesman Andrew Bautsch confirmed the congressman-elect's death at Ochsner-LSU Health Shreveport.
"The family appreciates the numerous prayers and support over the past days but asks for privacy during this difficult and unexpected time," Bautsch said in a statement. "A statement from the family along with funeral arrangements will be announced at a later time."
Louisiana's eight-member congressional delegation called Letlow's death devastating.
"Luke had such a positive spirit, and a tremendously bright future ahead of him. He was looking forward to serving the people of Louisiana in Congress, and we were excited to welcome him to our delegation where he was ready to make an even greater impact on our state and our nation," they said in a statement.
The state's newest congressman, set to take office in January, was admitted to a Monroe hospital on Dec. 19 after testing positive for the coronavirus disease. He was later transferred to the Shreveport facility and placed in intensive care.
Letlow, from the small town of Start in Richland Parish, was elected in a December runoff election for the 5th District U.S. House seat representing central and northeastern regions of the state, including the cities of Monroe and Alexandria.
He was to fill the seat being vacated by his boss, Republican Ralph Abraham. Letlow had been Abraham's chief of staff and ran with Abraham's backing for the job.
Gov. John Bel Edwards urged people to pray for Letlow's family.
"COVID-19 has taken Congressman-elect Letlow from us far too soon," the Democratic governor said in a statement. "I am heartbroken that he will not be able to serve our people as a U.S. representative, but I am even more devastated for his loving family."
Before working for Abraham, Letlow had worked for former Gov. Bobby Jindal's administration. Jindal's one-time chief of staff, Timmy Teepell, described Letlow on Twitter as "a good man with a kind heart and a passion to serve. He loved Louisiana and his family. He was a brother and I'm heart broken he's gone."
Letlow is survived by his wife, Julia Barnhill Letlow, and two children.
U.S. Sen. Bill Cassidy, a Republican and doctor who tested positive for COVID-19 earlier this year and has since recovered, posted in a Twitter video: "It just, just, just, just brings home COVID can kill. For most folks it doesn't, but it truly can. So, as you remember Luke, his widow, his children in your prayers, remember as well to be careful with COVID."