A site error has caused the publication date of this article to show incorrectly as November 4th.
President Elect Joe Biden joined the crowded Democratic presidential field on April 25, declaring his candidacy for president nearly two years after he exited the White House alongside former President Barack Obama.
Biden entered as a likely front-runner in some of the early nominating contests to take on President Donald Trump.
Biden announced in early August that Sen. Kamala Harris, D-Calif., would join him on the Democratic ticket as his vice presidential nominee, after pledging to choose a woman for the role in March.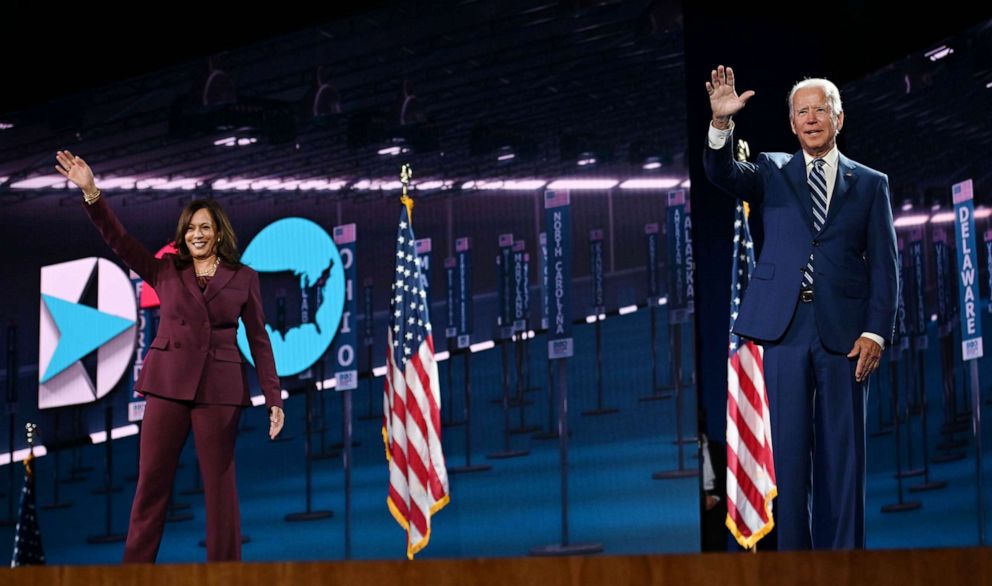 Harris was long considered to be a front-runner in the search, despite a testy debate stage exchange with Biden over busing when they were competing for the Democratic nomination for president. Biden credited his late son's close relationship with the senator in helping him make his decision.
President-Elect Joe Biden Suffers Hairline Fracture To Right Foot While Playing With Family Dog
(NBC News) — President-elect Joe Biden suffered hairline fractures in his right foot over the weekend in an injury that will likely require a walking boot for several weeks, his doctor said Sunday.
The fractures occurred while Biden was playing with Major, one of the Bidens' two German shepherds, on Saturday.
Officials initially believed the president-elect twisted his ankle, and his personal physician, Kevin O'Connor, said later that Biden had sprained his right foot and X-rays did not appear to show "obvious" bone fractures.
But follow-up CT scans revealed small fractures to Biden's lateral and intermediate cuneiform bones in the mid-section of his right foot, said O'Connor, director of executive medicine at George Washington University Medical Faculty Associates.
"It is anticipated that he will likely require a walking boot for several weeks," O'Connor said.
Reacting to video of Biden leaving an orthopedic office in Delaware on Sunday, President Donald Trump tweeted, "Get well soon!"
Election 2020: The Latest
Joe Biden is nearing 270 electoral votes.
Six states remain too close to call. Here's why delayed election results show us the system IS actually working.
President Trump claimed some legitimate tallying efforts should stop and tried to assert victory in the election. Joe Biden urged patience as the votes continued to be counted
10:52 a.m.: Trump demands vote-counting stop on Twitter — a baseless claim outside of his authority
With Joe Biden edging closer to unseating him from the White House, President Donald Trump says he wants to put a halt to vote counting.
The extraordinary statement by an incumbent president to voice support for ceasing the count of legally cast votes came in a Thursday morning tweet, saying only: "STOP THE COUNT!"
He later tweeted, falsely, that ballots that came in after Election Day would not be counted. Different states have different laws in America's decentralized election system. Some legally allow votes to arrive after Nov. 3, as long as they are postmarked before the end of Election Day.
Elections are run by individual state, county and local governments. Trump's public comments have no impact on the tallying of votes across the country.
So far, the vote count across the country has been conducted efficiently and without evidence of any misconduct, despite Trump's public complaints.
Trump's comments come as his campaign has filed legal action in several states to try to stop vote counting, claiming a lack of transparency. Still, Trump's campaign has held out hope that continued counting in Arizona could overcome a Biden lead in the state.
—Associated Press
10:46 a.m.: Arizona says 450,000 ballots still to be counted
Arizona state officials say there are about 450,000 ballots still to be counted in the Western battleground.
The AP says it is monitoring that vote count as it comes in. The AP has called the presidential race in Arizona for Democrat Joe Biden.
AP executive editor Sally Buzbee says: "The Associated Press continues to watch and analyze vote count results from Arizona. We will follow the facts in all cases."
Biden holds a 2.35 percentage point lead over Trump in Arizona, an advantage of about 68,000 votes.
The vast majority of the ballots yet to be counted are from Maricopa County, the most populous area of the state.
This entry has been corrected to show that 450,000 ballots are still to be counted, not 375,000
—Associated Press
10:02 a.m.: Fox News leads Trump-Biden election night coverage with a record audience
Fox News was the top choice among viewers for coverage of the 2020 election as President Donald Trump and his opponent, former Vice President Joe Biden, were in a tight battle for 270 electoral votes.
But Nielsen data showed a lot fewer viewers turned to TV for presidential election coverage than in 2016, when Trump won the presidency in his race against Hillary Clinton.
Nielsen data showed Fox News, led by anchors Bret Baier and Martha MacCallum, averaged 13.8 million viewers, a record for cable news coverage of a presidential election, from 8-11 p.m. ET.
CNN finished second for the night (with 9.1 million viewers), followed by MSNBC (7.3 million), ABC (6.1 million), NBC (5.6 million), the Fox broadcast network (3.3 million), Fox Business (366,000) and CNBC (117,000).
Coverage also aired on WGN America, PBS, Telemundo, Univision and CNN en Espanol.
Fox News has seen its ratings surge overall in 2020, some nights topping all other networks on cable and broadcast television. For the second presidential cycle in a row, the top-three finish of Fox News, CNN and MSNBC shows how cable news has become the main destination for politically engaged viewers, taking the mantle from broadcast networks, which have long used their presidential election night coverage to showcase their news operations.
While Nielsen has yet to release a total figure on viewers who watched election coverage in prime time, the early numbers indicate it will be down significantly from the 71.4 million viewers in 2016.
The drop is likely a reflection of the overall decline in the usage of traditional television, especially among viewers under the age of 50. Many news outlets made streaming coverage of election results available on a wide range of platforms.
The live stream of CNN's coverage had a peak 1.1 million concurrent viewers streaming at its peak on election night over a number of digital platforms. CBSN, the digital stream of CBS News, had 19.5 million unique visitors on Election Day, a new record for the service.
The TV number also may have dropped as it became apparent that no winner was going to be declared on the night.
—Stephen Battaglio, Los Angeles Times
9:15 a.m.: Democrats wonder, 'What went wrong in Florida?'
In Florida, a state famous for razor-thin margins, the size of former Vice President Joe Biden's loss to President Donald Trump was humiliating for Democrats and sent many searching for answers to how they failed to close the deal with voters — again.
Democrats zeroed in on two clear explanations: Biden didn't connect with the state's Latino voters, performing particularly poorly with Cuban voters in South Florida. They also second-guessed the party's decision to freeze in-person organizing during the worst of the pandemic, a decision that set them back in reaching voters.
"Clearly, Biden was not able to capture the imagination of the Florida electorate and create the type of enthusiasm to go out and vote for Biden like Trump did with his base of supporters in the state," said Fernand Amandi, a Miami-based Democratic pollster. "It's an unacceptable record of futility. What makes it so vexing is that the problems that need to be fixed are so apparent. But they just don't get fixed."
Amandi focused on the Biden campaign's struggles to connect with Hispanic voters in the state.
Trump and Republicans pummeled Biden for months with misleading claims suggesting he was a "socialist" and would cater to the left wing of the Democratic Party. The attacks carried added power with Cuban and Venezuelan Americans, who associate the labels with authoritarian and corrupt Latin American leaders.
Biden's weakness was most evident in his underperformance in Miami-Dade County, which has the state's deepest concentration of Hispanic voters, particularly Cuban Americans. Biden won the county, the state's most populous, by just 7 percentage points — compared with Democrat Hillary Clinton's 30-point victory margin four years ago against Trump.
AP VoteCast, a survey of the Florida electorate, found Trump won 58% of Cuban American voters statewide, while voters with South American heritage split evenly between Biden and Trump. The survey said Puerto Rican voters backed Biden by about 2 to 1.
The relatively poor showing in South Florida hurt other Democrats, as Republicans swept out two Miami-area congressional incumbents — Reps. Donna Shalala and Debbie Mucarsel-Powell.
"When you look at Miami-Dade in particular, there was a lot of advertising on the other side of the aisle dealing with socialism and in some cases even the word communism," said Democratic Rep. Charlie Crist, a former Republican governor who has held three statewide offices.
"I think that obviously had an impact," Crist said. "When you're attacked you need to fight back. I'm not sure how much of the fighting back occurred on our side."
—Associated Press
8:15 a.m.: No 'blue wave' appears for Democrats in Congress
The election scrambled seats in the House and Senate but ultimately left Congress much like it began, deeply split as voters resisted big changes despite the heated race at the top of the ticket for the White House.
It's an outcome that dampens Democratic demands for a bold new agenda, emboldens Republicans and almost ensures partisan gridlock regardless of who wins the presidency. Or perhaps, as some say, it provides a rare opening for modest across-the-aisle cooperation.
Speaker Nancy Pelosi was on track to keep control of the Democratic House, but saw her majority shrinking and her leadership called into question. Control of the Senate tilted Republicans' way as they fended off an onslaught of energized challengers, though a few races remained undecided Wednesday.
House Republicans picked up five seats, so far, deflating Pelosi's plans to reach deep into Trump country by making rare gains with women and minority candidates. Republicans defeated several Democratic freshmen who delivered the House majority in 2018 in a backlash against Trump.
By evening, Pelosi had all but declared Democrat Joe Biden the winner, saying House Democrats "will now have the opportunity to deliver extraordinary progress" on party priorities — lowering health care costs, providing jobs through new infrastructure and others.
Most immediately, a COVID relief bill remains within reach, as the pandemic blazes through the states. GOP Leader Mitch McConnell said he would also like to negotiate a big spending bill to keep the government running past a mid-December deadline.
A handful of new progressives will be coming to Washington to join House Democrats, while Republicans will see new right-flank members, including Marjorie Taylor Greene, who has espoused unfounded QAnon conspiracy theories and won a vacant seat in northwest Georgia. Trump has called Greene a "future Republican star."
One certainty is the upended projections will force a rethinking of polling, fundraising and the very messages the parties use to reach voters in the Trump era and beyond.
—Associated Press
———-
A Michigan judge has dismissed a lawsuit by President Donald Trump's campaign in a dispute over whether Republican challengers had access to the handling of absentee ballots.
Judge Cynthia Stephens noted that the lawsuit was filed late Wednesday afternoon, just hours before the last ballots were counted. She also said the defendant, Secretary of State Jocelyn Benson, was the wrong person to sue because she doesn't control the logistics of local ballot counting, even if she is the state's chief election officer.
11:45 a.m.
A judge in Georgia has dismissed a lawsuit by the state Republican Party and President Donald Trump's campaign that asked him to ensure one county was following state laws on processing absentee ballots.
Chatham County Superior Court Judge James Bass did not provide an explanation for his decision Thursday at the close of a roughly one-hour hearing. The county includes the heavily Democratic city of Savannah.
The suit had raised concerns about 53 absentee ballots that poll observers said were not part of an original batch of ballots. County elections officials testified that all 53 ballots had been received on time.
___
11:40 a.m.
Joe Biden's campaign is expressing optimism at the ultimate result of the election but warning supporters to "stay patient and stay calm" as vote counting continues.
Biden campaign manager Jen O'Malley Dillon said Thursday on a briefing call with reporters that "the story of today is going to be a very positive story" for their campaign, but cautioned that as the counting continues, "we need to allow it to get done and get done well."
She says the campaign expects their lead to fluctuate in some states as more votes come in.
O'Malley Dillon also charged that legal challenges by President Donald Trump's campaign to halt vote counting in some states and seek a recount in Wisconsin are a "flailing strategy" that are an "attempt to distract and delay" from the results of the election.
The Associated Press is not calling the presidential race yet because neither candidate has secured the 270 Electoral College votes needed for victory. Several key states were too early to call — Pennsylvania, Georgia, North Carolina and Nevada.
___
10:38 a.m.
Arizona state officials say there are about 450,000 ballots still to be counted in the Western battleground.
The AP says it is monitoring that vote count as it comes in. The AP has called the presidential race in Arizona for Democrat Joe Biden.
AP executive editor Sally Buzbee says: "The Associated Press continues to watch and analyze vote count results from Arizona. We will follow the facts in all cases."
Biden holds a 2.35 percentage point lead over Trump in Arizona, an advantage of about 68,000 votes.
The vast majority of the ballots yet to be counted are from Maricopa County, the most populous area of the state.
November 4, 1:19:06 PM ET
President Donald Trump tried to declare victory in the presidential election early Wednesday.
But he hasn't won, because all the votes haven't been counted — and in some ways, the process is just getting started.
The morning after he declared from the White House East Room that "all voting must stop," President Donald Trump's strategy of undermining the Democratic process was coming into sharper focus, even as it failed to gain widespread traction among Republicans or even his own campaign.
With millions of ballots still being counted, Trump awoke in an agitated state, tweeting or retweeting messages that sought to undermine confidence in the vote counting process. At least three were labeled by Twitter as "disputed" or "misleading."
Several top Republicans, including those close to Senate Republican leaders, were privately dismissive of Trump's suggestion that ballots shouldn't be counted after Election Day.
And even his own campaign said in a call with reporters that Trump's remaining path to victory will rely on those still-uncounted ballots in places where the process of tabulating results has taken longer.
What emerged was a picture of a President intent on using all the tools at his disposal to force a victory, including wielding misinformation about the integrity of the vote and an onslaught of legal maneuvers, even as the results were still coming in and his advisers insisted the math would turn in his favor.
Build your own road to 270 electoral votes with CNN's interactive map
Trump's advisers believe he does still have a path to victory that includes wins in Pennsylvania and Arizona, though acknowledge privately it will be an uphill battle.
"If we count all legal ballots, the President wins," campaign manager Bill Stepien told reporters on a quickly-arranged mid-morning conference call.
Trump, however, has projected less optimism in those routes and has instead sought to question the large batches of outstanding votes that have tipped some states toward Biden.
"They are finding Biden votes all over the place — in Pennsylvania, Wisconsin, and Michigan. So bad for our Country!" he wrote on Twitter.
Trump's grip-like command of the Republican Party remains firmly in place, and does not appear poised to loosen after Tuesday night's results. Few Republican elected officials spoke out against Trump's attempts to delegitimize the vote counting process. Instead, most were silent as the situation plays out.
Privately, however, those within Trump's party were beginning to undercut his claims that fraudulent voting was leading to late Democratic surges in critical battlegrounds.
"No, we don't agree with what's coming out of the White House," a senior GOP official said. "We see no credible reports of fraud or anything improper."
Uncertainty
Trump had long signaled he would not accept the results of a close election that showed him losing, but how he proceeds now remains uncertain. He said in his wee-hours statement from the East Room that he would challenge the election results in the United State Supreme Court, but so far on Wednesday his legal team was still formulating plans in individual states where the margins remain razor-thin, including in Pennsylvania and Wisconsin.
Trump had no events on his schedule Wednesday, and Vice President Mike Pence's schedule was similarly empty. Both were expected to remain in Washington to consult with campaign and legal teams about their next steps.
The previous evening, deliberations over what Trump would say when he emerged after midnight were at times intense, according to people familiar with the matter. Trump's speech came around 2:30 a.m. ET, well after his rival spoke from Wilmington, Delaware. While teleprompters were set up for him to read from, he appeared to ad-lib much of his speech.
"This is without question the latest news conference I've ever had," Trump said.
Speaking after him, Pence seemed to offer a drastically different message, saying that "while the votes continue to be counted, we're going to remain vigilant."
Trump openly acknowledged that he had felt better earlier in the evening on Tuesday, as invited guests nibbled on pigs-in-a-blanket and french fries on the State Floor of the White House and early results showed him edging former Vice President Joe Biden.
"Literally we were just all set to get outside and just celebrate something that was so beautiful, so good," he said.
While 400 people had been invited to the party, far fewer actually attended, including several Fox News personalities and members of the President's cabinet.
Trump made a brief appearance at the party early in the evening before retreating upstairs to his private residence. There, he conferred with a smaller group of campaign and White House advisers about how to proceed. A campaign "war room" had been established on the White House campus to provide Trump and his senior team real-time updates.
Other members of Trump's inner-circle, including members of his family, held a more private results-viewing party from the family dining room, where large televisions had been wheeled in and a sofa set up.
Surprising night
Trump's early confidence turned to indignation when Fox News, the network airing on large televisions set up throughout the White House, projected Biden would win Arizona. Trump's campaign publicly called on the network to retract the projection and on Wednesday morning, the President's campaign manager insisted to reporters that Arizona remained in play.
"Late-arriving votes cast closest to Election Day are the ones being counted now," Bill Stepien said, adding they expect between two-thirds and 70% of the remaining uncounted ballots would be "coming to the President."
"That math adds up to a margin of around 30,000 votes in the President's favor," Stepien said, adding that Arizona "will come the President's way."
Biden's campaign offered an entirely different assessment on its own briefing call, saying they believed the former vice president had won in Arizona and was on track to win Michigan and Wisconsin.
Despite the confidence projected by the Trump campaign, not everyone on that team was feeling optimistic waking up on Wednesday.
"We are clearly in a corner here," one senior official said.
But the official cautioned that the campaign is not yet out of the game, and campaign officials have continued to claim both publicly and privately that they think they have shot if they can get Arizona and Nevada into their column.
Meanwhile, the Trump campaign was desperately fundraising the day after the election for resources to wage legal battles against election results. The campaign sent out six emails to supporters since midnight asking for money. Each of the solicitations has included the false claim that Democrats are trying to "steal" the election.
There is no evidence of nefarious activity surrounding the election count.
At a rally in Kenosha, Wisconsin, on the eve of the election day, Trump said campaign lawyers "will be going in and they'll be fighting."
How the exit polls will work in a pandemic
On the day that celebrates our great democracy, Donald Trump said something deeply un-democratic.
"We should be entitled to know who won on November 3," he told reporters during a visit to his campaign headquarters on Election Day.
Nope! That's not it at all!
What we are entitled to as a democratic nation is that everyone who cast a ballot under the rules determined by their state can have full faith in the fact that their vote will be counted.
That's it. That's democracy.
What Trump is trying to do with comments like these — not to mention his fact-free assertions that if a winner is not announced tonight the vote is somehow "rigged" — provide fodder to explain away a potential loss.
Trump has never been someone who can accept defeat, choosing instead to create an alternate reality in which his business failures were moves of strategic brilliance, his bankruptcies were evidence of his smarts and his many setbacks over his first term as President were proof that the "deep state" hated how much of a threat he was to them.
This latest push by Trump to invalidate votes in places like Pennsylvania and Texas that were lawfully cast is simply in keeping with the never-ending excuse machine that is our current President.
If Trump loses — and that's an "if" because he's shown an uncanny ability to over-perform expectations, it will be because the American public decided that they wanted to go in a different direction after four years of the billionaire businessman. Not because he was somehow cheated out of the presidency.
The Point: Election Day is the day we are reminded that the people have the power to choose our leaders and the direction this country heads. Don't let Trump (or anyone else) change that fact for their own selfish political purposes.