Ryanair cancels flights after 'messing up' pilot holidays
Ryanair cancelled 82 flights on Sunday after admitting it had "messed up" the planning of its pilots' holidays.
The budget airline said on Saturday that it will cancel 40-50 flights every day for the next six weeks.
Marketing officer Kenny Jacobs said affected customers with bookings up to 20 September had been informed.
"We have messed up in the planning of pilot holidays and we're working hard to fix that," he said.
Most of the cancellations are due to a backlog of staff leave which has seen large numbers of the airline's staff book holidays towards the end of the year.
The airline is changing its holiday year, which currently runs from April to March, to run from January to December instead.
Rynanair said the shift meant it had to allocate annual leave to pilots in September and October.
Passenger complaints
The cancellations could affect up to 285,000 passengers, who will be offered alternative flights or refunds.
Mr Jacobs said affected customers would have been sent an email.
"We advise customers to check the email address used to make their booking," he added.
Ryanair has said that less than 2% of its flights would be cancelled and the move would help it hit its annual punctuality target of 90%.
But passengers have complained about the resulting uncertainty.
Gary Cummings was due to fly from Leeds to Bratislava on Friday morning.
On Thursday night he received a text message from Ryanair, saying his flight had been cancelled.
The only alternative flight he was offered was on Monday – when he was originally due to be returning to Leeds.
"We were left in limbo really," he told BBC Radio 5 live.
But customers do have rights under the European Passenger Rights legislation.
"The rules say if the airline doesn't have a suitable alternative flight, you have to be booked on a rival airline," said Simon Calder, travel editor of the Independent.
He said passengers should also be able to claim compensation for the cancellations.
"It's a really odd thing in terms of customer care, to say we want to improve the operation by keeping more planes on the ground," he told the BBC.
---
Analysis: Ryanair denies staff exodus
By Joe Lynam, BBC business correspondent
Ryanair is the biggest airline in Europe and the king of low cost carriers.
But the new kid on the no-frills block is Norwegian. They've grown almost exponentially in the last three years and even plan to set up a new base in Dublin – Ryanair's back yard.
To rub it in, they boasted last week of taking on 140 Ryanair pilots so far this year.
Furthermore Norwegian said that the newly hired pilots would get, unlike most new Ryanair pilots, a full time job (as opposed to contractor status) and a competitive salary.
Ryanair flatly denies that there has been an exodus of staff and that that might lie behind the sudden decision to ground up to 50 flights a day for 6 weeks.
It says it's cancelling hundreds of flights due to personnel and air traffic control issues.
---
What rights do passengers have?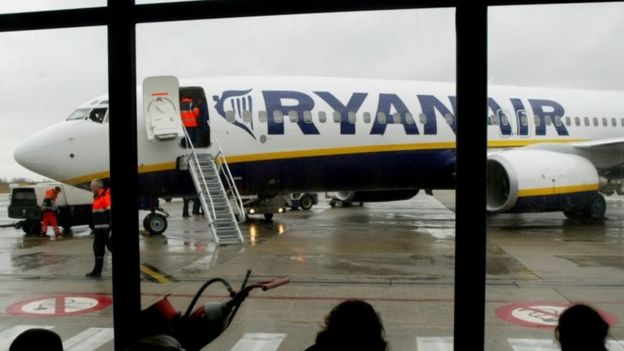 The EU compensation rules for cancelled flights are as follows:
Passengers are entitled to assistance and compensation, if the disruption was within an airline's control.
Airlines have to offer full refunds, paid within seven days, or rebookings for a flight cancelled at short notice.
In addition, passengers can also claim compensation.
Cancellation amounts are: 250 euros (£218) for short-haul, 440 euros (£384) for medium-haul and 600 euros (£523) for long-haul.
Passengers who reach their destination more than three hours late can be compensated from 200 to 600 euros, depending on the length of flights and delay.
Biden Expected To Repeal Military Trans Ban Tomorrow
The Biden administration is expected to repeal the ban on transgender Americans from serving in the military, multiple people informed of the decision told CBS News. The announcement is expected as soon as Monday, one senior Defense official and four outside advocates of repealing the ban told CBS News.
The senior Defense official told CBS News the repeal will be through executive order signed by President Joe Biden. The announcement is expected to take place at a ceremony with newly-confirmed Defense Secretary Lloyd Austin, who will order the Pentagon to go back to the policy enacted in 2016 by former Defense Secretary Ash Carter that allowed transgender Americans to serve openly.
The White House did not respond immediately to a request for comment.
The new order will direct the branches of the military to outline an implementation plan.
The ban was announced by former President Trump via a tweet in July 2017. The ban took effect in April 2019 and barred transgender Americans from enlisting in the military.
In 2014, it was estimated there were around 15,500 transgender military members serving, according to a study by the Williams Institute at the UCLA School of Law.
Biden frequently repeated on the campaign trail his promise to repeal the ban.
Austin said at his Senate confirmation hearing last week that he planned to repeal the ban.
"I support the president's plan or plan to overturn the ban," Austin said on Tuesday when asked by Senator Kirsten Gillibrand, "I truly believe, Senator, that as I said in my opening statement, that if you're fit and you're qualified to serve and you can maintain the standards, you should be allowed to serve. And, you can expect that I will support that throughout."
Trump Pardons Steve Bannon In One of His Final Acts As 45th President
(CNN)— President Donald Trump has decided to pardon his former chief strategist Steve Bannon, in a last-minute decision made only hours before he is scheduled to depart the White House for a final time.
Officials cautioned CNN that Trump's decision was not final until he signed the paperwork. Trump told people that after much deliberation, he had decided to pardon Bannon as one of his final acts in office.
Bannon's pardon would follow a frantic scramble during the President's final hours in office as attorneys and top aides debated his inclusion on Trump's outgoing clemency list. Despite their falling out in recent years, Trump was eager to pardon his former aide after recently reconnecting with him as he helped fan Trump's conspiracy theories about the election.
It was a far cry from when Trump exiled Bannon from his inner circle after he was quoted in a book trashing the President's children, claiming that Donald Trump Jr. had been "treasonous" by meeting with a Russian attorney and labeling Ivanka Trump "dumb as a brick." Those statements from Bannon drove Trump to issue a lengthy statement saying he had "lost his mind."
"Steve Bannon has nothing to do with me or my presidency," Trump said at the time.Things shifted in recent months as Bannon attempted to breach Trump's inner circle once again by offering advice before the election and pushing his false theories after Trump had lost.
Since Trump's election defeat, the President has leaned further into his expansive pardon powers — granting pardons to his first national security adviser, Michael Flynn, longtime ally Roger Stone and former campaign chairman Paul Manafort, among others.
Among Trump's pardons earlier in his term were those for former Arizona Sheriff Joe Arpaio, right-wing commentator Dinesh D'Souza and financier Michael Milken.
California Governor Formally Appoints Alex Padilla To Fill US Senate Seat Vacated By Kamala Harris
(CNN) — California Gov. Gavin Newsom formally submitted the appointment of Alex Padilla to the US Senate today, according to a press release from the governor's office. 
Padilla formally resigned as Secretary of State this morning and Gov. Newsom also submitted his nomination letter for Assembly member Shirley Weber to replace him. The Deputy Secretary of State, James Schwab, will be the Acting Secretary of State.
"It is fitting that on the same day we celebrate the legacy of Dr. Martin Luther King, Jr. — a civil rights icon who fought for justice and representation — we also move forward the appointment of California's first Latino U.S. Senator Alex Padilla and the nomination of Dr. Shirley Weber who will serve as the first-ever African American Secretary of State. Both will be strong defenders of our democracy during this fragile moment in our nation's history," said Gov. Newsom.
"I am humbled and honored by your trust in me to represent California in the United States Senate. I look forward to continuing to serve the great State of California as a United States Senator and to ensuring that the rights and democratic principles we cherish are protected and preserved for all people," Padilla wrote in a letter to Gov. Newsom.
Some context: Earlier today, Vice President-elect Kamala Harris formally resigned her seat as one of California's US Senators. She'll be inaugurated as vice president on Wednesday, Jan. 20. In a farewell addressed posted to Twitter, Harris said, "Of course, I'm not saying goodbye. In many ways, I'm now saying hello as your vice president."