QUEEN PAYS TRIBUTE TO TERROR AND FIRE VICTIMS IN CHRISTMAS SPEECH
Queen Elizabeth II paid tribute to the victims of the Manchester terror attack and the Grenfell Tower fire in London during her annual Christmas Day message Monday.
Speaking from Buckingham Palace, she told of the "privilege" of meeting those injured in the Manchester attack that killed 22 people attending an Ariana Grande concert.
She also commended the country's emergency services, which have endured a difficult year with a series of terror attacks in London.
The Queen also spoke about those who lost family members in the Grenfell Tower fire in which 71 people perished.
"For many, the idea of 'home' reaches beyond a physical building — to a hometown or city," she said in her televised address.
"This Christmas, I think of London and Manchester, whose powerful identities shone through over the past 12 months in the face of appalling attacks. In Manchester, those targeted included children who had gone to see their favorite singer. A few days after the bombing, I had the privilege of meeting some of the young survivors and their parents.
"I describe that hospital visit as a privilege because the patients I met were an example to us all, showing extraordinary bravery and resilience. Indeed, many of those who survived the attack came together just days later for a benefit concert. It was a powerful reclaiming of the ground, and of the city those young people call home."
Difficult year
The UK has been hit by a number of terror attacks over the past year with three of those targeting London.
In March, a terrorist plowed his vehicle into pedestrians on London's Westminster Bridge, killing four people, before stabbing a police officer to death outside Parliament.
In June, a vehicle and knife attack left eight people dead in the London Bridge area of the capital.
Later that month, one man died and nine people were hospitalized after a terrorist attack targeting London's Muslim community.
In Manchester, 22 were killed and 60 injured during May's suicide bomb attack on the city's concert hall.
The Queen also spoke of her pain of the tragedy of Grenfell Tower, as well as those who lost their homes and loved ones in Hurricanes Irma and Maria.
Read: After the horror, anger flares in west London
"We expect our homes to be a place of safety — sanctuary even — which makes it all the more shocking when the comfort they provide is shattered," she said.
"A few weeks ago, the Prince of Wales visited the Caribbean in the aftermath of hurricanes that destroyed entire communities. And here in London, who can forget the sheer awfulness of the Grenfell Tower fire?
"Our thoughts and prayers are with all those who died and those who lost so much; and we are indebted to members of the emergency services who risked their own lives, this past year, saving others. Many of them, of course, will not be at home today because they are working, to protect us."
70th anniversary
The Queen also took the opportunity to speak of her 70 years of marriage to Prince Philip, and his decision to retire from public engagements.
She said that events of the past year made her "grateful for the blessings of home and family, and in particular for 70 years of marriage."
And she hinted at the arrival of new family members, with Meghan Markle and Prince Harry planning to marry in May, and the Duke and Duchess of Cambridge expecting their third child in April.
"I don't know that anyone had invented the term 'platinum' for a 70th wedding anniversary when I was born," she said.
"You weren't expected to be around that long. Even Prince Philip has decided it's time to slow down a little — having, as he economically put it, 'done his bit.'
"But I know his support and unique sense of humor will remain as strong as ever, as we enjoy spending time this Christmas with our family and look forward to welcoming new members into it next year."
The-CNN-Wire
™ & © 2017 Cable News Network, Inc., a Time Warner Company. All rights reserved.
Meghan Markle's family stir up royals with TV appearance rumours
Daily Mail claimed sister-in-law Tracy Dooley and sons were to appear on Good Morning Britain which ITV deny
PLEASE NOTE: Add your own commentary here above the horizontal line, but do not make any changes below the line. (Of course, you should also delete this text before you publish this post.)
---
This article titled "Meghan Markle's family stir up royals with TV appearance rumours" was written by Jim Waterson Media editor, for The Guardian on Wednesday 16th May 2018 19.02 UTC
When Meghan Markle's sister-in-law Tracy Dooley touched down at Heathrow airport on Monday night, accompanied by her adult sons Tyler and Thomas Dooley, rumours began to fly about the reasons for the family's visit.
With no invitations to the ceremony, their presence was attributed to media opportunities offered by organisations on both sides of the Atlantic.
The Dooleys were understood to have been lined up as contributors for Good Morning Britain, with the Daily Mail reporting that they had been recruited as special correspondents for the programme – to which they have already contributed.
Tracy – who by her own admission has not seen the future royal in two decades after divorcing Meghan's half-brother – was expected to report for Good Morning Britain live from Windsor.
But if that offer was ever in place, it isn't now. When the Guardian contacted ITV's early morning programme to ask whether it would be using the Dooleys as contributors, despite trenchant criticism from its host Piers Morgan of the wider Markle family's relationship with the media industry, a spokesperson said: "The Dooleys will not be contributing to Good Morning Britain's coverage of the Royal wedding."
The spokesperson did not respond to further requests asking whether the relatives had been due to appear on the programme at any point.
The incident is another example of the uneasy relationship between Kensington Palace, Meghan Markle's wider family, and a media industry desperate for stories relating to this weekend's royal wedding.
The issue came to a head after the Mail on Sunday's expose of Meghan's father for apparently staging photographs, despite pleas from the royal family's press office for the media to leave the family alone.
The family has already proved to be regulars in the media, with Meghan's half-brother Thomas Jr writing an open letter in a US celebrity magazine urging Prince Harry to call off the wedding, while his brother Tyler promised to launch a strain of cannabis named "Markle Sparkle" to celebrate the nuptials.
But despite the blanket news coverage, there is no sign as yet of any of the extended Markle family being signed up for lucrative punditry slots on US TV networks, who have built enormous temporary studios in Windsor for the wedding.
Instead they have largely resorted to talking with TMZ, the Los Angeles-based gossip website which has outfoxed the Kensington Palace press office with its stream of stories about the Markle family, including regular updates from Meghan's father about whether he intends to attend the wedding.
This has taken its toll on some of the future royal's relatives.
"Meghan and I do not have a relationship now," said Markle's half-sister Samantha Markle in a video defending her right to continue doing media appearances regarding her family and is writing a book entitled The Diary of Princess Pushy's Sister. "The last year has been strained because of what tabloids have said."
guardian.co.uk © Guardian News & Media Limited 2010
Published via the Guardian News Feed plugin for WordPress.
Duchess Of Cambridge is in Labour
The Duchess of Cambridge is in labour and has been admitted to the private Lindo Wing at St. Mary's Hospital in London where she will give birth to her third child.
The third child of the Duke and Duchess of Cambridge will be born in the same wing as the royal couple's two previous children.
The medical team is being led by Alan Farthing and Guy Thorpe-Beeston, who delivered the Duchess' second child, Charlotte.
The child will be fifth in line to the throne, behind big sister Charlotte, bumping William's younger brother Prince Harry one place down the line of succession.
The Duchess of Cambridge suffers from hyperemesis gravidarum, severe levels of nausea and vomiting, during the early stages of her pregnancy, a more serious health risk than the morning sickness many women suffer. Barriers and parking restrictions have been in place outside the private Lindo Wing since April 9th in preparation for the arrival of the world's media when the new baby will be shown to the public for the first time. Prince George was born in the Lindo Wing in 2013 and Prince Charlotte was born there in 2015. Their father Prince William was also born at the same facility.
Windsor council calls for removal of homeless people before royal wedding
Council's Tory leader Simon Dudley is demanding police use legal powers to clear the area of homeless people by 19 May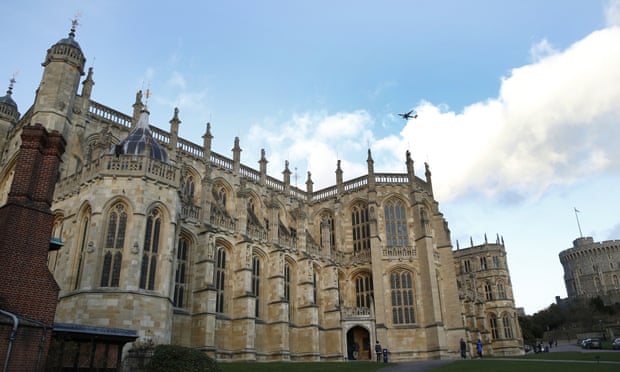 This article titled "Windsor council leader calls for removal of homeless before royal wedding" was written by Harriet Sherwood, for The Guardian on Wednesday 3rd January 2018 18.12 UTC
The leader of the Royal Borough of Windsor and Maidenhead, home to Windsor Castle, Eton College and Ascot racecourse, has demanded police use legal powers to clear the area of homeless people before the royal wedding in May.
Simon Dudley, the council's Conservative leader, wrote to Thames Valley police this week seeking action against "aggressive begging and intimidation" and "bags and detritus" accumulating on the streets.
The letter, seen by the Guardian, follows a series of tweets sent by Dudley while on a skiing holiday in Wyoming over Christmas, in which he referred to "an epidemic of rough sleeping and vagrancy in Windsor" and said "residents have had enough of this exploitation of residents and 6 million tourists pa [per annum]".
He tweeted that he would write to Thames Valley police "asking them to focus on dealing with this before the #RoyalWedding".
Tens of thousands of wellwishers and tourists are expected to descend on the picturesque town on the banks of the River Thames for the wedding of Prince Harry and Meghan Markle on 19 May in St George's chapel at Windsor Castle.
The castle, founded in the 11th century, is one of the royal family's main residences and where the Queen spends most weekends. It is open to the public, attracting 1.36 million visitors each year, with a family ticket costing £53.
Dudley's letter, dated 2 January and addressed to Anthony Stansfeld, the police and crime commissioner for Thames Valley, thanks the police for protecting the community and lists the council's support services for vulnerable residents, including an emergency night shelter, a drug and alcohol support service, and a severe weather emergency protocol.
"Homelessness is completely unacceptable in a caring, compassionate community such as ours," he says.
However, he goes on to say that the council has evidence that "a large number of adults that are begging in Windsor are not in fact homeless, and if they are homeless they are choosing to reject all support services … In the case of homelessness amongst this group, it is therefore a voluntary choice."
Dudley also raised concerns about "the quantities of bags and detritus that those begging are accumulating and leaving on our pavements, at times unattended … this is a significant security concern, especially given the national importance of Windsor.
"Obviously, the level of tourist interest is set to multiply with the royal wedding in May 2018, and there are increased concerns from our residents about their safety. The whole situation also presents a beautiful town in a sadly unfavourable light."
He suggests that Thames Valley police use their powers under existing laws – citing the 1824 Vagrancy Act and the 2014 Anti-Social Behaviour, Crime and Policing Act – "including implementing criminal behaviour orders for the numerous offenders". The Vagrancy Act criminalises rough sleeping and begging.
Stansfeld said he was surprised that Dudley's letter had been "released publicly but not yet been sent directly to me". The letter is copied to Theresa May, who is the MP for Maidenhead, and the home secretary, Amber Rudd.
Murphy James of the Windsor Homelessness Project, which has been operating since 2009, said there had been an increase in both visible and hidden homelessness in the town over the past year.
But the 1824 Vagrancy Act was "the most inappropriate way of dealing with the problem. It means treating people like they're committing a crime, whereas there is nothing villainous in what they are doing," he said.
The project had 50-60 people on its books and on a typical day helped 20-26 people, according to James.
He rejected Dudley's suggestion that people were homeless or begging from choice. "For someone to ask for loose change, your self-esteem is at its lowest. No one does this from choice. We shouldn't be demonising these people but asking them what we can do to help."
He said that Dudley's claim that the council runs an emergency night shelter 365 days a year was inaccurate. "People have to register in advance, it's not emergency accommodation."
The council needed to overhaul its care and support policies to cater for individual needs, he said. "I know it costs money, but if we help people we'll save money in the long run in NHS and policing costs, and we'll live in a happier town."
Wisdom Da Costa, an independent councillor, said he disagreed with Dudley's approach. "I don't believe banging them [homeless people] up is the right thing to do," he said. "What we need is a multi-agency approach, and that means putting money behind an effort to get people off the streets and dealing with the issues."
Da Costa said homelessness had become "more visible and more persistent" in the town centre over the past year, but said he had not encountered harassment. "I've been delighted by the response of hundreds of people in Windsor, who have provided food and blankets, who care about these people and want decent solutions," he said. Windsor was "a beautiful place, but there is poverty here, areas of deprivation. We are one people and we need to work together."
Sam White, 18, who has lived in Windsor all his life, said he got to know most of the homeless people in the town centre over the past six months since starting work in the box office of the Theatre Royal. "There are quite a few now. If you walk down the high street, you might see six or seven, but there are obviously more hidden away," he said.
"They don't cause a threat to anyone. I've never seen any of them being aggressive. Obviously some have issues like drug addiction, but they're nice people at the absolutely lowest point in their lives."
White, who doesn't give money but buys food and essentials for homeless people, said some did not receive help from the authorities. Some, but not all, asked passing members of the public for cash donations, he said, "but they've got nothing".
He objected to the idea of a police drive to clear people out for the royal wedding, saying: "I'm sure if the council offered homeless people food and shelter for the day, they would agree to take themselves off the streets."
The homeless charity Crisis has said that legal measures should only be used against homeless people as a last resort for genuinely anti-social behaviour.
"People shouldn't be targeted simply for sleeping on the street. In fact, homeless people are far more likely to be victims of crime than perpetrators, and rough sleepers are 17 times more likely to be victims of violence compared to the general public. They deserve better than to be treated as criminals simply because they have nowhere to live," said the charity's chief executive, Jon Sparkes, earlier this year.
A spokesperson for the Royal Borough of Windsor and Maidenhead said Dudley was away and unavailable to comment on his letter.
In a statement, Stansfeld said he would investigate the issues raised in Dudley's letter once he had received it. He added that supporting the vulnerable, including the homeless, was a priority for Thames Valley police, and officers "work day in and day out to keep people safe from harm and make the Thames Valley a safe place to live, work and visit".
guardian.co.uk © Guardian News & Media Limited 2010
Published via the Guardian News Feed plugin for WordPress.