Iranians chant 'death to dictator' in biggest unrest since crushing of protests in 2009
Trump warns Tehran regime to respect freedom of speech as at least two protesters die in demonstrations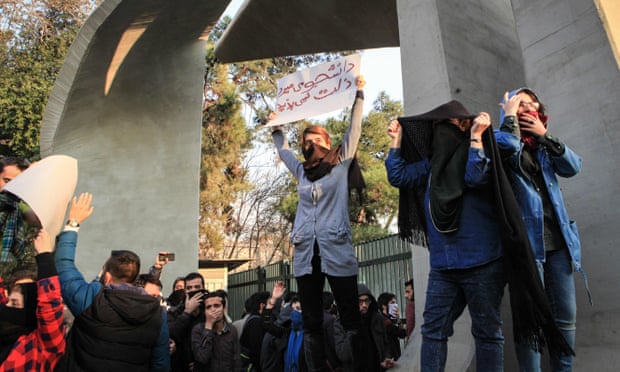 This article titled "Iranians chant 'death to dictator' in biggest unrest since crushing of protests in 2009" was written by Saeed Kamali Dehghan and Emma Graham-Harrison, for The Observer on Sunday 31st December 2017 09.41 UTC
Iranians took to the streets for a third day of anti-government protests in what appeared to be the biggest domestic political challenge to Tehran's leaders since the 2009 Green movement was crushed by security forces.
At least two protesters were killed in the city of Doroud, in Iran's western Lorestan province, as riot police opened fire to contain a group of people said to have been trying to occupy the local governor's office. Clashes between demonstrators and anti-riot police became violent in some cities as the demonstrations spread.
The two men killed in Doroud have been identified as Hamzeh Lashni and Hossein Reshno, according to an Iranian journalist with the Voice of America's Persian service who spoke to their families. Videos posted online showed their bodies on the ground, covered in blood. Another video showed protesters carrying their bodies to safety. At least two others were also reported to have been killed in Doroud, but this could not be independently verified.
Early on Sunday, Iran's interior minister warned protestors that their actions will have consequences. "Those who damage public property, disrupt order and break the law must be responsible for their behaviour and pay the price," Abdolrahman Rahmani Fazli said on state television.
Elsewhere, it appeared that the security forces held people back with sporadic use of teargas. The number of people joining the protests increased as night fell, making it difficult for the authorities to target those taking part.
"Death to Khamenei" chants, calling for the demise of the country's supreme leader, Ayatollah Ali Khamenei, featured in many demonstrations. Videos posted on social media from Tehran and at least one other city – Abhar in Zanjan province – showed protesters taking down banners depicting him. Such chants and acts of resistance are unprecedented in a country where the supreme leader holds ultimate authority and criticising him is taboo.
There were also chants in support of the late shah. The scale of protests in the provinces appeared bigger than those witnessed in 2009, but in Tehran there have so far been fewer people on the streets than there were then.
Donald Trump had earlier used Twitter to warn the Iranian government against a crackdown as thousands of pro-government Iranians also marched in long-scheduled protests in support of the leadership. But, for the third day running, ordinary Iranians, frustrated by the feeble economy, rising inflation and lack of opportunity, defied warnings against "illegal gatherings".
"Everyone is fed up with the situation, from the young to the old," said Ali, who lives near the city of Rasht, where there were large protests on Friday. He asked not to be identified. "Every year thousands of students graduate, but there are no jobs for them. Fathers are also exhausted because they don't earn enough to provide for their family."
Students near Tehran University chanted "death to the dictator", and clashes with security forces followed. It was not clear how many were detained in the capital on Saturday, but scores of protesters are believed to have been arrested in western Kermanshah and eastern Mashhad, the conservative second city of Iran, where the latest unrest began.
Although small-scale economic protests about failed banks or shrinking pensions are not unusual in Iran, it is uncommon for demonstrations to escalate across the country or to mix political slogans with other complaints.
"It spread very quickly in a way that nobody had really anticipated," said Ali Ansari, a professor of Iranian history at the University of St Andrews. "It's the biggest demonstration since 2009. The widespread nature of it and provincial nature of it has been quite a surprise."
He thinks the protests were originally sanctioned by hardliners seeking to undermine the country's moderate president, Hassan Rouhani, but says their apparently spontaneous organisation makes it hard to predict how they will evolve.
"I think they started something and then they lost control of it; it has taken a life of its own. We have to see if it gains traction. The trouble is that there is no organisation. I don't know what the outcome will be."
The state broadcaster Irib covered the protests briefly and they featured on the front pages of many newspapers, unlike in 2009, when most news of protests was kept out of official media.
The Revolutionary Guard, whose Basij militia coordinated the 2009 crackdown, warned that it would "not allow the country to be hurt". But leaders in Tehran, already facing a government in Washington hostile to them and friendly to the country's regional rival, Saudi Arabia, know they are under close scrutiny.
On Twitter, Trump wrote: "Many reports of peaceful protests by Iranian citizens fed up with regime's corruption and its squandering of the nation's wealth to fund terrorism abroad. Iranian govt should respect their people's rights, including right to express themselves. The world is watching! #IranProtests."
That intervention is unlikely to go down well in Iran, where the US is widely believed to be seeking regime change. In June, the US secretary of state, Rex Tillerson, told the US Congress that America was working towards "support of those elements inside of Iran that would lead to a peaceful transition of that government".
There are already deep frustrations that unilateral US financial sanctions have made most banks wary of processing money for Iran or extending credit to its firms. The 2015 nuclear deal led to the lifting of international sanctions so that Iran could sell oil again on international markets but, without access to capital, it is struggling to unleash the growth that Rouhani and his supporters hoped would follow.
The economic problems this creates are serious. Youth unemployment stands at about 40%, more than 3 million Iranians are jobless and the prices of some basic food items, such as poultry and eggs, have recently soared by almost half.
"This has started from the bottom of the society, from the less fortunate," Reza, a Mashhad resident, said. "This is not middle-class protesting, this is lower-class demonstrating, people of the suburbs. Many are fed up with situation."
guardian.co.uk © Guardian News & Media Limited 2010
Published via the Guardian News Feed plugin for WordPress.
Prince Philip, husband of Queen Elizabeth II, has died
Buckingham Palace has announced that The Duke of Edinburgh has died.
Philip Mountbatten, the rakish naval officer who captured the heart of a young Elizabeth Windsor and became the lifelong consort to the British queen, has died aged 99.
The death ends the longest marriage of a reigning monarch in British history, an enduring alliance that outlasted the Cold War, war and peace in Northern Ireland and the painful divorces of three of their four children.
Reacting to the death, Prime Minister Boris Johnson said;
"Prince Philip earned the affection of generations here in the UK, across the Commonwealth & around the world.
He was the longest serving consort in history & one of the last surviving people in this country to have served in WW2."
Prince Philip never held the official title of Prince Consort, but he was Queen Elizabeth II's closest confidant, most reliable political advisor and the undisputed master of the royal household for more than six decades.
Philip was known equally as a curmudgeon and a charmer who could quickly put nervous guests at ease with an easy one­liner.
The Queen, on the event of their golden wedding anniversary in 1997, said of her husband: "He has, quite simply, been my strength and stay all these years."
The Duke is survived by his wife, Queen Elizabeth II, and his children Charles, Prince of Wales; Anne, Princess Royal; Prince Andrew, Duke of York and Prince Edward, Earl of Wessex.
While Elizabeth presided over affairs of state, Philip championed dozens of charities, including the Duke of Edinburgh's Award, which has promoted self­reliance, physical development and other personal accomplishment for more than 6 million youths all over the world.
(more…)
Biden Expected To Repeal Military Trans Ban Tomorrow
The Biden administration is expected to repeal the ban on transgender Americans from serving in the military, multiple people informed of the decision told CBS News. The announcement is expected as soon as Monday, one senior Defense official and four outside advocates of repealing the ban told CBS News.
The senior Defense official told CBS News the repeal will be through executive order signed by President Joe Biden. The announcement is expected to take place at a ceremony with newly-confirmed Defense Secretary Lloyd Austin, who will order the Pentagon to go back to the policy enacted in 2016 by former Defense Secretary Ash Carter that allowed transgender Americans to serve openly.
The White House did not respond immediately to a request for comment.
The new order will direct the branches of the military to outline an implementation plan.
The ban was announced by former President Trump via a tweet in July 2017. The ban took effect in April 2019 and barred transgender Americans from enlisting in the military.
In 2014, it was estimated there were around 15,500 transgender military members serving, according to a study by the Williams Institute at the UCLA School of Law.
Biden frequently repeated on the campaign trail his promise to repeal the ban.
Austin said at his Senate confirmation hearing last week that he planned to repeal the ban.
"I support the president's plan or plan to overturn the ban," Austin said on Tuesday when asked by Senator Kirsten Gillibrand, "I truly believe, Senator, that as I said in my opening statement, that if you're fit and you're qualified to serve and you can maintain the standards, you should be allowed to serve. And, you can expect that I will support that throughout."
Trump Pardons Steve Bannon In One of His Final Acts As 45th President
(CNN)— President Donald Trump has decided to pardon his former chief strategist Steve Bannon, in a last-minute decision made only hours before he is scheduled to depart the White House for a final time.
Officials cautioned CNN that Trump's decision was not final until he signed the paperwork. Trump told people that after much deliberation, he had decided to pardon Bannon as one of his final acts in office.
Bannon's pardon would follow a frantic scramble during the President's final hours in office as attorneys and top aides debated his inclusion on Trump's outgoing clemency list. Despite their falling out in recent years, Trump was eager to pardon his former aide after recently reconnecting with him as he helped fan Trump's conspiracy theories about the election.
It was a far cry from when Trump exiled Bannon from his inner circle after he was quoted in a book trashing the President's children, claiming that Donald Trump Jr. had been "treasonous" by meeting with a Russian attorney and labeling Ivanka Trump "dumb as a brick." Those statements from Bannon drove Trump to issue a lengthy statement saying he had "lost his mind."
"Steve Bannon has nothing to do with me or my presidency," Trump said at the time.Things shifted in recent months as Bannon attempted to breach Trump's inner circle once again by offering advice before the election and pushing his false theories after Trump had lost.
Since Trump's election defeat, the President has leaned further into his expansive pardon powers — granting pardons to his first national security adviser, Michael Flynn, longtime ally Roger Stone and former campaign chairman Paul Manafort, among others.
Among Trump's pardons earlier in his term were those for former Arizona Sheriff Joe Arpaio, right-wing commentator Dinesh D'Souza and financier Michael Milken.