Popular Indian parody site closes after death threats from Hindu nationalists
Writer behind Facebook page Humans of Hindutva says 'in the current volatile environment of India, people are not ready for jokes'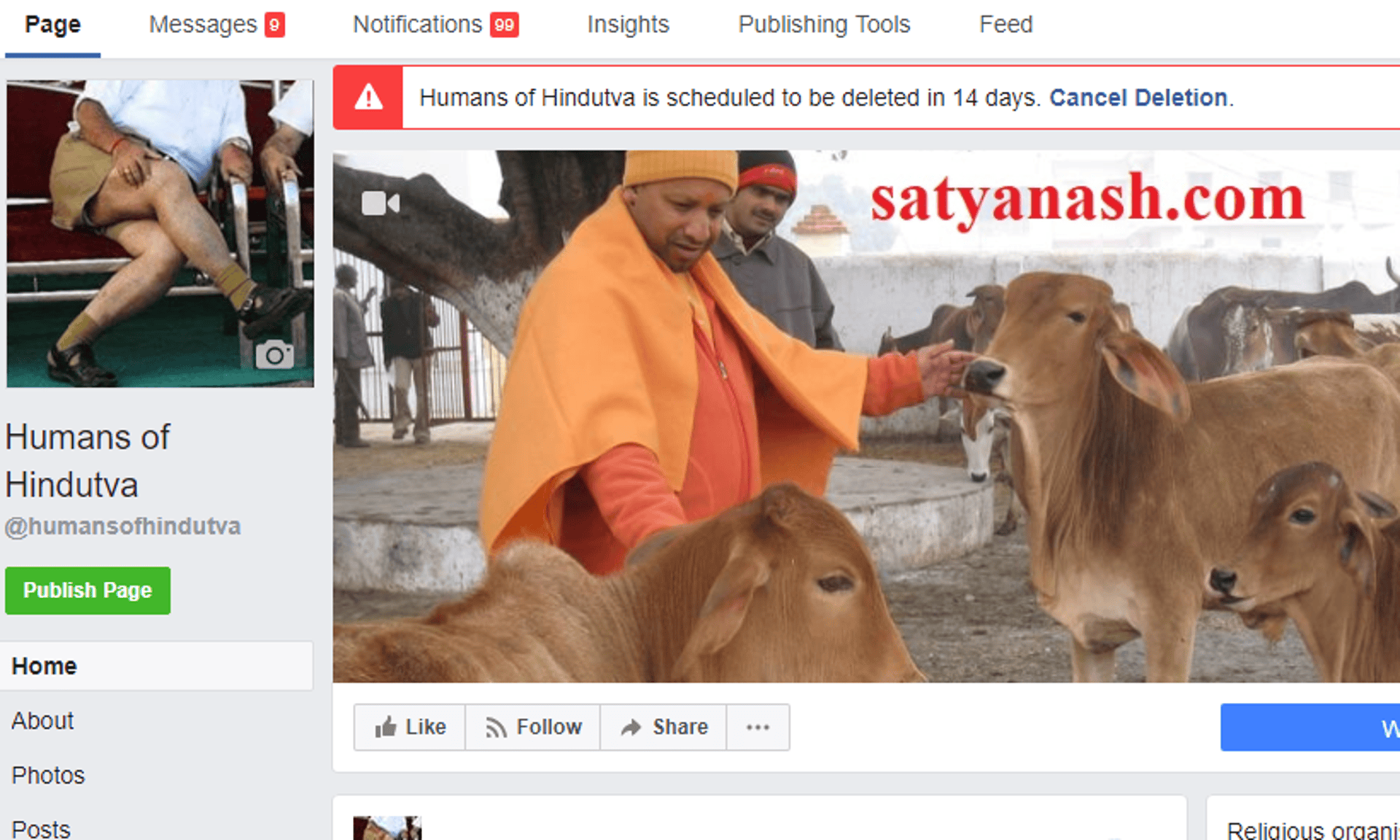 ---
This article titled "Popular Indian parody site closes after death threats from Hindu nationalists" was written by Michael Safi in Delhi, for theguardian.com on Sunday 31st December 2017 05.19 UTC
Humans of Hindutva lasted eight months: from April, when an anonymous author established the Facebook page, to December, when men starting calling his phone and threatening to kill his family.
This week, the man behind the popular Indian parody site declared "surrender", deleting the page and illustrating the present limits on political satire in the world's largest democracy.
The Facebook page – with a title winking at the earnest social media phenomenon, Humans of New York – had attracted nearly 100,000 followers for its blistering satire of the Hindu nationalist, or Hindutva, movement that is ascendant in the country.
Online supporters of the nationalist Bharatiya Janata party were a frequent target. "[My wife] thinks I'm having an affair," read one April post under a picture of a grinning man staring at computer tablet. "Little does she know that the spring in my step (and my nightly exhaustion) is from telling random strangers to go to Pakistan" – an epithet regularly directed at Indians deemed insufficiently patriotic.
When the government ordered toll booth staff to stop working and salute passing soldiers, he predicted it would cause traffic jams in Gurgaon, a hub for IT workers south of Delhi. "This is Gurgaon. Every second guy wears camouflage here."
He christened Yogi Adityanath – a firebrand nationalist politician and monk who wears bright saffron robes – "Fanta Claus".
Such open mockery of a movement whose most extreme adherents are frequently implicated in violence was bound to stir trouble. The writer maintained strict anonymity and took precautions to hide his identity.
"[But] when you have so many people after you I guess one is bound to slip up somewhere," he told the Guardian by email. "I suppose in the current volatile environment of India, people are not ready for jokes."
In a message on his website announcing the end of the project he said he did not wish "to end up like Gauri Lankesh", a journalist who was critical of religious nationalists and was murdered on her doorstep in September.
Though India has a robust media and a growing comedy scene, satire can still receive an awkward reception. In June, the comedy troupe All-India Bakchod was investigated by police for posting a picture of the prime minister, Narendra Modi, modified by Snapchat's popular dog filter.
In October the comedian Shyam Rangeela said a major network banned him from performing his impersonations of the prime minister and Rahul Gandhi, a major opposition leader, during a comedy program.
In Tamil Nadu state, where threats of criminal defamation are frequently levied against journalists, the political cartoonist G Bala was arrested in November for his "distasteful" portrayal of the state leader.
Onerous, colonial-era laws against defamation and sedition mean frivolous cases can easily be registered with police, triggering years of expensive court proceedings.
The previous government led by the Congress party also jailed a cartoonist whose work criticised a perceived culture of corruption in the party. But Pulkit Arora, a writer with All-India Bakchod, said the election of the Modi government in 2014 had changed the climate for comedy.
"Before, people were not as careful about what you could and couldn't say," he said. "You could call the prime minister a piece of shit in broad daylight and nobody would care."
The threat did not emanate from the government, he added, but from a climate of impunity for violence committed by nationalist mobs – whose crimes, like the videotaped murder of a cattle trader in April, seemed frequently to go unpunished.
"It's not about the legality, it's about the state not supporting you if someone chooses to act outside the law," Arora said.
Writers at All-India Bakchod were still guided by what they found funny, he said. But they carefully calculated how their content might be perceived by fanatics or the political parties who fan their outrage.
"You don't come up with jokes that avoid [problematic] narratives," he said. "You write the joke, and then you do your checks and measures."
The Humans of Hindutva author said he hoped that by deleting the site he would be left alone. "It's not easy for me to do this because I have never surrendered," he said.
"However, I have to protect my family. Unfortunately, we live a country where the police can hardly protect a common man like me and the mobs are making heroes out of criminals."
The site will not return, he added. "I am done with this and simply want to move on."
guardian.co.uk © Guardian News & Media Limited 2010
Published via the Guardian News Feed plugin for WordPress.
Prince Philip, husband of Queen Elizabeth II, has died
Buckingham Palace has announced that The Duke of Edinburgh has died.
Philip Mountbatten, the rakish naval officer who captured the heart of a young Elizabeth Windsor and became the lifelong consort to the British queen, has died aged 99.
The death ends the longest marriage of a reigning monarch in British history, an enduring alliance that outlasted the Cold War, war and peace in Northern Ireland and the painful divorces of three of their four children.
Reacting to the death, Prime Minister Boris Johnson said;
"Prince Philip earned the affection of generations here in the UK, across the Commonwealth & around the world.
He was the longest serving consort in history & one of the last surviving people in this country to have served in WW2."
Prince Philip never held the official title of Prince Consort, but he was Queen Elizabeth II's closest confidant, most reliable political advisor and the undisputed master of the royal household for more than six decades.
Philip was known equally as a curmudgeon and a charmer who could quickly put nervous guests at ease with an easy one­liner.
The Queen, on the event of their golden wedding anniversary in 1997, said of her husband: "He has, quite simply, been my strength and stay all these years."
The Duke is survived by his wife, Queen Elizabeth II, and his children Charles, Prince of Wales; Anne, Princess Royal; Prince Andrew, Duke of York and Prince Edward, Earl of Wessex.
While Elizabeth presided over affairs of state, Philip championed dozens of charities, including the Duke of Edinburgh's Award, which has promoted self­reliance, physical development and other personal accomplishment for more than 6 million youths all over the world.
(more…)
Biden Expected To Repeal Military Trans Ban Tomorrow
The Biden administration is expected to repeal the ban on transgender Americans from serving in the military, multiple people informed of the decision told CBS News. The announcement is expected as soon as Monday, one senior Defense official and four outside advocates of repealing the ban told CBS News.
The senior Defense official told CBS News the repeal will be through executive order signed by President Joe Biden. The announcement is expected to take place at a ceremony with newly-confirmed Defense Secretary Lloyd Austin, who will order the Pentagon to go back to the policy enacted in 2016 by former Defense Secretary Ash Carter that allowed transgender Americans to serve openly.
The White House did not respond immediately to a request for comment.
The new order will direct the branches of the military to outline an implementation plan.
The ban was announced by former President Trump via a tweet in July 2017. The ban took effect in April 2019 and barred transgender Americans from enlisting in the military.
In 2014, it was estimated there were around 15,500 transgender military members serving, according to a study by the Williams Institute at the UCLA School of Law.
Biden frequently repeated on the campaign trail his promise to repeal the ban.
Austin said at his Senate confirmation hearing last week that he planned to repeal the ban.
"I support the president's plan or plan to overturn the ban," Austin said on Tuesday when asked by Senator Kirsten Gillibrand, "I truly believe, Senator, that as I said in my opening statement, that if you're fit and you're qualified to serve and you can maintain the standards, you should be allowed to serve. And, you can expect that I will support that throughout."
Trump Pardons Steve Bannon In One of His Final Acts As 45th President
(CNN)— President Donald Trump has decided to pardon his former chief strategist Steve Bannon, in a last-minute decision made only hours before he is scheduled to depart the White House for a final time.
Officials cautioned CNN that Trump's decision was not final until he signed the paperwork. Trump told people that after much deliberation, he had decided to pardon Bannon as one of his final acts in office.
Bannon's pardon would follow a frantic scramble during the President's final hours in office as attorneys and top aides debated his inclusion on Trump's outgoing clemency list. Despite their falling out in recent years, Trump was eager to pardon his former aide after recently reconnecting with him as he helped fan Trump's conspiracy theories about the election.
It was a far cry from when Trump exiled Bannon from his inner circle after he was quoted in a book trashing the President's children, claiming that Donald Trump Jr. had been "treasonous" by meeting with a Russian attorney and labeling Ivanka Trump "dumb as a brick." Those statements from Bannon drove Trump to issue a lengthy statement saying he had "lost his mind."
"Steve Bannon has nothing to do with me or my presidency," Trump said at the time.Things shifted in recent months as Bannon attempted to breach Trump's inner circle once again by offering advice before the election and pushing his false theories after Trump had lost.
Since Trump's election defeat, the President has leaned further into his expansive pardon powers — granting pardons to his first national security adviser, Michael Flynn, longtime ally Roger Stone and former campaign chairman Paul Manafort, among others.
Among Trump's pardons earlier in his term were those for former Arizona Sheriff Joe Arpaio, right-wing commentator Dinesh D'Souza and financier Michael Milken.