Private prison investors set for giant windfall from Trump tax bill
Prison firms that restructured as real estate investment trusts see substantial tax cut – more good news for those who benefit from increased incarceration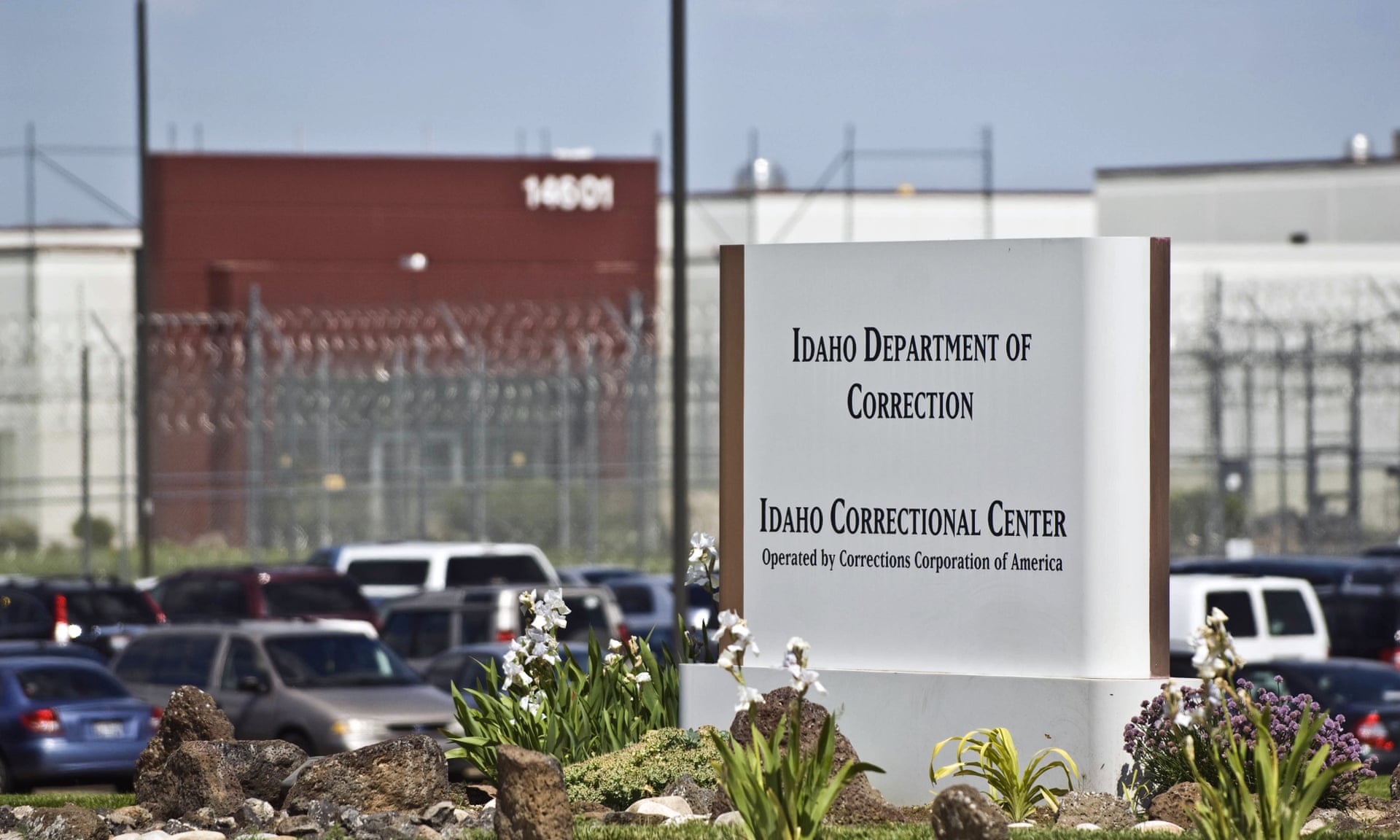 ---
This article titled "Private prison investors set for giant windfall from Trump tax bill" was written by Jamiles Lartey in New York, for theguardian.com on Thursday 28th December 2017 12.00 UTC
Individual investors in US private prisons are poised to collect their most lucrative earnings ever thanks to changes in the tax code signed by Donald Trump, continuing what has been a banner year for the industry since the 2016 election.
"It's going to be great for the investors, banks and hedge funds that own shares in private prisons, and are dependent on increased incarceration and criminalization," said Jamie Trinkle, campaign and research coordinator with the racial and economic justice coalition Enlace.
Under the new GOP law, investments in so-called "real estate investment trusts" (reits) will see a 25% reduction in tax, from 39.6% down to 29.6%.
Corecivic, formerly Corrections Corporation of America (CCA), and the Geo Group, which together own more than 80% of private prison beds in the US, both restructured as reits in 2013 after a private letter ruling by the Obama Administration IRS green-lit the change.
"This tax act is of unprecedented benefit for reit investors," said David Miller, a tax partner at Proskauer Rose. "I think reits will explode in popularity as a result of this act."
With dividends of more than 0m paid out by the two major private prison companies in 2017, in theory, prison investors could see an additional m in dividend earnings next year, thanks to the GOP legislation. The actual figure will be lower than that, however, as some proportion of those shares are owned by institutional investors which are taxed differently from individuals. The exact breakdown between the two is not available in public filings.
Even without the new lower tax rate, the reit classification was already a huge boon to the private prison industry. Before converting to a reit in 2013, Corecivic was subject to a 36% corporate tax rate. After the reorganization, it reported paying an effective tax rate in the first quarter of 2015 of just 3%.
Lauren-Brooke Eisen, an attorney at the Brennan Center for Justice, said: "The way they are able to get away with that, is that they're not allowed to keep a lot of cash on hand, they have to give it back to investors though dividends. But it allows them to have an incredibly low tax rate."
According to Eisen, prison companies have essentially argued that renting out cells to the government is the equivalent of charging a tenant rent, thus making such business primarily a real estate venture. In her new book, Inside Private Prisons, Eisen examines the way this classification has boosted industry earnings.
Oregon Democratic senator Ron Wyden, a ranking member on the finance committee, has called the use of the reit structure by prisons "unfair" and "unjust". In 2016, after being pressed by Enlace, he introduced legislation to end such practices. The bill was reintroduced this year but it has yet to make it out of committee and is not likely to do so any time soon.
A CoreCivic representative told the Guardian that, in their view, "there are far more pressing matters for Congress to pursue" than the reit tax classifications. The Geo Group added they are "treated exactly the same as other real estate investment trusts without any special tax treatments or loopholes". The point that activists make, though, is that treating prisons as real estate is a loophole.
A dramatic shift
Sixteen months ago, the outlook for private prisons seemed bleak: that was when the Obama Department of Justice announced it was phasing out their use. That announcement followed the release of a scathing government report, which concluded that private facilities were less safe than government-run ones.
The announcement only applied to the 18% of federal prisoners held in private facilities, not the 8% of state prisoners or 65% of immigration detainees held in private facilities. But it still signaled serious trouble. Corecivic and the Geo Group saw their stock prices plummet by about half and trading remained cratered until Trump's surprise election victory.
By February, Trump's first full month in office, it had become clear that the new administration would discontinue Obama's efforts to shrink the size of the US prison population. One of Jeff Sessions' first acts as attorney general was to undo the DoJ directive phasing out private prisons. That month the two companies each reached two-year stock highs.
The tax bill gift to private prison investors mirrors the cosy relationship Trump has had with the industry overall. After years elsewhere, in 2017 the Geo Group hosted its annual leadership conference at the Trump National Doral golf club in Miami. The company also gave nearly half a million dollars to Trump through his inauguration committee and Super Pacs. Shortly thereafter, it secured the administration's first contract for an immigration detention center, a deal potentially worth millions.
Despite all that momentum, though, Jamie Trinkle at Enlace still sees a potential for organizers to stem the resurgence of private prisons. Divestment campaigns have successfully pulled more than bn out of banks (principally Wells Fargo) and other organizations that invest in the industry.
"Since the tax benefit goes directly to the investors, I think the divestment work actually becomes more important as a way to fight back and stop the flow of capital," Trinkle said.
This piece was amended on 28 December 2017, to clarify the circumstances under which the Geo Group and Corecivic restructured as reits.
guardian.co.uk © Guardian News & Media Limited 2010
Published via the Guardian News Feed plugin for WordPress.
Prince Philip, husband of Queen Elizabeth II, has died
Buckingham Palace has announced that The Duke of Edinburgh has died.
Philip Mountbatten, the rakish naval officer who captured the heart of a young Elizabeth Windsor and became the lifelong consort to the British queen, has died aged 99.
The death ends the longest marriage of a reigning monarch in British history, an enduring alliance that outlasted the Cold War, war and peace in Northern Ireland and the painful divorces of three of their four children.
Reacting to the death, Prime Minister Boris Johnson said;
"Prince Philip earned the affection of generations here in the UK, across the Commonwealth & around the world.
He was the longest serving consort in history & one of the last surviving people in this country to have served in WW2."
Prince Philip never held the official title of Prince Consort, but he was Queen Elizabeth II's closest confidant, most reliable political advisor and the undisputed master of the royal household for more than six decades.
Philip was known equally as a curmudgeon and a charmer who could quickly put nervous guests at ease with an easy one­liner.
The Queen, on the event of their golden wedding anniversary in 1997, said of her husband: "He has, quite simply, been my strength and stay all these years."
The Duke is survived by his wife, Queen Elizabeth II, and his children Charles, Prince of Wales; Anne, Princess Royal; Prince Andrew, Duke of York and Prince Edward, Earl of Wessex.
While Elizabeth presided over affairs of state, Philip championed dozens of charities, including the Duke of Edinburgh's Award, which has promoted self­reliance, physical development and other personal accomplishment for more than 6 million youths all over the world.
(more…)
Biden Expected To Repeal Military Trans Ban Tomorrow
The Biden administration is expected to repeal the ban on transgender Americans from serving in the military, multiple people informed of the decision told CBS News. The announcement is expected as soon as Monday, one senior Defense official and four outside advocates of repealing the ban told CBS News.
The senior Defense official told CBS News the repeal will be through executive order signed by President Joe Biden. The announcement is expected to take place at a ceremony with newly-confirmed Defense Secretary Lloyd Austin, who will order the Pentagon to go back to the policy enacted in 2016 by former Defense Secretary Ash Carter that allowed transgender Americans to serve openly.
The White House did not respond immediately to a request for comment.
The new order will direct the branches of the military to outline an implementation plan.
The ban was announced by former President Trump via a tweet in July 2017. The ban took effect in April 2019 and barred transgender Americans from enlisting in the military.
In 2014, it was estimated there were around 15,500 transgender military members serving, according to a study by the Williams Institute at the UCLA School of Law.
Biden frequently repeated on the campaign trail his promise to repeal the ban.
Austin said at his Senate confirmation hearing last week that he planned to repeal the ban.
"I support the president's plan or plan to overturn the ban," Austin said on Tuesday when asked by Senator Kirsten Gillibrand, "I truly believe, Senator, that as I said in my opening statement, that if you're fit and you're qualified to serve and you can maintain the standards, you should be allowed to serve. And, you can expect that I will support that throughout."
Trump Pardons Steve Bannon In One of His Final Acts As 45th President
(CNN)— President Donald Trump has decided to pardon his former chief strategist Steve Bannon, in a last-minute decision made only hours before he is scheduled to depart the White House for a final time.
Officials cautioned CNN that Trump's decision was not final until he signed the paperwork. Trump told people that after much deliberation, he had decided to pardon Bannon as one of his final acts in office.
Bannon's pardon would follow a frantic scramble during the President's final hours in office as attorneys and top aides debated his inclusion on Trump's outgoing clemency list. Despite their falling out in recent years, Trump was eager to pardon his former aide after recently reconnecting with him as he helped fan Trump's conspiracy theories about the election.
It was a far cry from when Trump exiled Bannon from his inner circle after he was quoted in a book trashing the President's children, claiming that Donald Trump Jr. had been "treasonous" by meeting with a Russian attorney and labeling Ivanka Trump "dumb as a brick." Those statements from Bannon drove Trump to issue a lengthy statement saying he had "lost his mind."
"Steve Bannon has nothing to do with me or my presidency," Trump said at the time.Things shifted in recent months as Bannon attempted to breach Trump's inner circle once again by offering advice before the election and pushing his false theories after Trump had lost.
Since Trump's election defeat, the President has leaned further into his expansive pardon powers — granting pardons to his first national security adviser, Michael Flynn, longtime ally Roger Stone and former campaign chairman Paul Manafort, among others.
Among Trump's pardons earlier in his term were those for former Arizona Sheriff Joe Arpaio, right-wing commentator Dinesh D'Souza and financier Michael Milken.