Steve Bannon may have lost the battle in Alabama but his GOP civil war goes on
Trump's ex-chief strategist lost his White House job but, relishing his outsider status, he remains committed to his crusade against establishment Republicans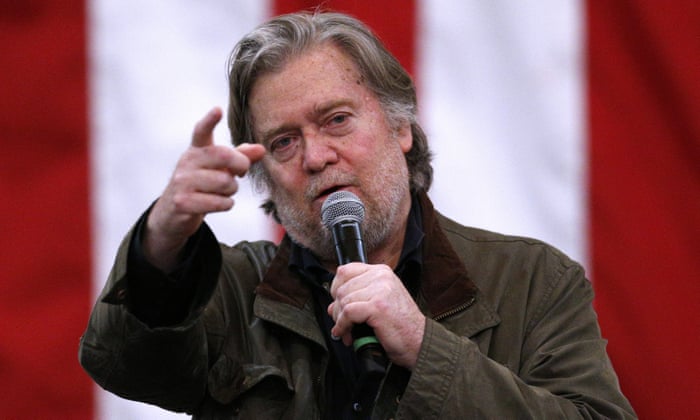 ---
This article titled "Steve Bannon may have lost the battle in Alabama but his GOP civil war goes on" was written by David Smith in Washington, for theguardian.com on Sunday 31st December 2017 12.00 UTC
Bloodied but unbowed by recent political events, Steve Bannon intends to continue defending Donald Trump, flying the flag of insurgent nationalism and waging war on the Republican party establishment in 2018.
The man who once seemed a shadowy power behind the throne – he at one point compared himself to Thomas Cromwell in the court of the Tudors – is also set to take on an ever more prominent role on the stump as campaigner and speechmaker.
"He'll continue to do what he's already started, being an outside manipulator for Donald Trump and executing his threat to take the party to civil war," said Michael Steele, former chairman of the Republican National Committee (RNC).
Bannon, 64, is at the end of a rollercoaster year. In February the then-White House chief strategist made the front cover of Time magazine and the phrase "President Bannon" gained popular currency, much to Trump's irritation. By August he had been forced out and returned to his post as executive chairman of conservative Breitbart News. In December he backed the controversial Republican candidate Roy Moore in the Senate special election in Alabama – and lost to a Democrat.
Bannon's aura of invincibility was shattered and his reputation as field general and master strategist of the Trump movement was mocked by mainstream Republicans. Josh Holmes, a former chief of staff to the Senate majority leader, Mitch McConnell, tweeted sarcastically: "I'd just like to thank Steve Bannon for showing us how to lose the reddest state in the union." But the Bannon camp read things differently, insisting that Moore had not been his original choice (Mo Brooks was) and blaming McConnell for failing to support the former judge.
Andy Surabian, a close Bannon confidant and senior adviser to the pro-Trump Great America Alliance, said: "We lost the battle because Team Mitch successfully delivered the seat to a liberal Democrat, but we won the war because we successfully nationalised Mitch McConnell as the embodiment of the Republican establishment for 2018."
While Trump's approval rating hovers around 40%, McConnell's is even worse. In an ABC News/ Washington Post poll conducted between 29 October and 1 November – before congressional Republicans notched up their first major legislative victory with tax reform – just 25% said they approved of the way McConnell was handling his job; 51% disapproved.
Bannon, still enjoying the patronage of megadonor Rebekah Mercer, recently declared a "season of war" on Republican elites and is reportedly lining up populist candidates to challenge seven of the eight Republican senators up for election in 2018. Surabian said: "Our plan is to elect Republicans in the 'America First' Trump mould. We want candidates who won't just vote with President Trump, but will fight for him and his agenda.
"Unfortunately there is a civil war in the Republican party. Steve is just the natural reaction to the civil war started by the failed establishment on the grassroots. The Democratic party establishment and donors broadly agree with their grassroots on nearly every issue; in the Republican party, the donors and establishment not only disagree with their grassroots, they think they're stupid, especially on issues like trade and immigration."
Surabian, once described by the Politico website as "a one-man army against Mitch McConnell", added: "Beltway Republicans like McConnell have sneered at actual Republican voters for years now. It's crazy when people say we must throw the Bannon/Breitbart/talk radio element out of the party; that's a good way to guarantee we will never be in the majority again."
Bannon's relationship with Trump is more complex. A recent profile in Vanity Fair magazine observed: "While the two men harbor contempt for each other that can ignite into rage, they can't quit each other, either." It cited an administration official as saying that, since Bannon left the White House, he has had five phone calls with Trump, most initiated by the president. Bannon seems set to continue as an ambassador for Trumpism if not Trump.
Surabian, who worked with him on the presidential election campaign and in the White House, added: "Who is Steve Bannon? Bannon is simply a reflection of the people who read Breitbart, listen to conservative radio and voted for President Trump. They know he has their backs. Steve is one of the biggest cheerleaders and advocates for Donald Trump on this planet."
Despite a past career on radio, Bannon was an enigmatic figure during the election campaign and in the West Wing. His appearance on stage at the Conservative Political Action Conference in February was the first time many journalists had heard his voice. But since leaving the administration, Bannon has given interviews, returned to his Sirius XM radio show and given speeches including at at Moore's rallies in Alabama – with mixed results.
Congressman Peter King told CNN: "This guy does not belong on the national stage. He looks like some dishevelled drunk that wandered on to the political stage."
Dan Cassino, associate professor of political science at Fairleigh Dickinson University in Madison, New Jersey, said: "In the past he was a behind-the-scenes player. Now he's speaking more but he's not a particularly good public speaker. He puts his foot in his mouth. But he does have an Alex Jones-type energy and that attracts a certain part of the electorate."
Bannon was a more inspiring public speaker than Moore during at least one rally in Alabama according to eyewitness Joshua Green, author of Devil's Bargain: Steve Bannon, Donald Trump, and the Storming of the Presidency. "He's actually quite effective as a speech maker," he said. "He's very good at channeling those Trumpian resentments and at connecting with the audience; what he's not so good at is getting Republicans elected."
Steele agreed: "How effective he is giving a stump speech is not the test for Steve Bannon. It's how successful he is at banding together a new generation of Republican candidates. And I won't even say Republican candidates – they're nationalists. How effective they are at branding will be one of the challenges they have if they want to be appealing to voters in both 2018 and 2020."
In solidly Republican states, Bannon's candidates may still benefit from the populist base that propelled Trump to victory against establishment rivals such Jeb Bush and John Kasich in last year's Republican primaries. But in swing states, they could alienate many moderates. Steele noted: "When you move from red to purple, a Bannon-Trump candidate becomes dramatically more problematic."
That proved the case in many Alabama suburbs where university-educated Republicans abstained or defected to Democrat Doug Jones rather than face the shame of electing an accused paedophile. Yet Bannon unabashedly continued to promote a candidate facing multiple allegations of sexual misconduct with girls, including a 14-year-old. He was reportedly pivotal in persuading Trump, Fox News host Sean Hannity and the RNC not to abandon Moore, who denies the allegations against him. But it backfired when Jones won in the Republican heartland.
Green said: "It was a big blow to Bannon's credibility because he put his name and his whole political reputation on the line and went a long way to convincing Trump and then they lost. His connection to the base wasn't enough to carry his candidate to victory."
Bannon suddenly seems less of a threat to the party, Green continued. "We can say for certain Bannon isn't going away and isn't scaling back his nationalist agenda or attacks on Mitch McConnell. But you saw McConnell and those around him move quickly to hold Bannon to account. Their main point was that bad candidates don't win races.
"If you're a member of the Republican establishment or 'swamp' it's a less terrifying prospect than it was if Bannon had got Roy Moore elected. It showed that voters have their own agency and their own ideas about what is and isn't appropriate."
But if Bannon's slate of candidates – set to include Kelli Ward in Arizona, Danny Tarkanian in Nevada and Kevin Nicholson in Wisconsin, all of whom oppose McConnell staying on as Senate leader – do succeed in taking down some Republican stalwarts, their hardline populism and lack of experience could cost the party dear in match-ups against Democrats.
"The role that Bannon seems likely to play is someone who could conceivably bring about Democratic control of the Senate," Green said. "That seems the likelier outcome than six or seven Bannon-endorsed nationalists getting to Washington to try to bring down Mitch McConnell."
Other mainstream Republicans agree with the idea that the novelty of Bannon is wearing thin. Rich Galen, a Republican strategist and former press secretary to Vice-President Dan Quayle and House speaker Newt Gingrich, said: "He is not spokesman for a growing movement. He is the spokesman for a fringe movement that has no potential for growth. In politics it comes down to: did you win or did you lose? So far Bannon is pretty much a loser."
Galen added: "I think Bannon is the 2018 version of Sarah Palin. She was the big deal. People wanted her endorsement, they wanted her for show, the press followed her around like puppies, but then people figured out she was yesterday's name. I think Bannon is heading in the same direction."
guardian.co.uk © Guardian News & Media Limited 2010
Published via the Guardian News Feed plugin for WordPress.
Biden Expected To Repeal Military Trans Ban Tomorrow
The Biden administration is expected to repeal the ban on transgender Americans from serving in the military, multiple people informed of the decision told CBS News. The announcement is expected as soon as Monday, one senior Defense official and four outside advocates of repealing the ban told CBS News.
The senior Defense official told CBS News the repeal will be through executive order signed by President Joe Biden. The announcement is expected to take place at a ceremony with newly-confirmed Defense Secretary Lloyd Austin, who will order the Pentagon to go back to the policy enacted in 2016 by former Defense Secretary Ash Carter that allowed transgender Americans to serve openly.
The White House did not respond immediately to a request for comment.
The new order will direct the branches of the military to outline an implementation plan.
The ban was announced by former President Trump via a tweet in July 2017. The ban took effect in April 2019 and barred transgender Americans from enlisting in the military.
In 2014, it was estimated there were around 15,500 transgender military members serving, according to a study by the Williams Institute at the UCLA School of Law.
Biden frequently repeated on the campaign trail his promise to repeal the ban.
Austin said at his Senate confirmation hearing last week that he planned to repeal the ban.
"I support the president's plan or plan to overturn the ban," Austin said on Tuesday when asked by Senator Kirsten Gillibrand, "I truly believe, Senator, that as I said in my opening statement, that if you're fit and you're qualified to serve and you can maintain the standards, you should be allowed to serve. And, you can expect that I will support that throughout."
Trump Pardons Steve Bannon In One of His Final Acts As 45th President
(CNN)— President Donald Trump has decided to pardon his former chief strategist Steve Bannon, in a last-minute decision made only hours before he is scheduled to depart the White House for a final time.
Officials cautioned CNN that Trump's decision was not final until he signed the paperwork. Trump told people that after much deliberation, he had decided to pardon Bannon as one of his final acts in office.
Bannon's pardon would follow a frantic scramble during the President's final hours in office as attorneys and top aides debated his inclusion on Trump's outgoing clemency list. Despite their falling out in recent years, Trump was eager to pardon his former aide after recently reconnecting with him as he helped fan Trump's conspiracy theories about the election.
It was a far cry from when Trump exiled Bannon from his inner circle after he was quoted in a book trashing the President's children, claiming that Donald Trump Jr. had been "treasonous" by meeting with a Russian attorney and labeling Ivanka Trump "dumb as a brick." Those statements from Bannon drove Trump to issue a lengthy statement saying he had "lost his mind."
"Steve Bannon has nothing to do with me or my presidency," Trump said at the time.Things shifted in recent months as Bannon attempted to breach Trump's inner circle once again by offering advice before the election and pushing his false theories after Trump had lost.
Since Trump's election defeat, the President has leaned further into his expansive pardon powers — granting pardons to his first national security adviser, Michael Flynn, longtime ally Roger Stone and former campaign chairman Paul Manafort, among others.
Among Trump's pardons earlier in his term were those for former Arizona Sheriff Joe Arpaio, right-wing commentator Dinesh D'Souza and financier Michael Milken.
California Governor Formally Appoints Alex Padilla To Fill US Senate Seat Vacated By Kamala Harris
(CNN) — California Gov. Gavin Newsom formally submitted the appointment of Alex Padilla to the US Senate today, according to a press release from the governor's office. 
Padilla formally resigned as Secretary of State this morning and Gov. Newsom also submitted his nomination letter for Assembly member Shirley Weber to replace him. The Deputy Secretary of State, James Schwab, will be the Acting Secretary of State.
"It is fitting that on the same day we celebrate the legacy of Dr. Martin Luther King, Jr. — a civil rights icon who fought for justice and representation — we also move forward the appointment of California's first Latino U.S. Senator Alex Padilla and the nomination of Dr. Shirley Weber who will serve as the first-ever African American Secretary of State. Both will be strong defenders of our democracy during this fragile moment in our nation's history," said Gov. Newsom.
"I am humbled and honored by your trust in me to represent California in the United States Senate. I look forward to continuing to serve the great State of California as a United States Senator and to ensuring that the rights and democratic principles we cherish are protected and preserved for all people," Padilla wrote in a letter to Gov. Newsom.
Some context: Earlier today, Vice President-elect Kamala Harris formally resigned her seat as one of California's US Senators. She'll be inaugurated as vice president on Wednesday, Jan. 20. In a farewell addressed posted to Twitter, Harris said, "Of course, I'm not saying goodbye. In many ways, I'm now saying hello as your vice president."