Four young men killed in London new year stabbings
Men aged 17 to 20 die after separate knife attacks in 15-hour period in locations around capital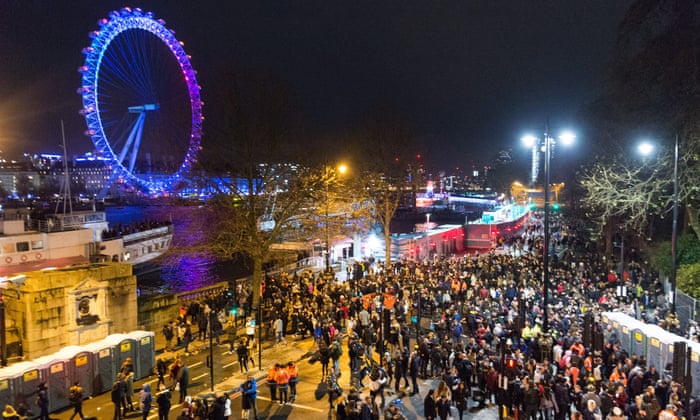 ---
This article titled "New year's attacks take stabbing death toll in London in 2017 to 80" was written by Jamie Grierson, for The Guardian on Monday 1st January 2018 22.00 UTC
Four young men were stabbed to death at the turn of the year in London bringing the total number of fatal knife attacks in the capital to 80 in 2017 alone.
The killings – three on New Year's Eve and a fourth on New Year's Day – were all unrelated and occurred within a 15-hour period at locations in north, east and south London.
The three deaths on Sunday bring the total number of fatal stabbings in the capital in 2017 to 80, Scotland Yard confirmed. The mayor of London, Sadiq Khan, who has struggled to control knife crime during his term so far, said he will "work tirelessly in 2018 and beyond to stamp out this scourge".
Figures revealed in the Guardian as part of the Beyond the Blade reporting revealed that 2017 was already the worst year for deaths of children and teenagers in England and Wales since 2009. As at the end of November, 35 people aged 19 or under in England and Wales had been stabbed to death. It was last higher in 2008 when 42 young people died as a result of an attack with a knife. Two of the victims of the most recent deaths were 18 and 17, while the other two men were both 20.
Last month, Cressida Dick, Britain's most senior police officer, said extra resources were needed to fight knife crime in the capital, describing her force and all public services as "stretched".
The first of the most recent spate of attacks was at 11.30am on 31 December when an 18-year-old man was stabbed in Enfield. He died in hospital that evening.
At about 7.30pm, a 20-year-old man was fatally stabbed in West Ham, and at about 10.40pm a 17-year-old boy was stabbed to death in Tulse Hill.
The fourth stabbing happened at 2.30am on 1 January, when a 20-year-old man was attacked in Old Street, east London. A second man, aged in his 20s, was taken to hospital with critical stab injuries. Police have arrested a 19-year-old man on suspicion of murder following the stabbing.
Commander Neil Jerome, of the Met's territorial policing command, said: "It is heartbreaking that, at a time when so many of us are contemplating what lies ahead in 2018, four families are dealing with the grief of losing a loved one to senseless violence and the callous use of knives as lethal weapons."
He urged anyone with information about the attacks to contact police or Crimestoppers.
Five men were arrested in connection with the murder in Enfield. There have been no arrests in the other cases.
Alison Cope, whose son Joshua Ribera, AKA the rapper Depzman, was stabbed to death at the age of 18 four years ago, said the government was not doing enough and was approaching the "epidemic" of knife violence with "token gestures".
"This will carry on and it will be exactly the same as last year, and the year before," she said. "We'll have who knows how many deaths this year."
Cope, who now campaigns to tackle knife crime, wants more funding and support for programmes that send people affected by knife crime – like herself – into schools and colleges to educate them on the impact.
"The government promotes things that look good to the public – like knife bins, or playing certain type of music in McDonald's when young people gather, faith-led intervention," she said. "But they're all token gestures.
"If you put a poster on a billboard that says "don't carry a knife" at no point is a young person who is carrying a weapon going to look at that and think 'I'm going to change my entire mindset because someone has printed something and put it up there'."
Cope, whose son was at a memorial tribute at a nightclub in Selly Oak held for a friend who had died a year earlier after being stabbed when he was killed, said you need children to feel something if you want to influence them.
"The only way they're going to feel is to meet people who have experienced it, lived it, who know what they're talking about," she said.
She said her love and thoughts were with the families of those stabbed over New Year's Eve. "They're not just headlines. Behind those headlines are mums, dads, grandparents, cousins, sisters, brothers all howling. Police swarming their house, telling them what happens next. Their children in a morgue, in freezers. The next stage will be the arrests, the court process. This is the beginning of a life changed forever."
Khan launched the high-profile "London needs you alive" campaign and knife crime strategy after he assumed office as mayor of London in May 2016.
He said: "My thoughts today are with the families of four young men who have tragically been killed in four unrelated stabbings in our city last night.
"The police have today assured me that everything is being done to bring to justice those responsible for these appalling acts of violence. I urge anyone with information to come forward.
"The police were out in force helping people enjoy our city's fantastic celebrations last night, and I thank them. However, it is horrific that knife crime has claimed another four young lives as the new year begins.
"We will work tirelessly in 2018 and beyond to stamp out this scourge. I want to be absolutely clear – if you use a knife the full force of the law will be brought down on you. You will be caught and prosecuted."
Meanwhile, West Mercia police said a woman who had suffered what is believed to be a knife injury was pronounced dead at an address in Bromsgrove, Worcestershire, at 12.12am. A 49-year-old man was arrested at the scene after police were called to the property at 11.52pm on New Year's Eve.
In Sheffield, South Yorkshire police said five men in their 20s were taken to hospital with knife wounds after an altercation at around 2.20am in Carver Street. Two of the men suffered life-threatening injuries and remain in hospital in a critical but stable condition.
guardian.co.uk © Guardian News & Media Limited 2010
Published via the Guardian News Feed plugin for WordPress.
Nashville Christmas Morning Bomber Identified As Human Remains Found At Crime Scene, Motive Unknown
NASHVILLE, Tenn. (AP) — The man believed to be responsible for the Christmas Day bombing that tore through downtown Nashville blew himself up in the explosion, and appears to have acted alone, federal officials said Sunday.
Investigators used DNA and other evidence to link the man, identified as Anthony Quinn Warner, to the mysterious explosion but said they have not determined a motive. Officials have received hundreds of tips and leads, but have concluded that no one other than Warner is believed to have been involved in the early morning explosion that damaged dozens of buildings.
"We're still following leads, but right now there is no indication that any other persons were involved," said Douglas Korneski, special agent in charge of the FBI's Memphis field office. "We've reviewed hours of security video surrounding the recreation vehicle. We saw no other people involved."
In publicly identifying the suspect and his fate, officials disclosed a major breakthrough in their investigation even as they acknowledged the lingering mystery behind the explosion, which took place on a holiday morning well before downtown streets were bustling with activity and was accompanied by a recorded announcement warning anyone nearby that a bomb would soon detonate.
No motive was disclosed by investigators nor was it revealed why Warner had selected the particular location for the bombing, which damaged an AT&T building and has continued to wreak havoc on cellphone service and police and hospital communications in several Southern states as the company worked to restore service.
Warner, who public records show had experience with electronics and alarms and who had also worked as a computer consultant for a Nashville realtor, had been linked to the bombing since at least Saturday when federal and local investigators converged on a home in suburban Nashville linked to him.
Federal agents could be seen looking around the property, searching the home and the backyard. A Google Maps image captured in May 2019 had shown an RV similar to the one that exploded parked in the backyard, but it was not at the property on Saturday, according to an Associated Press reporter at the scene.
On Sunday morning, police formally named Warner as being under investigation.
Officials said their identification of Warner involved several key pieces of evidence, including DNA found at the explosion site. Investigators from the Tennessee Highway Patrol also recovered parts from the recreational vehicle where the bomb was detonated among the wreckage from the blast, and were able to link the vehicle identification number to an RV that was registered to Warner, officials said.
Whitmer says Trump 'inciting' domestic terrorism
Michigan Gov. Gretchen Whitmer called out President Donald Trump on Sunday for incendiary comments he made about her during a weekend campaign rally, saying the President's heightened rhetoric just days after authorities foiled a plot by extremists to kidnap her is "inciting this kind of domestic terrorism."
But as Whitmer, a Democrat, pleaded with Trump to "bring down the heat," the President's daughter-in-law Lara Trump described the President's calls to jail the governor as him "having fun," during an interview with CNN on Sunday.
"You know, it's incredibly disturbing that the President of the United States, 10 days after a plot to kidnap, put me on trial and execute me, 10 days after that was uncovered, the President is at it again and inspiring and incentivizing and inciting this kind of domestic terrorism," Whitmer said in an interview on NBC.
"It is wrong. It's got to end. It is dangerous, not just for me and my family, but for public servants everywhere who are doing their jobs and trying to protect their fellow Americans. People of goodwill on both sides of the aisle need to step up and call this out and bring the heat down," she added.
During a rally Saturday in Michigan, Trump accused Whitmer, whom he has previously called "a dictator," of unnecessarily locking down her state as she fought the coronavirus pandemic. That led his crowd to break into a chant of "Lock her up!" a little more than a week after federal authorities revealed a plot by extremists to kidnap Whitmer and overthrow the government.
Rather than condemning the derailed plot — which led to terrorism, conspiracy and weapons charges against more than a dozen men — or discouraging that kind of divisive language, Trump responded to the cheer by saying, "Lock them all up" — drawing on his authoritarian rhetoric about jailing his political opponents by adding Hillary Clinton and the Biden family into the mix.
Asked about the chants by CNN's Jake Tapper on State of the Union, Lara Trump, who serves as a senior adviser for the Trump campaign, downplayed the comments and dismissed concerns about their potential impact.
"Well, look, he wasn't doing anything, I don't think, to provoke people to threaten this woman at all," she said, referring to Whitmer. "He was having fun at a Trump rally."
During his rally Saturday, Trump also complained that Whitmer said publicly that his refusal to denounce White supremacists, extremists and hate groups has emboldened activists like those who allegedly planned the foiled attack against her.
"I guess they said she was threatened, right?" Trump said, seeming to doubt the specifics of the case and underplaying the violence it could have entailed. "She was threatened, and she blamed me — she blamed me, and our people were the ones that worked with her people, so let's see what happens."
Democratic Sen. Chris Coons of Delaware called Lara Trump's comments "troubling" during an appearance on "State of the Union" later Sunday, telling Tapper that the President's language creates a clear contrast between him and Democratic presidential nominee Joe Biden.
"If that means that for our President 'fun' is fueling division and encouraging folks to say and do things that are threatening and completely inappropriate, well that's a reminder of what kind of president we currently have, in sharp contrast to Joe Biden, someone who can and will bring our country together," Coons said.
House Speaker Nancy Pelosi also criticized Trump for his rally comments, saying in an interview with ABC on Sunday that he was being "irresponsible" with his rhetoric.
"The President has to realize the words of the president of the United States weigh a ton. And in that political dialogue, to inject fear tactics into it, especially (about) a woman governor and her family, is so irresponsible," said Pelosi, a California Democrat.
London police shocked by rare fatal shooting of officer
A police officer in London died after being shot in the early hours of Friday by a man who was being detained in a rare fatal shooting of a UK police officer.
The incident occurred in the early hours of Friday at Croydon Custody Centre in south London, the city's Metropolitan Police Service said.
Fellow officers and paramedics treated the officer at the scene, according to a police statement. However, he later died of his injuries at the hospital.
Later on Friday, the police service identified the slain officer as 54-year-old Sgt. Matt Ratana.
"This is a truly shocking incident in which one of our colleagues has lost his life in the most tragic circumstances. My heart goes out to his family, direct colleagues and friends," said Metropolitan Police Commissioner Cressida Dick.
A 23-year-old man was detained at the scene, police said. He is in hospital in a critical condition from a gunshot wound. The Metropolitan Police Service has launched a homicide investigation.
The fatal shooting of a police officer is an unusual event in the United Kingdom, where police do not routinely carry guns.
No police firearms were discharged during the incident, the police statement said.
Dick said Ratana was originally from Hawke's Bay, New Zealand, and moved to London in 1989. He joined the Metropolitan Police in 1991 and was captain of his recruit training class.
According to the UK Police Roll of Honour Trust website, no officer lost his or her life in a shooting incident last year. The last Metropolitan Police officer to lose his life in a violent attack was Keith Palmer, who was fatally stabbed in a terror attack in the British capital in 2017.
UK Prime Minister Boris Johnson said the country owed a "huge debt" to police officers who risk their lives to keep the community safe.
"My deepest condolences go to the family, friends and colleagues of the police officer who was killed in Croydon last night," he said on Twitter. "We owe a huge debt to those who risk their own lives to keep us safe."
UK Home Secretary Priti Patel said she was "shocked and saddened" by the news. "My thoughts today are with his family, friends, and policing colleagues in London and across the country," she said in a statement.
Patel said she had offered her condolences to Dick and offered whatever support was needed as the shooting was investigated.
"This is a sad day for our country and another terrible reminder of how our police officers put themselves in danger each and every day to keep the rest of us safe," she said.
London Mayor Sadiq Khan said he was "devastated" by the shooting.
"My heart goes out to the family of this brave officer, who has paid the ultimate price for helping to keep Londoners safe. Tragic incidents like this are terrible reminders of the dangers our police officers face every single day," Khan said on Twitter.
"My thoughts are also with the entire Metropolitan Police family, who I know will be deeply mourning their colleague at this extremely difficult time. I remain in close contact with the Commissioner to offer her and our Met officers and staff my support."