Macron's new year's speech: 'France can't succeed without a strong Europe'
French president promises to listen to dissenting voices but appeals to Europeans not to give in to 'nationalists and sceptics'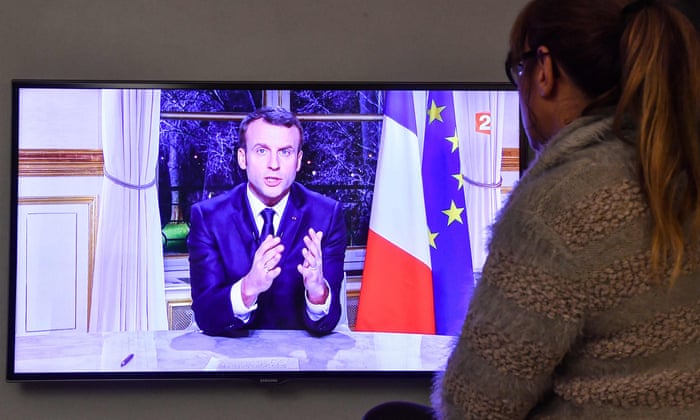 ---
This article titled "Macron's new year's speech: 'France can't succeed without a strong Europe'" was written by Angelique Chrisafis in Paris, for theguardian.com on Sunday 31st December 2017 21.57 UTC
The French president, Emmanuel Macron, appealed to European citizens "not to give in to nationalists and sceptics", as he used his new year's speech to promise to make the European Union "more united, more sovereign and more democratic".
Macron said in a televised address: "I deeply believe Europe can become that economic, social, environmentally-friendly, scientific power that will be able to face China and the United States." He added: "Europe is good for France. France can't succeed without a strong Europe."
The centrist, pro-business president, 40, is seeking to boost his standing on the world stage while at the same time pushing through a series of new laws in France in the coming year, including a controversial drive to harden immigration policy and increase expulsions of economic migrants. The plans have already drawn criticism from charities and even from some inside his own political movement.
In Macron's first televised new year's address since he was victorious against Marine Le Pen in May, he carefully promised to listen to dissenting voices, saying he would ensure France "showed solidarity at home and humanism internationally".
His long televised speech was delivered as a kind of pep-talk to France, borrowing a line from John F Kennedy as he urged the public: "Ask yourself every day what you can do for your country … I need that engagement."
Macron said France was "capable of the exceptional" and insisted the country would succeed in what he called its "universal mission" to "win peace" abroad. He said his priority was fighting Islamic terrorism abroad and at home. He has maintained France's military involvement in the battle against the Islamic State group in Iraq and Syria, and more than 4,000 troops fighting extremism in Africa's Sahel region. More recently, he offered to be a mediator in the Lebanon and Gulf crisis.
However, his speech came against the backdrop of a planned clampdown on illegal migrantion in France. Macron pointed to a France with problems such as discrimination on housing estates and warned against a country that was "too long divided", urging for more harmony. He promised a large-scale social project for 2018, without giving details.
A row broke out in December over Macron's planned new hardline immigration law, and charities and local government representatives have now been invited to consult with prime minister Edouard Philippe on the issue in January. The planned new law aims to speed up the process for asylum requests, but also to expel migrants without the possibility of claiming asylum. It would also double to 90 days the time a person without papers can be kept in a holding centre.
A set of new interior ministry orders in December sparked criticism after regional authorities were instructed to set up "mobile teams" to run checks in emergency housing to ascertain the status of migrants.
Macron said in his new year's speech that giving asylum was a "moral duty", and those who needed asylum would be welcomed. But he added: "We can't welcome everyone, and we can't act without rules. We have to check everyone's identity." He said he would hold a line of "humanity and efficiency".
Macron, a former investment banker who has found it hard to shake the tag of "president of the rich", saw a significant rise in popularity ratings in December. It is a turnaround rarely seen in recent years among French presidents. His approval ratings remain highest among older voters and high-earners, but he saw a recent rise in approval among younger voters.
Macron used his first eight months in office to push through changes to French labour laws, loosening worker protections and making it easier for companies to hire and fire. He also made sweeping changes to France's tax system, notably reducing the scope of the wealth tax for the richest by limiting it to property assets, and imposing a flat 30% levy on capital income. He called this a "profound transformation of France" in his new year's address – and said he would go further.
His plans for 2018 are complex, and include overhauling the unemployment benefits system and launching a constitutional reform of parliament.
guardian.co.uk © Guardian News & Media Limited 2010
Published via the Guardian News Feed plugin for WordPress.
Prince Philip, husband of Queen Elizabeth II, has died
Buckingham Palace has announced that The Duke of Edinburgh has died.
Philip Mountbatten, the rakish naval officer who captured the heart of a young Elizabeth Windsor and became the lifelong consort to the British queen, has died aged 99.
The death ends the longest marriage of a reigning monarch in British history, an enduring alliance that outlasted the Cold War, war and peace in Northern Ireland and the painful divorces of three of their four children.
Reacting to the death, Prime Minister Boris Johnson said;
"Prince Philip earned the affection of generations here in the UK, across the Commonwealth & around the world.
He was the longest serving consort in history & one of the last surviving people in this country to have served in WW2."
Prince Philip never held the official title of Prince Consort, but he was Queen Elizabeth II's closest confidant, most reliable political advisor and the undisputed master of the royal household for more than six decades.
Philip was known equally as a curmudgeon and a charmer who could quickly put nervous guests at ease with an easy one­liner.
The Queen, on the event of their golden wedding anniversary in 1997, said of her husband: "He has, quite simply, been my strength and stay all these years."
The Duke is survived by his wife, Queen Elizabeth II, and his children Charles, Prince of Wales; Anne, Princess Royal; Prince Andrew, Duke of York and Prince Edward, Earl of Wessex.
While Elizabeth presided over affairs of state, Philip championed dozens of charities, including the Duke of Edinburgh's Award, which has promoted self­reliance, physical development and other personal accomplishment for more than 6 million youths all over the world.
(more…)
Biden Expected To Repeal Military Trans Ban Tomorrow
The Biden administration is expected to repeal the ban on transgender Americans from serving in the military, multiple people informed of the decision told CBS News. The announcement is expected as soon as Monday, one senior Defense official and four outside advocates of repealing the ban told CBS News.
The senior Defense official told CBS News the repeal will be through executive order signed by President Joe Biden. The announcement is expected to take place at a ceremony with newly-confirmed Defense Secretary Lloyd Austin, who will order the Pentagon to go back to the policy enacted in 2016 by former Defense Secretary Ash Carter that allowed transgender Americans to serve openly.
The White House did not respond immediately to a request for comment.
The new order will direct the branches of the military to outline an implementation plan.
The ban was announced by former President Trump via a tweet in July 2017. The ban took effect in April 2019 and barred transgender Americans from enlisting in the military.
In 2014, it was estimated there were around 15,500 transgender military members serving, according to a study by the Williams Institute at the UCLA School of Law.
Biden frequently repeated on the campaign trail his promise to repeal the ban.
Austin said at his Senate confirmation hearing last week that he planned to repeal the ban.
"I support the president's plan or plan to overturn the ban," Austin said on Tuesday when asked by Senator Kirsten Gillibrand, "I truly believe, Senator, that as I said in my opening statement, that if you're fit and you're qualified to serve and you can maintain the standards, you should be allowed to serve. And, you can expect that I will support that throughout."
Trump Pardons Steve Bannon In One of His Final Acts As 45th President
(CNN)— President Donald Trump has decided to pardon his former chief strategist Steve Bannon, in a last-minute decision made only hours before he is scheduled to depart the White House for a final time.
Officials cautioned CNN that Trump's decision was not final until he signed the paperwork. Trump told people that after much deliberation, he had decided to pardon Bannon as one of his final acts in office.
Bannon's pardon would follow a frantic scramble during the President's final hours in office as attorneys and top aides debated his inclusion on Trump's outgoing clemency list. Despite their falling out in recent years, Trump was eager to pardon his former aide after recently reconnecting with him as he helped fan Trump's conspiracy theories about the election.
It was a far cry from when Trump exiled Bannon from his inner circle after he was quoted in a book trashing the President's children, claiming that Donald Trump Jr. had been "treasonous" by meeting with a Russian attorney and labeling Ivanka Trump "dumb as a brick." Those statements from Bannon drove Trump to issue a lengthy statement saying he had "lost his mind."
"Steve Bannon has nothing to do with me or my presidency," Trump said at the time.Things shifted in recent months as Bannon attempted to breach Trump's inner circle once again by offering advice before the election and pushing his false theories after Trump had lost.
Since Trump's election defeat, the President has leaned further into his expansive pardon powers — granting pardons to his first national security adviser, Michael Flynn, longtime ally Roger Stone and former campaign chairman Paul Manafort, among others.
Among Trump's pardons earlier in his term were those for former Arizona Sheriff Joe Arpaio, right-wing commentator Dinesh D'Souza and financier Michael Milken.