New year, new rules: what changes around the world from 1 January
British rail fares will rise again this year and Californians will be able to buy marijuana legally for recreational purposes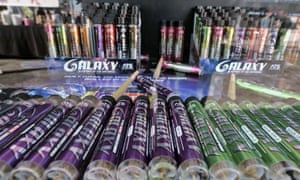 ---
This article titled "New year, new rules: what changes around the world from 1 January" was written by Mark Rice-Oxley, Richard Nelsson and Guardian correspondents, for theguardian.com on Monday 1st January 2018 06.00 UTC
Saudis and Emiratis will pay more tax, the Swiss will pay less, Brits will start taking more expensive train journeys and China will stop taking in the world's rubbish.
These are some of the changes that will take effect as the world ticks over into a new year.
In the US, New Yorkers will receive a more generous family leave entitlement, and more than 40 years after the summer of love, Californians will from New Year's Day finally be able to buy marijuana legally for recreational purposes. Some national parks will be more expensive to visit.
However, budding consumers may hit a snag, as state and local governments are still trying to figure out how to regulate cannabis, so few dispensaries will likely be ready to open their doors.
It is all change at the helm of the world's big trading blocs and axes, as Bulgaria has its first crack at presiding over the EU council – a chance for the EU's poorest member state to chair meetings and set its agenda.
Argentina, meanwhile, takes over the G20 presidency (its president, Mauricio Macri, has a thing for education technology and women's access to finance, so watch out for these to be themes of his year in charge).
Valletta in Malta and Leeuwarden in the Netherlands will start to enjoy being European capitals of culture.
Elsewhere, it will be harder to become Swiss, and more expensive to stay in Greece and Hawaii because of new tourist taxes, and if you are driving in Ukraine, you will find urban speed limits reduced from 60km/h to 50km/h.
Finland may be about to get a little boozier, as stronger alcohol is allowed in grocery stores. Seattle, meanwhile, will step up the battle against obesity with a sugar tax.
Perhaps one of the most striking changes, with global implications, is China's decision to stop importing a wide range of plastic and other waste. China has long been a repository for waste materials from around the world, as its hungry economy hoovers up all the resources it can get.
In 2016, China imported 7.3m tonnes of waste plastics. Developed countries will need to figure out what will happen to all those jettisoned bottles and containers.
This is not the only new year regulation that will affect the environment. In London, all new black cabs must be able to run on electric power, which is aimed at reducing high levels of nitrogen oxide and tiny particles in the air.
In Europe, all gas and wood-burning stoves must comply with strict emissions and energy efficiency rules. Open fires will no longer be allowed to be sold in EU member states. There will be tighter regulation of fertilisers, more fish protected by EU quotas in the Atlantic Ocean and North Sea, and a new law taxing pollution in China.
In the US, the Environmental Protection Agency is introducing various new standards. Any technician who wants to maintain, repair or dispose of appliances with HFCs will have to pass an exam, with the sale of HFCs restricted to certified outlets. The EPA estimates that the rules will reduce greenhouse gas emissions annually by 7.3m tonnes – roughly equivalent to taking 1.5m cars off the road a year.
The EU's most ambitious financial reforms will mostly come into effect on Wednesday. The markets in financial instruments directive, consisting of 1.4m paragraphs of rules, is intended to protect investors and bring more transparency into trading.
Gibraltar will bring in a new licence for fintech firms using blockchain, the first attempt anywhere in the world to regulate the technology behind cryptocurrencies.
In Russia, a bill obliging operators of internet messengers to verify the identity of every user comes into force. The law requires users to register their phone numbers to use chat apps. It also requires chat apps to limit or suspend access to users suspected of spreading illegal content, as well as to send messages from government bodies if asked.
The BBC faces tighter regulatory conditions obliging it to make more original – and regional – programming.
A new year typically means higher rail fares in Britain. This year, prices will rise by an average of 3.4% on Tuesday, well above inflation. Exasperated passengers are unlikely to welcome paying more for the delays, cancellations and undignified rush-hour overcrowding that blight many services.
Britain will get a new university regulator, the Office for Students, to oversee quality and standards, and decide which institutions deserve to call themselves universities and award degrees.
In sport, the 72 Football League clubs have agreed to try to increase the number of coaches and managers from minority groups by interviewing at least one BAME candidate for vacant posts. Fifa will begin monitoring international transfers in the women's game.
Reporting team: Oliver Milman and Jessica Glenza in New York, Shaun Walker in Moscow, Jennifer Rankin in Brussels and Lucy Lamble
guardian.co.uk © Guardian News & Media Limited 2010
Published via the Guardian News Feed plugin for WordPress.
Prince Philip, husband of Queen Elizabeth II, has died
Buckingham Palace has announced that The Duke of Edinburgh has died.
Philip Mountbatten, the rakish naval officer who captured the heart of a young Elizabeth Windsor and became the lifelong consort to the British queen, has died aged 99.
The death ends the longest marriage of a reigning monarch in British history, an enduring alliance that outlasted the Cold War, war and peace in Northern Ireland and the painful divorces of three of their four children.
Reacting to the death, Prime Minister Boris Johnson said;
"Prince Philip earned the affection of generations here in the UK, across the Commonwealth & around the world.
He was the longest serving consort in history & one of the last surviving people in this country to have served in WW2."
Prince Philip never held the official title of Prince Consort, but he was Queen Elizabeth II's closest confidant, most reliable political advisor and the undisputed master of the royal household for more than six decades.
Philip was known equally as a curmudgeon and a charmer who could quickly put nervous guests at ease with an easy one­liner.
The Queen, on the event of their golden wedding anniversary in 1997, said of her husband: "He has, quite simply, been my strength and stay all these years."
The Duke is survived by his wife, Queen Elizabeth II, and his children Charles, Prince of Wales; Anne, Princess Royal; Prince Andrew, Duke of York and Prince Edward, Earl of Wessex.
While Elizabeth presided over affairs of state, Philip championed dozens of charities, including the Duke of Edinburgh's Award, which has promoted self­reliance, physical development and other personal accomplishment for more than 6 million youths all over the world.
(more…)
Biden Expected To Repeal Military Trans Ban Tomorrow
The Biden administration is expected to repeal the ban on transgender Americans from serving in the military, multiple people informed of the decision told CBS News. The announcement is expected as soon as Monday, one senior Defense official and four outside advocates of repealing the ban told CBS News.
The senior Defense official told CBS News the repeal will be through executive order signed by President Joe Biden. The announcement is expected to take place at a ceremony with newly-confirmed Defense Secretary Lloyd Austin, who will order the Pentagon to go back to the policy enacted in 2016 by former Defense Secretary Ash Carter that allowed transgender Americans to serve openly.
The White House did not respond immediately to a request for comment.
The new order will direct the branches of the military to outline an implementation plan.
The ban was announced by former President Trump via a tweet in July 2017. The ban took effect in April 2019 and barred transgender Americans from enlisting in the military.
In 2014, it was estimated there were around 15,500 transgender military members serving, according to a study by the Williams Institute at the UCLA School of Law.
Biden frequently repeated on the campaign trail his promise to repeal the ban.
Austin said at his Senate confirmation hearing last week that he planned to repeal the ban.
"I support the president's plan or plan to overturn the ban," Austin said on Tuesday when asked by Senator Kirsten Gillibrand, "I truly believe, Senator, that as I said in my opening statement, that if you're fit and you're qualified to serve and you can maintain the standards, you should be allowed to serve. And, you can expect that I will support that throughout."
Trump Pardons Steve Bannon In One of His Final Acts As 45th President
(CNN)— President Donald Trump has decided to pardon his former chief strategist Steve Bannon, in a last-minute decision made only hours before he is scheduled to depart the White House for a final time.
Officials cautioned CNN that Trump's decision was not final until he signed the paperwork. Trump told people that after much deliberation, he had decided to pardon Bannon as one of his final acts in office.
Bannon's pardon would follow a frantic scramble during the President's final hours in office as attorneys and top aides debated his inclusion on Trump's outgoing clemency list. Despite their falling out in recent years, Trump was eager to pardon his former aide after recently reconnecting with him as he helped fan Trump's conspiracy theories about the election.
It was a far cry from when Trump exiled Bannon from his inner circle after he was quoted in a book trashing the President's children, claiming that Donald Trump Jr. had been "treasonous" by meeting with a Russian attorney and labeling Ivanka Trump "dumb as a brick." Those statements from Bannon drove Trump to issue a lengthy statement saying he had "lost his mind."
"Steve Bannon has nothing to do with me or my presidency," Trump said at the time.Things shifted in recent months as Bannon attempted to breach Trump's inner circle once again by offering advice before the election and pushing his false theories after Trump had lost.
Since Trump's election defeat, the President has leaned further into his expansive pardon powers — granting pardons to his first national security adviser, Michael Flynn, longtime ally Roger Stone and former campaign chairman Paul Manafort, among others.
Among Trump's pardons earlier in his term were those for former Arizona Sheriff Joe Arpaio, right-wing commentator Dinesh D'Souza and financier Michael Milken.