Iran's enemies to blame for unrest, says supreme leader, as nine die overnight
Ayatollah Ali Khamenei accuses foreign powers of 'deploying every means at their disposal', amid intensifying crackdown on protesters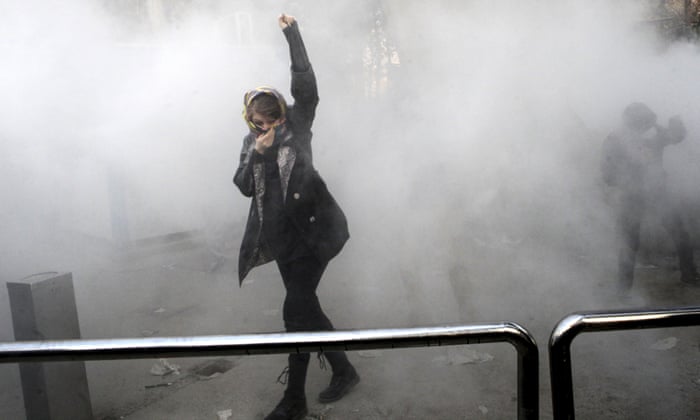 ---
This article titled "Iran's enemies to blame for unrest, says supreme leader, as death toll rises" was written by Saeed Kamali Dehghan and Julian Borger, for The Guardian on Tuesday 2nd January 2018 20.09 UTC
Iran's supreme leader has blamed the Islamic Republic's enemies for nationwide unrest, as authorities cracked down with increasing intensity on protesters, leading to the death toll rising.
"In the events of the past few days, the enemies of Iran are deploying every means at their disposal including money, arms and political and intelligence support to coordinate making troubles for the Islamic establishment," Ayatollah Ali Khamenei said in his first public remarks since the protests began on Thursday.
Videos posted on social networks suggest riot police and protesters are becoming more confrontational. In a sign that the rhetoric is also hardening, Esmail Kowsari, a senior Revolutionary Guards commander, vowed that the elite forces would crush those he said were disturbing the country's security. In the event that the unrest continued, "the authorities will undoubtedly make a decision and finish the business", Kowsari said.
The US ambassador to the United Nations, Nikki Haley, called for international action in solidarity with the demonstrators and said the US would seek emergency UN sessions on Iran.
Haley, one of the most hawkish figures on Iran in the Trump administration, rejected Khamenei's comments, saying the protests were "completely spontaneous".
"By the thousands, Iranian citizens are taking to the streets to protest the oppression of their own government. It takes great bravery for the Iranian people to use the power of their voice, especially when their government has a long history of murdering its own people who dare to speak the truth," Haley said. "We must not be silent,. The people of Iran are crying out for freedom."
The US Department of State spokeswoman, Heather Nauert, later denied that the US was calling for regime change, saying it was simply backing the right of the protesters to demand changed policies from their government.
The demonstrations, the largest seen in Iran since its disputed 2009 presidential election, resumed on Tuesday evening for the sixth consecutive day.
The protests began on Thursday when opponents of Iran's moderate president, Hassan Rouhani, gathered in north-eastern Iran to demonstrate over economic grievances. They then spread nationwide and took on more of an anti-regime dimension, including anti-Khamenei chants.
An intervention by Rouhani on Sunday, when he acknowledged the discontent, failed to quell the anger. Monday night's disturbances were the most violent so far.
At least 21 people are now thought to have died across the country. More than 450 people have been arrested in Tehran alone since Saturday – nationwide figures have not been released.
The UN secretary general, Antonio Guterres, expressed his "regret" at the rising death toll and called on Tehran to respect the rights of peaceful protesters. "We expect that the rights to peaceful assembly and expression of the Iranian people will be respected," his spokesman said.
A senior Iranian official directly blamed Saudi Arabia, Iran's regional rival, for the demonstrations.
Ali Shamkhani, the secretary of Iran's supreme national security council, told a Lebanese Arabic-language TV channel that the number of messages on social networks sent online via Saudi Arabia showed the country was involved. He warned that Iran would retaliate with "an appropriate response" in due course.
In the first intervention of its kind, the actor Taraneh Alidoosti – famous for her collaboration with Iran's Oscar-winning director Asghar Farhadi – called on Twitter for the authorities to refrain from using violence against protesters and instead to understand their anger and find a way to calm the situation.
State TV and semi-official news agencies that used relatively conciliatory language last week are increasingly referring to the protesters as mobs who want to destroy public property. On Tuesday judicial authorities gave an ultimatum to protesters, threatening harsher sentences if the unrest continued.
State television said six protesters had been killed overnight as they tried to attack a police station in the town of Qahderijan in the central Isfahan region. It also said an 11-year-old boy and a 20-year-old man had been killed in the town of Khomeinishahr, while a member of Iran's paramilitary militia was killed in the town of Najafabad. None of the reports could be confirmed independently.
Observers reported riot police riding on motorbikes and wielding batons on the streets of Tehran. Similar scenes were reported in other cities.
A Tehrani man who drives a taxi for Snapp, Iran's equivalent of Uber, told the Guardian that motorbike-riding security guards with batons had been out in full force in Tehran on Monday night.
"I was out at 8 or 9pm and the atmosphere was tense. In Tehran the riot police was unleashed near Vanak Square, in Enghelab Street and in Naziabad," he said. "I was in Vanak Square at 5pm and it was full of security guards."
The driver said the protests were more widespread in the provinces than in Tehran because working class people in the provinces were the most affected by Iran's economic problems. "In Kermanshah [in the west of Iran] there was an earthquake recently and a lot of those affected are still living outside," he said. "In Ahwaz, 30 years after the [Iran-Iraq] war, the situation is still bad.
"The city of Arak has many industries and a lot of people are without jobs. One of my relatives works for a petrochemical company in Arak – they haven't got salaries for a few months now, that's why they're out … Gradually people are getting fed up and raising their voice."
Rouhani spoke with a number of parliamentarians on Monday in a meeting that officials insisted had been planned before the protests began. The president acknowledged anger over the country's flagging economy, although he and others warned that the government would not hesitate to crack down on those it considered lawbreakers.
The Economist Intelligence Unit, a UK-based advisory business, said rising inflation and a recent increase in food prices were to blame for the protests, as well as a lack of economic development. Youth unemployment remained at about 40%, the EIU noted, despite a promise by the Rouhani administration that the 2015 nuclear deal would help to create jobs and improve people's living standards.
The scale and speed at which the protests have spread across Iran have puzzled many in the country, including reformists who are critical of the political atmosphere but are wary of any move towards regime change.
Iran blocked access to social networks including Telegram and Instagram on Sunday but insisted the move was temporary. On Tuesday the US urged Iran to stop blocking social media and advised its citizens to set up virtual private networks, or VPNs, to circumvent censorship.
One of Iran's most outspoken MPs, Mahmoud Sadeghi, said on Twitter he had urged the interior ministry not to link the protests with foreign powers, and instead to improve the economic situation, open up state television to diverse opinions and lift restrictions on regime critics.
In his latest tweet on the ongoing unrest, Donald Trump praised protesters for acting against Tehran's "brutal and corrupt" regime. "The people have little food, big inflation and no human rights. The US is watching!" Trump wrote. Iran's foreign ministry responded by saying the US president should focus on "homeless and hungry people" in his own country rather than insulting Iranians.
A spokeswoman for the EU foreign policy chief, Federica Mogherini, said the EU had been touch with authorities in Iran. "We expect that the right to peaceful demonstration and freedom of expression will be guaranteed," she said.
guardian.co.uk © Guardian News & Media Limited 2010
Published via the Guardian News Feed plugin for WordPress.
Prince Philip, husband of Queen Elizabeth II, has died
Buckingham Palace has announced that The Duke of Edinburgh has died.
Philip Mountbatten, the rakish naval officer who captured the heart of a young Elizabeth Windsor and became the lifelong consort to the British queen, has died aged 99.
The death ends the longest marriage of a reigning monarch in British history, an enduring alliance that outlasted the Cold War, war and peace in Northern Ireland and the painful divorces of three of their four children.
Reacting to the death, Prime Minister Boris Johnson said;
"Prince Philip earned the affection of generations here in the UK, across the Commonwealth & around the world.
He was the longest serving consort in history & one of the last surviving people in this country to have served in WW2."
Prince Philip never held the official title of Prince Consort, but he was Queen Elizabeth II's closest confidant, most reliable political advisor and the undisputed master of the royal household for more than six decades.
Philip was known equally as a curmudgeon and a charmer who could quickly put nervous guests at ease with an easy one­liner.
The Queen, on the event of their golden wedding anniversary in 1997, said of her husband: "He has, quite simply, been my strength and stay all these years."
The Duke is survived by his wife, Queen Elizabeth II, and his children Charles, Prince of Wales; Anne, Princess Royal; Prince Andrew, Duke of York and Prince Edward, Earl of Wessex.
While Elizabeth presided over affairs of state, Philip championed dozens of charities, including the Duke of Edinburgh's Award, which has promoted self­reliance, physical development and other personal accomplishment for more than 6 million youths all over the world.
(more…)
Biden Expected To Repeal Military Trans Ban Tomorrow
The Biden administration is expected to repeal the ban on transgender Americans from serving in the military, multiple people informed of the decision told CBS News. The announcement is expected as soon as Monday, one senior Defense official and four outside advocates of repealing the ban told CBS News.
The senior Defense official told CBS News the repeal will be through executive order signed by President Joe Biden. The announcement is expected to take place at a ceremony with newly-confirmed Defense Secretary Lloyd Austin, who will order the Pentagon to go back to the policy enacted in 2016 by former Defense Secretary Ash Carter that allowed transgender Americans to serve openly.
The White House did not respond immediately to a request for comment.
The new order will direct the branches of the military to outline an implementation plan.
The ban was announced by former President Trump via a tweet in July 2017. The ban took effect in April 2019 and barred transgender Americans from enlisting in the military.
In 2014, it was estimated there were around 15,500 transgender military members serving, according to a study by the Williams Institute at the UCLA School of Law.
Biden frequently repeated on the campaign trail his promise to repeal the ban.
Austin said at his Senate confirmation hearing last week that he planned to repeal the ban.
"I support the president's plan or plan to overturn the ban," Austin said on Tuesday when asked by Senator Kirsten Gillibrand, "I truly believe, Senator, that as I said in my opening statement, that if you're fit and you're qualified to serve and you can maintain the standards, you should be allowed to serve. And, you can expect that I will support that throughout."
Trump Pardons Steve Bannon In One of His Final Acts As 45th President
(CNN)— President Donald Trump has decided to pardon his former chief strategist Steve Bannon, in a last-minute decision made only hours before he is scheduled to depart the White House for a final time.
Officials cautioned CNN that Trump's decision was not final until he signed the paperwork. Trump told people that after much deliberation, he had decided to pardon Bannon as one of his final acts in office.
Bannon's pardon would follow a frantic scramble during the President's final hours in office as attorneys and top aides debated his inclusion on Trump's outgoing clemency list. Despite their falling out in recent years, Trump was eager to pardon his former aide after recently reconnecting with him as he helped fan Trump's conspiracy theories about the election.
It was a far cry from when Trump exiled Bannon from his inner circle after he was quoted in a book trashing the President's children, claiming that Donald Trump Jr. had been "treasonous" by meeting with a Russian attorney and labeling Ivanka Trump "dumb as a brick." Those statements from Bannon drove Trump to issue a lengthy statement saying he had "lost his mind."
"Steve Bannon has nothing to do with me or my presidency," Trump said at the time.Things shifted in recent months as Bannon attempted to breach Trump's inner circle once again by offering advice before the election and pushing his false theories after Trump had lost.
Since Trump's election defeat, the President has leaned further into his expansive pardon powers — granting pardons to his first national security adviser, Michael Flynn, longtime ally Roger Stone and former campaign chairman Paul Manafort, among others.
Among Trump's pardons earlier in his term were those for former Arizona Sheriff Joe Arpaio, right-wing commentator Dinesh D'Souza and financier Michael Milken.