Ivanka seeks the presidency – and other big claims from explosive new book
In his book Fire and Fury: Inside the Trump White House, Michael Wolff reports on clashes between Trump and his inner circle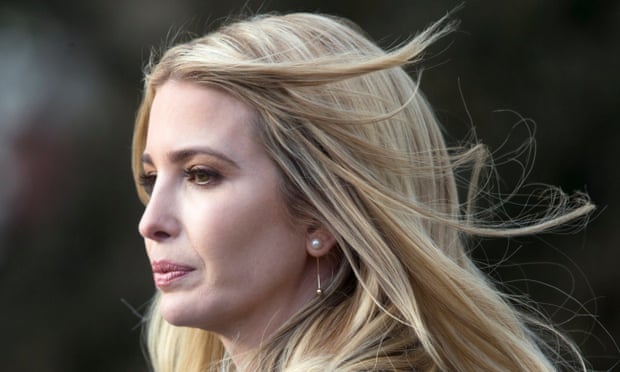 ---
This article titled "Ivanka seeks the presidency – and other big claims from explosive new book" was written by Martin Pengelly, for The Guardian on Wednesday 3rd January 2018 20.37 UTC
The publication on Wednesday of excerpts from a new book on the Trump administration, first by the Guardian and then by New York magazine, brought to light a host of explosive reports of internecine fighting and organisational chaos at the heart of the US presidency.
Fire and Fury: Inside the Trump White House, by the former Guardian columnist and Rupert Murdoch biographer Michael Wolff, will be published in full next Tuesday. In December, he told the Guardian that in his approach to researching the book he had been "not particularly hostile".
"That allowed me to get them to be relatively open," he said.
Among other things, the book reveals that former Trump campaign chair and White House strategist Steve Bannon believes an infamous June 2016 meeting between Donald Trump Jr, Jared Kushner, Paul Manafort and Russians offering incriminating information about Hillary Clinton at Trump Tower was "treasonous", "unpatriotic" and "bad shit".
Bannon also reportedly believes that Donald Trump knew of the meeting and met the Russians involved – the president has denied this – saying: "The chance that Don Jr did not walk these jumos up to his father's office on the 26th floor is zero."
Wolff also reports a conversation between the president-elect and Rupert Murdoch about immigration policy that allegedly led the media mogul to label Trump "a fucking idiot".
The revelations drew a remarkably forceful White House statement, in which Trump said: "When he was fired he not only lost his job, he lost his mind."
By any standard, Wolff's book has had an extraordinary impact for an as yet unpublished work.
Here are some other highlights:
The president's daughter and son-in-law, Ivanka Trump and Jared Kushner, reportedly made a deal about which of them would one day run for president. Wolff writes: "The first woman president, Ivanka entertained, would not be Hillary Clinton; it would be Ivanka Trump."
Of Bannon's activities after leaving the White House, Wolff writes: "Bannon was telling people something else: he, Steve Bannon, was going to run for president. The locution, 'If I were president …' was turning into, 'When I am president …'" Wolff also writes that Bannon has courted top Republican donors, "doing his best, as he put it, to 'kiss the ass and pay homage to all the gray-beards'".
Infighting among staff reportedly often featured a group including Kushner, Ivanka and the economics adviser Gary Cohn against a faction led by Bannon. Wolff quotes Richard Nixon's national security adviser, Henry Kissinger, as saying: "It is a war between the Jews and the non-Jews."
Wolff writes that Thomas Barrack Jr, a billionaire who is one of the president's oldest associates and was reportedly wanted by Trump to be his chief of staff, allegedly told a friend: "He's not only crazy, he's stupid." On Wednesday, Barrack denied saying that.
Asked by Fox News chief executive Roger Ailes what Trump had "gotten himself into with the Russians", Wolff writes, Bannon answered: "Mostly, he went to Russia and he thought he was going to meet Putin. But Putin couldn't give a shit about him. So he's kept trying."
In discussing whom to appoint as Trump's national security adviser, Wolff writes, Ailes promoted the former United Nations ambassador John Bolton, whom he reportedly called "a bomb thrower" and "a strange little fucker". Bannon, however, reportedly counselled that Bolton's moustache would be "a problem".
No one in the Trump campaign expected to win the presidency, Wolff writes, and most including Trump saw his run as leverage for careers in television or politics. Melania Trump, Wolff claims, was horrified by the prospect of victory. When on election night it became clear Trump could indeed beat Clinton and take the White House, according to the book "Melania was in tears – and not of joy". The first lady's communications director rejected that account and said: "The book is clearly going to be sold in the bargain fiction section."
Trump's first Muslim travel ban, issued to chaos and protest at airports across the US, caused consternation among White House staff. Bannon reportedly said the ban was published late on a Friday precisely to anger and provoke liberals, "so the snowflakes would show up at the airports and riot".
Trump reportedly argued with the Secret Service over whether he could have a lock on his bedroom – "the first time since the Kennedy White House that a presidential couple had maintained separate rooms", Wolff writes – and told housekeeping he would strip his own bed and leave his shirts on the floor. Wolff also says the president, who is known to fear being poisoned, told no one to touch his toothbrush.
Kushner reportedly offered to marry the TV hosts Mika Brzezinski and Joe Scarborough – then lunch dates for Trump, now regular critics – because he said he was "an internet Unitarian minister".
Disloyalty among the president's staff was reportedly mirrored by the president himself. Wolff says Trump called Bannon disloyal and scruffy, Priebus weak and short, Kushner a suck-up, press secretary Sean Spicer stupid and adviser Kellyanne Conway a crybaby. Jared and Ivanka, the president reportedly said, should never have come to Washington.
The Guardian obtained a copy of Fire and Fury from a bookseller in New England.
guardian.co.uk © Guardian News & Media Limited 2010
Published via the Guardian News Feed plugin for WordPress.
Biden Expected To Repeal Military Trans Ban Tomorrow
The Biden administration is expected to repeal the ban on transgender Americans from serving in the military, multiple people informed of the decision told CBS News. The announcement is expected as soon as Monday, one senior Defense official and four outside advocates of repealing the ban told CBS News.
The senior Defense official told CBS News the repeal will be through executive order signed by President Joe Biden. The announcement is expected to take place at a ceremony with newly-confirmed Defense Secretary Lloyd Austin, who will order the Pentagon to go back to the policy enacted in 2016 by former Defense Secretary Ash Carter that allowed transgender Americans to serve openly.
The White House did not respond immediately to a request for comment.
The new order will direct the branches of the military to outline an implementation plan.
The ban was announced by former President Trump via a tweet in July 2017. The ban took effect in April 2019 and barred transgender Americans from enlisting in the military.
In 2014, it was estimated there were around 15,500 transgender military members serving, according to a study by the Williams Institute at the UCLA School of Law.
Biden frequently repeated on the campaign trail his promise to repeal the ban.
Austin said at his Senate confirmation hearing last week that he planned to repeal the ban.
"I support the president's plan or plan to overturn the ban," Austin said on Tuesday when asked by Senator Kirsten Gillibrand, "I truly believe, Senator, that as I said in my opening statement, that if you're fit and you're qualified to serve and you can maintain the standards, you should be allowed to serve. And, you can expect that I will support that throughout."
Trump Pardons Steve Bannon In One of His Final Acts As 45th President
(CNN)— President Donald Trump has decided to pardon his former chief strategist Steve Bannon, in a last-minute decision made only hours before he is scheduled to depart the White House for a final time.
Officials cautioned CNN that Trump's decision was not final until he signed the paperwork. Trump told people that after much deliberation, he had decided to pardon Bannon as one of his final acts in office.
Bannon's pardon would follow a frantic scramble during the President's final hours in office as attorneys and top aides debated his inclusion on Trump's outgoing clemency list. Despite their falling out in recent years, Trump was eager to pardon his former aide after recently reconnecting with him as he helped fan Trump's conspiracy theories about the election.
It was a far cry from when Trump exiled Bannon from his inner circle after he was quoted in a book trashing the President's children, claiming that Donald Trump Jr. had been "treasonous" by meeting with a Russian attorney and labeling Ivanka Trump "dumb as a brick." Those statements from Bannon drove Trump to issue a lengthy statement saying he had "lost his mind."
"Steve Bannon has nothing to do with me or my presidency," Trump said at the time.Things shifted in recent months as Bannon attempted to breach Trump's inner circle once again by offering advice before the election and pushing his false theories after Trump had lost.
Since Trump's election defeat, the President has leaned further into his expansive pardon powers — granting pardons to his first national security adviser, Michael Flynn, longtime ally Roger Stone and former campaign chairman Paul Manafort, among others.
Among Trump's pardons earlier in his term were those for former Arizona Sheriff Joe Arpaio, right-wing commentator Dinesh D'Souza and financier Michael Milken.
California Governor Formally Appoints Alex Padilla To Fill US Senate Seat Vacated By Kamala Harris
(CNN) — California Gov. Gavin Newsom formally submitted the appointment of Alex Padilla to the US Senate today, according to a press release from the governor's office. 
Padilla formally resigned as Secretary of State this morning and Gov. Newsom also submitted his nomination letter for Assembly member Shirley Weber to replace him. The Deputy Secretary of State, James Schwab, will be the Acting Secretary of State.
"It is fitting that on the same day we celebrate the legacy of Dr. Martin Luther King, Jr. — a civil rights icon who fought for justice and representation — we also move forward the appointment of California's first Latino U.S. Senator Alex Padilla and the nomination of Dr. Shirley Weber who will serve as the first-ever African American Secretary of State. Both will be strong defenders of our democracy during this fragile moment in our nation's history," said Gov. Newsom.
"I am humbled and honored by your trust in me to represent California in the United States Senate. I look forward to continuing to serve the great State of California as a United States Senator and to ensuring that the rights and democratic principles we cherish are protected and preserved for all people," Padilla wrote in a letter to Gov. Newsom.
Some context: Earlier today, Vice President-elect Kamala Harris formally resigned her seat as one of California's US Senators. She'll be inaugurated as vice president on Wednesday, Jan. 20. In a farewell addressed posted to Twitter, Harris said, "Of course, I'm not saying goodbye. In many ways, I'm now saying hello as your vice president."