Nikki Haley: Trump aimed to 'keep Kim on his toes' with 'nuclear button' tweet
US ambassador to UN defends president's rhetoric on North Korea
Haley: 'It's not us that's going to be destroyed, it's you'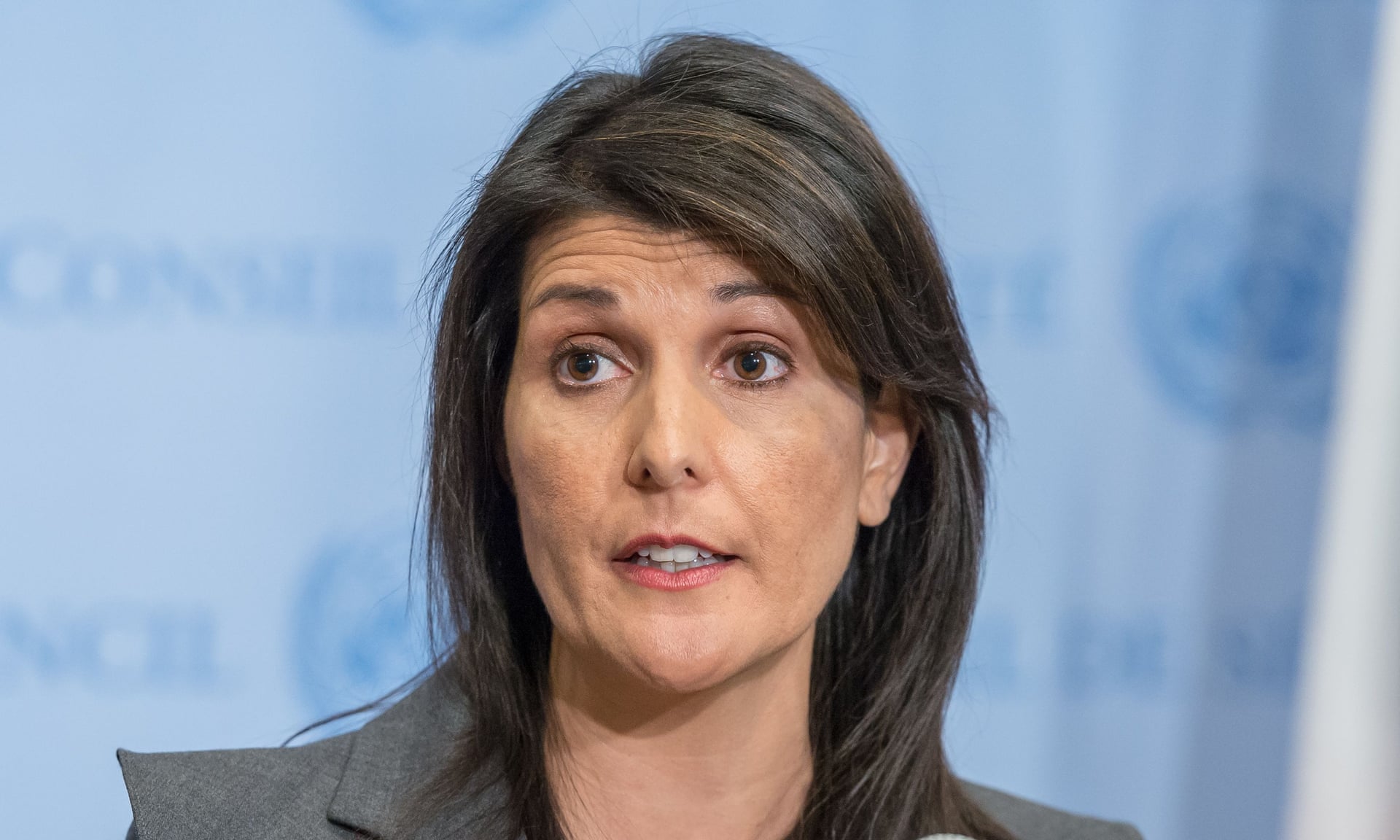 ---
This article titled "Nikki Haley: Trump aimed to 'keep Kim on his toes' with 'nuclear button' tweet" was written by Martin Pengelly, for theguardian.com on Sunday 7th January 2018 20.14 UTC
Donald Trump's tweet taunting North Korean leader Kim Jong-un over the size of his "nuclear button" was meant to "keep Kim on his toes", the US ambassador to the United Nations said on Sunday.
Rare progress has recently been made over the Korean standoff, with North and South agreeing to begin their first talks for two years on Tuesday in the South Korean side of the village of Panmunjom in the demilitarised zone.
The forthcoming Winter Olympics in Pyeongchang will dominate the agenda but officials have indicated other issues may also be discussed.
Trump, however, showed a characteristic disregard for diplomatic niceties when he wrote on Tuesday: "North Korean Leader Kim Jong Un just stated that the 'Nuclear Button is on his desk at all times'.
"Will someone from his depleted and food starved regime please inform him that I too have a Nuclear Button, but it is a much bigger & more powerful one than his, and my Button works!"
The tweet was written the day before the Guardian published extracts of a book in which White House staffers question the president's mental capacity for his job, setting off a political firestorm.
In an opinion piece for the Guardian on Sunday, Bandy Lee, an assistant clinical professor at the Yale School of Medicine who has briefed members of Congress on the risks associated with the president's behaviour, wrote: "Trump views violence as a solution when he is stressed and desires to re-establish his power.
"Paranoia and overwhelming feelings of weakness and inadequacy make violence very attractive, and powerful weapons very tempting to use – all the more so for their power.
"His contest with the North Korean leader about the size of their nuclear buttons is an example of that and points to the possibility of great danger by virtue of the power of his position."
Asked on ABC's This Week if Trump's tweet was a good idea at a time of high tension between the US and Pyongyang, Haley said: "I think [Trump] always has to keep Kim on his toes. It's very important that we don't ever let [Kim] get so arrogant that he doesn't realise the reality of what would happen if he started a nuclear war."
Host George Stephanopoulos countered that even senior Senate Republicans Corey Gardner and John Cornyn said Trump's tweet was reckless.
"You know, everyone's going to have their opinion," Haley said. "What I can tell you is I'm dealing with the diplomats on the ground, I'm dealing with all the actors in this situation.
"It is a serious situation and [Kim] can't sit there and imply that he's going to destroy the United States without us reminding him of the facts and the reality that if you go there, it's not us that's going to be destroyed, it's you."
The CIA director, Mike Pompeo, also defended Trump, telling CBS's Face the Nation the tweet was "consistent with US policy", which seeks the denuclearisation of the Korean peninsula.
Pompeo also said he believed North Korea was months away from being able to put a US city at risk of nuclear attack. He declined to be more precise.
Trump has regularly taunted Kim on social media and in speeches with the name "Rocket Man" or "Little Rocket Man". He has also consistently implied that only military action will work.
In August, he said threats from Pyongyang would "be met with fire and the fury like the world has never seen", a statement that gave Michael Wolff's book its title.
In October, the president said talking to the North Koreans would be a "waste of time" for his secretary of state, Rex Tillerson.
On Saturday, though, Trump told a press conference at Camp David he would be open to phone talks with Kim.
"There is no turnaround," Haley told ABC. 'What [Trump] has basically said is 'Yes, there could be a time when we talk to North Korea but a lot of things have to happen before that actually takes place. They have to be willing to talk about banning their nuclear weapons.'"
That would mean Pyongyang suspending its tests of ballistic missiles and nuclear weapons, an unlikely step.
At Camp David, Trump also appeared to take credit for the scheduled talks between North and South.
The president said: "A lot of people have said and a lot of people have written that without my rhetoric and without my tough stance – and it's not just a stance, I mean this is what has to be done – that they wouldn't be talking about Olympics, they wouldn't be talking right now."
Haley said it was not her "understanding" North and South Korea would "talk about anything further" than the Olympics.
guardian.co.uk © Guardian News & Media Limited 2010
Published via the Guardian News Feed plugin for WordPress.
Biden Expected To Repeal Military Trans Ban Tomorrow
The Biden administration is expected to repeal the ban on transgender Americans from serving in the military, multiple people informed of the decision told CBS News. The announcement is expected as soon as Monday, one senior Defense official and four outside advocates of repealing the ban told CBS News.
The senior Defense official told CBS News the repeal will be through executive order signed by President Joe Biden. The announcement is expected to take place at a ceremony with newly-confirmed Defense Secretary Lloyd Austin, who will order the Pentagon to go back to the policy enacted in 2016 by former Defense Secretary Ash Carter that allowed transgender Americans to serve openly.
The White House did not respond immediately to a request for comment.
The new order will direct the branches of the military to outline an implementation plan.
The ban was announced by former President Trump via a tweet in July 2017. The ban took effect in April 2019 and barred transgender Americans from enlisting in the military.
In 2014, it was estimated there were around 15,500 transgender military members serving, according to a study by the Williams Institute at the UCLA School of Law.
Biden frequently repeated on the campaign trail his promise to repeal the ban.
Austin said at his Senate confirmation hearing last week that he planned to repeal the ban.
"I support the president's plan or plan to overturn the ban," Austin said on Tuesday when asked by Senator Kirsten Gillibrand, "I truly believe, Senator, that as I said in my opening statement, that if you're fit and you're qualified to serve and you can maintain the standards, you should be allowed to serve. And, you can expect that I will support that throughout."
Trump Pardons Steve Bannon In One of His Final Acts As 45th President
(CNN)— President Donald Trump has decided to pardon his former chief strategist Steve Bannon, in a last-minute decision made only hours before he is scheduled to depart the White House for a final time.
Officials cautioned CNN that Trump's decision was not final until he signed the paperwork. Trump told people that after much deliberation, he had decided to pardon Bannon as one of his final acts in office.
Bannon's pardon would follow a frantic scramble during the President's final hours in office as attorneys and top aides debated his inclusion on Trump's outgoing clemency list. Despite their falling out in recent years, Trump was eager to pardon his former aide after recently reconnecting with him as he helped fan Trump's conspiracy theories about the election.
It was a far cry from when Trump exiled Bannon from his inner circle after he was quoted in a book trashing the President's children, claiming that Donald Trump Jr. had been "treasonous" by meeting with a Russian attorney and labeling Ivanka Trump "dumb as a brick." Those statements from Bannon drove Trump to issue a lengthy statement saying he had "lost his mind."
"Steve Bannon has nothing to do with me or my presidency," Trump said at the time.Things shifted in recent months as Bannon attempted to breach Trump's inner circle once again by offering advice before the election and pushing his false theories after Trump had lost.
Since Trump's election defeat, the President has leaned further into his expansive pardon powers — granting pardons to his first national security adviser, Michael Flynn, longtime ally Roger Stone and former campaign chairman Paul Manafort, among others.
Among Trump's pardons earlier in his term were those for former Arizona Sheriff Joe Arpaio, right-wing commentator Dinesh D'Souza and financier Michael Milken.
California Governor Formally Appoints Alex Padilla To Fill US Senate Seat Vacated By Kamala Harris
(CNN) — California Gov. Gavin Newsom formally submitted the appointment of Alex Padilla to the US Senate today, according to a press release from the governor's office. 
Padilla formally resigned as Secretary of State this morning and Gov. Newsom also submitted his nomination letter for Assembly member Shirley Weber to replace him. The Deputy Secretary of State, James Schwab, will be the Acting Secretary of State.
"It is fitting that on the same day we celebrate the legacy of Dr. Martin Luther King, Jr. — a civil rights icon who fought for justice and representation — we also move forward the appointment of California's first Latino U.S. Senator Alex Padilla and the nomination of Dr. Shirley Weber who will serve as the first-ever African American Secretary of State. Both will be strong defenders of our democracy during this fragile moment in our nation's history," said Gov. Newsom.
"I am humbled and honored by your trust in me to represent California in the United States Senate. I look forward to continuing to serve the great State of California as a United States Senator and to ensuring that the rights and democratic principles we cherish are protected and preserved for all people," Padilla wrote in a letter to Gov. Newsom.
Some context: Earlier today, Vice President-elect Kamala Harris formally resigned her seat as one of California's US Senators. She'll be inaugurated as vice president on Wednesday, Jan. 20. In a farewell addressed posted to Twitter, Harris said, "Of course, I'm not saying goodbye. In many ways, I'm now saying hello as your vice president."