17 dead in Florida school shooting, law enforcement sources say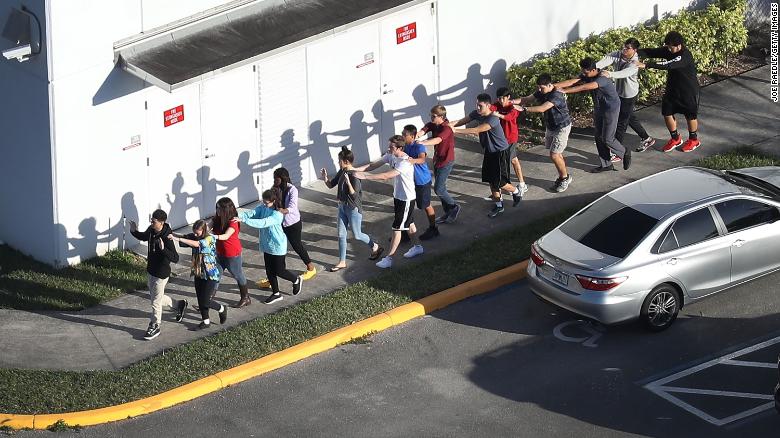 At least 17 people were killed Wednesday in a high school shooting in Parkland, Florida, Broward County Sheriff Scott Israel said.
The suspect, 19-year-old former student Nikolas Cruz, is in custody, the sheriff said. The sheriff said he was expelled for unspecified disciplinary reasons.
At least 14 people have been taken to area hospitals following the shooting, Israel said.
Law enforcement responded to reports of a shooting at the school shortly before 3 p.m. The shooting sent students and staff streaming out of the school in a panic.
Immediately after the shooting, aerial footage from CNN affiliate WSVN showed people lying on the ground outside the school, being treated for injuries and moved to ambulances.
Freshman Kayden Hanafi said he heard two gunshots and saw people running out of another building on campus. As he and his classmates went into lockdown in a classroom, many thought the noise might have been firecrackers.
"It's really a blessing to still be alive," he said.
Nicole Baltzer, 18, said she was in trigonometry class about 10 minutes before the end of the school day when the fire alarm went off. As students evacuated, she heard six gunshots and everyone started running back inside the school
"I heard so many gunshots, at least like six. They were very close," Baltzer said.
A police officer told her to close her eyes as she walked past a classroom with broken glass, telling her "there's nothing good to see in there," she said.
A freshman named Aidan posted a photo on social media from inside his math class while on lockdown. Since then, he has left the building.
"We have been liberated. God bless, America," Aidan tweeted after being evacuated from the building. "Love each other. You may never know when it may be the last day you meet someone."
There had been a fire drill at the school earlier in the day, leading some to believe at first that the afternoon incident was another drill, a student told WSVN. "Everyone just started freaking out."
"But then word started going around that it was shots and not just, like, something else, everyone just started running towards the canal," the student said.
Parkland, with a population of 31,000 people in 2016, was named Florida's safest city last year, according to an analysis by the Washington-based National Council for Home Safety and Security, a home security industry trade association. The south Florida city had seven reported violent crimes and 186 property crimes the previous year, according to the analysis.
Stoneman Douglas High School had an enrollment of about 3,100 students in the 2015-16 year, according to the National Center for Education Statistics.
As news of the shooting spread, desperate parents gathered near the property searching for their children.
Lissette Rozenblat told CNN that her daughter safely evacuated the school and took shelter at a nearby Walmart.
"She was very nervous, she said that she could hear the person who was shot crying out for help, and was just a nervous wreck," Rozenblat said.
Agents from the Miami office of the Bureau of Alcohol, Tobacco, Firearms and Explosives are responding to the scene, a spokesman said.
Four U.S Troops Killed In Kabul Airport Attack
4 U.S. soldiers have been killed and three others wounded in attacks on Kabul airport.

A U.S. official says several Marines were killed and a number of other American military were wounded Thursday in an attack on Kabul's airport.
U.S. officials have said that information is still coming in and they are trying to determine exact numbers of casualties.
The official spoke on condition of anonymity to discuss ongoing military operations.
The Pentagon would not say what troops were involved but acknowledged that "a number of U.S. service members were killed."
Amazon's palm print recognition raises concern among U.S. senators
Three U.S. senators, including Democrat Amy Klobuchar who chairs the Senate Judiciary Committee's antitrust panel, wrote a letter to Amazon.com Inc (AMZN.O) to express concern about its palm print recognition system, Klobuchar's office said Friday.
Amazon began rolling out biometric technology at its Whole Foods stores around Seattle in April, letting shoppers pay for items with a scan of their palm. The system, called Amazon One, lets customers link a credit card to their palm print. read more
Klobuchar, who was joined by Senators Bill Cassidy, a Republican, and Jon Ossoff, a Democrat, expressed concern in the letter dated Thursday about both privacy and competition related to Amazon One.
"Our concerns about user privacy are heightened by evidence that Amazon shared voice data with third-party contractors and allegations that Amazon has violated biometric privacy laws," the lawmakers wrote in the letter.
WHO seeks to take political heat out of virus origins debate
The World Health Organization said on Friday it was setting up a new group to trace the origins of the coronavirus, seeking to end what it called "political point scoring" that had hampered investigations.
The inability of the WHO to say where and how the virus began spreading has fuelled tensions among its members, particularly between China, where COVID-19 cases were first identified in Wuhan in late 2019, and the United States.
The WHO called for all governments to cooperate to accelerate studies into the origins of the COVID-19 pandemic and "to depoliticise the situation".
It specified that a new advisory group called the International Scientific Advisory Group for Origins of Novel Pathogens would support "the rapid undertaking" of further studies.