Fact Check: Sanders' Misleading Wage Claim
Sen. Bernie Sanders claims that "the average American worker today, despite the strong economy, is not getting ahead." Not so. Hourly wages have been rising faster than inflation for years, and that trend has continued under President Donald Trump.
"Real" (inflation-adjusted) hourly wages for production and nonsupervisory employees have gone up nearly 0.8 percent since Donald Trump took office, after rising 2.8 percent during Obama's eight years in office.
To be sure, the rise has gone in fits and starts. Sanders seized a hiccup in the long-term trend during an interview with CNN's Chris Cuomo on June 7, when he said "real wage increases for the average American worker … last year" amounted to "zero."
Sanders, June 7: [D]o you know what the increase in wages — real wage increases for the average American worker was last year?

Cuomo: About 3 percent.

Sanders: Zero. Not a — nope. It kept pace with inflation for the average American worker. It didn't make a nickel more after you account for inflation. …

So, the bottom line is, the average American worker today, despite the strong economy, is not getting ahead.
Asked for backup, Sanders' press office pointed to a May 10 report from the Bureau of Labor Statistics that shows the real hourly wage for production and nonsupervisory employees on private nonfarm payrolls did not go up at all between April 2017 and April 2018. (See Table A-2.)
But that is no longer correct. Figures downloaded from the BLS website, which are based on slightly more recent and extensive data than in the press release, show a 0.1 percent increase in real hourly wages in that 12-month period. Even that figure remains preliminary, and subject to revision for another month or so.
The larger fact is that real hourly wages have been generally rising since hitting a low point in 1994-95. As of April, they were 19 percent higher than that low point (though still 1.5 percent below the highest point reached in 1972).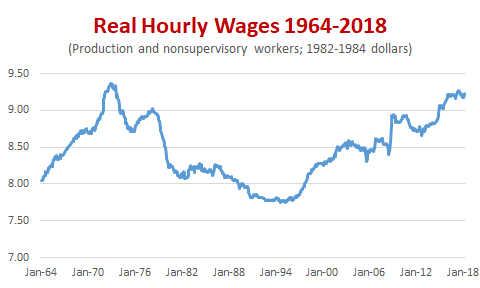 Furthermore, paychecks are rising even faster than hourly wage rates, because part-time workers are finding more work and full-time workers are getting more overtime pay. Inflation-adjusted weeklyearnings for production and nonsupervisory employees have risen 1.4 percent under Trump, after rising 3.7 percent under Obama.
Looking at all private-sector workers (including managers and supervisory workers), real weekly earnings went up 4 percent during Obama's eight years, and have gone up another 1.1 percent under Trump, according to the most recent figures from the Bureau of Labor Statistics.
Those figures are a bit volatile because the Consumer Price Index can fluctuate a bit month to month. During Trump's time in office, for example, the 12-month change in real hourly earnings has fluctuated between a decrease of 0.4 percent (during the 12 months ending February 2017) and an increase of 0.8 percent (during the 12-month period ending June 2017).
That's mainly due to the yo-yo effect seen in gasoline prices (which make up more than 5 percent of the CPI) and sometimes food prices. And as we all know, gasoline prices have been on a tear in recent months, but can drop almost as quickly as they rise. The Energy Information Administration expects them to drop in September, after the summer driving season is over.
Sanders is free to argue that the rise in real wages and earnings is too slow, and that the average worker isn't getting ahead fast enough. That's a matter of opinion. And he'd be correct to say that real hourly wages haven't yet recovered to the peak levels seen in the early 1970s. But he's wrong to seize on a monthly blip in the statistics to support a misleading claim that they are not getting ahead at all.
NewsThisSecond therefore rates this claim as mostly false. As the main point is misleading.
(Fact Check.org)
Biden Expected To Repeal Military Trans Ban Tomorrow
The Biden administration is expected to repeal the ban on transgender Americans from serving in the military, multiple people informed of the decision told CBS News. The announcement is expected as soon as Monday, one senior Defense official and four outside advocates of repealing the ban told CBS News.
The senior Defense official told CBS News the repeal will be through executive order signed by President Joe Biden. The announcement is expected to take place at a ceremony with newly-confirmed Defense Secretary Lloyd Austin, who will order the Pentagon to go back to the policy enacted in 2016 by former Defense Secretary Ash Carter that allowed transgender Americans to serve openly.
The White House did not respond immediately to a request for comment.
The new order will direct the branches of the military to outline an implementation plan.
The ban was announced by former President Trump via a tweet in July 2017. The ban took effect in April 2019 and barred transgender Americans from enlisting in the military.
In 2014, it was estimated there were around 15,500 transgender military members serving, according to a study by the Williams Institute at the UCLA School of Law.
Biden frequently repeated on the campaign trail his promise to repeal the ban.
Austin said at his Senate confirmation hearing last week that he planned to repeal the ban.
"I support the president's plan or plan to overturn the ban," Austin said on Tuesday when asked by Senator Kirsten Gillibrand, "I truly believe, Senator, that as I said in my opening statement, that if you're fit and you're qualified to serve and you can maintain the standards, you should be allowed to serve. And, you can expect that I will support that throughout."
Trump Pardons Steve Bannon In One of His Final Acts As 45th President
(CNN)— President Donald Trump has decided to pardon his former chief strategist Steve Bannon, in a last-minute decision made only hours before he is scheduled to depart the White House for a final time.
Officials cautioned CNN that Trump's decision was not final until he signed the paperwork. Trump told people that after much deliberation, he had decided to pardon Bannon as one of his final acts in office.
Bannon's pardon would follow a frantic scramble during the President's final hours in office as attorneys and top aides debated his inclusion on Trump's outgoing clemency list. Despite their falling out in recent years, Trump was eager to pardon his former aide after recently reconnecting with him as he helped fan Trump's conspiracy theories about the election.
It was a far cry from when Trump exiled Bannon from his inner circle after he was quoted in a book trashing the President's children, claiming that Donald Trump Jr. had been "treasonous" by meeting with a Russian attorney and labeling Ivanka Trump "dumb as a brick." Those statements from Bannon drove Trump to issue a lengthy statement saying he had "lost his mind."
"Steve Bannon has nothing to do with me or my presidency," Trump said at the time.Things shifted in recent months as Bannon attempted to breach Trump's inner circle once again by offering advice before the election and pushing his false theories after Trump had lost.
Since Trump's election defeat, the President has leaned further into his expansive pardon powers — granting pardons to his first national security adviser, Michael Flynn, longtime ally Roger Stone and former campaign chairman Paul Manafort, among others.
Among Trump's pardons earlier in his term were those for former Arizona Sheriff Joe Arpaio, right-wing commentator Dinesh D'Souza and financier Michael Milken.
California Governor Formally Appoints Alex Padilla To Fill US Senate Seat Vacated By Kamala Harris
(CNN) — California Gov. Gavin Newsom formally submitted the appointment of Alex Padilla to the US Senate today, according to a press release from the governor's office. 
Padilla formally resigned as Secretary of State this morning and Gov. Newsom also submitted his nomination letter for Assembly member Shirley Weber to replace him. The Deputy Secretary of State, James Schwab, will be the Acting Secretary of State.
"It is fitting that on the same day we celebrate the legacy of Dr. Martin Luther King, Jr. — a civil rights icon who fought for justice and representation — we also move forward the appointment of California's first Latino U.S. Senator Alex Padilla and the nomination of Dr. Shirley Weber who will serve as the first-ever African American Secretary of State. Both will be strong defenders of our democracy during this fragile moment in our nation's history," said Gov. Newsom.
"I am humbled and honored by your trust in me to represent California in the United States Senate. I look forward to continuing to serve the great State of California as a United States Senator and to ensuring that the rights and democratic principles we cherish are protected and preserved for all people," Padilla wrote in a letter to Gov. Newsom.
Some context: Earlier today, Vice President-elect Kamala Harris formally resigned her seat as one of California's US Senators. She'll be inaugurated as vice president on Wednesday, Jan. 20. In a farewell addressed posted to Twitter, Harris said, "Of course, I'm not saying goodbye. In many ways, I'm now saying hello as your vice president."